My friend Michael R. Jones got me hooked on a television show called, Justified. It's the story a US Marshal in Eastern Kentucky. In a recent episode that I enjoyed one of he characters kept saying, "Hey man, who we are makes us do what we do."
Have you ever thought about that?
Growing up our family owned a car dealership. When I went to work there I was told, "Your name is on the building, this means you work twice as hard for half the money." I also noticed that when my Grandfather arrived to the dealership, he usually walked through the doors with a handful of litter and would then progress around the building watering plants. He took care of the little things, because his name was on the building. Even after I stopped working there I would almost always enter the building with trash in my hands to throw away, because my name was on the building.
Who you are determines what you do.
Peter talks about this in one of the letters he wrote,
But you are the ones chosen by God, chosen for the high calling of priestly work, chosen to be a holy people, God's instruments to do his work and speak out for him, to tell others of the night-and-day difference he made for you—from nothing to something, from rejected to accepted. 1 Peter 2:9,10 MSG
Peter clarifies our identity: chosen ones, holy people, God's instruments. As a result of that identity we have a job: to do God's work and to tell others about what he has done.
Who we are determines what we do.
If one is a follower of Jesus, then they will be telling the story of all that God has done for them. It's what they do, because it's who they are and it is His name on the building.  So it is not about bringing someone to a worship gathering. It's not about introducing them to a pastor. It's simply about sharing our stories and proclaiming the excellencies of Jesus.
It's who we are, so it's what we do.
Hotel pools are great for kids. They're warm, they're loud, and they have a pool. Hotel pools are brutal for adults. They're warm, they're loud, and they have a pool.
As my brother Jay and I were sitting next to the pool, with a couple of his friends, it came out that I was a pastor. Jay said, "Don't worry, he's different. Tell him Danny, tell him about what you do…"
I love that. I love that my little brother sees what we're doing and knows that there is something different about it. So, I told his friend about Doubt on Tap. I told how we get together and talk about things you can't discuss in polite company. I told him that we talk about God and stuff.
120 seconds.
Yelling over two princesses splashing in a pool.
The response, "I would check out a church like that."
Alan and Deb Hirsch wrote in their book, Untamed (Shapevine): Reactivating a Missional Form of Discipleship
that Jesus' holiness attracted people far from God and for some reason ours repels them. One of us is doing something wrong and it wasn't Jesus.
As I move more and more into the culture of our city and further away from the institutional church culture, I am starting to learn that what made Jesus' holiness so attractive was that it was a lived holiness. He lived it our everyday in the marketplace, the bars, and neighborhoods. He was holy when surrounded by "sinners and tax collectors", the key here, is that he was holy among them.
We as the people of God need to move out of our holy huddles and move into the neighborhood. Eugene Peterson says it well in his translation of John 1:14ff in The Message, "
The Word became flesh and blood,
and moved into the neighborhood.
We saw the glory with our own eyes,
the one-of-a-kind glory,
like Father, like Son,
Generous inside and out,
true from start to finish.
One of the things I love about the The Antioch Movement is that we are moving into the neighborhood. We seek to live on mission everyday. It's not about getting people to a worship service or getting them to meet the pastor. It's about followers of Jesus living out the holiness of Jesus every day, wherever they are, all the time. 
It was sunny and the birds were singing. The clouds were nothing but wisps in the sky. As I walked into the Corner Brewery for my favorite pint I bumped into a couple in line. As the husband, a rather imposing fellow, was working on ordering their beer, the wife and I talked about the weather.
They got kicked out, because the wife didn't have her license.
As my friend, Todd, and I sat on the patio sipping our IPA's and talking about Jesus, the couple returned. We spent the next couple of hours talking about life, Jesus, and the church. Todd stayed another three.
Chris and Liz showed up at the next missional community gathering. It was like they had been a part of us from the very beginning.
That day on the patio at the Corner, that felt like church. It felt like church because it was people being together and being who they were, no pretenses. Todd and I were just being the church, that is, being Jesus followers. We hadn't intended on spending the afternoon into the evening with Chris and Liz, it just happened.
The best part of all this is that it is being replicated all the time. Every Sunday night when we gather around the tables in my home to eat dinner together, it feels like church because it's people being people together. Church is not something we do, church is who we are.
The day it felt like church? For a while now the best answer to that question is: "Today". Being the Church is simply living in relationship with and under the authority of Jesus with others who are seeking to do the same.
This post is part of the Boots on the Ground Synchroblog.
Previously, I wrote about my great frustration with the term "do church". So, if we don't use that term what should we use instead?
It all depends on what we're speaking of. If we want to talk about the corporate act of worship then let's say, "worship gathering". If we're talking about the people of God, then let's say, "church".
Why the distinction?
One reason is that language helps to shape culture. If we think of our Sunday worship gatherings as "church" then that will help determine our understanding of what it means to be the church. How so? If we think of "church" as Sunday worship then it frees us from being the church on Monday through Saturday. This understanding of "church" makes it so that our emphasis is Sunday mornings. In no way am I trying to lessen the importance of the Sunday worship gathering, but I am seeking to clarify our identity as the people of God. Our identity is not determined by a Sunday gathering,it is determined by being found in relationship with Jesus.
A second, is that the Scriptures do not equate the worship gathering to the "church". The "church" is the people of God. It is the called out ones who make up the Bride of Christ. We must understand that the church is first and foremost a being. Those who follow Jesus as their Lord and Savior, these people are the church. Neither a building, nor a worship gathering, are the "church", the people are the church. When we begin to understand this reality then we can start to understand that all of life is worship and that all of life is mission.
We must "be church" not "do church". 
When it comes to talking about the Church, fewer things that bother me more than the phrase, "Do Church". Typically it's in the context of the question, "How do you do church?" Also, "When do you do church?"
Why does this phrase bother me so much? It's because it betrays a lack of understanding what the church is. When someone says "do church" they thing of the church as something that is fundamentally outside themselves. They are necessarily thinking of the church as an organization. In my opinion, to think of the Church as primarily an organization may be the greatest flaw in American theology.
When we think of the Church as primarily an organization, we are changing the very definition that is found in Scripture. The Church is  the ekklesia, or called out ones. There are other metaphors used such as body and family. The one thing that the Church is not, an organization. It is not a club or a civic group. It's something wholly different from these things.
The way that we see the Scriptures most clearly refer to the Church is that of "people". This is highlighted in 1 Peter 2:10, "Once you were not a people, but now you are God's people; once you had not received mercy, but now you have received mercy." God is at work making for himself "a people".
Here's a little a test that you can use to see if you're thinking about the Church properly. Simply replace the word "church" with "a people" or "people" or "God's people".  Just try it with the questions in the first paragraph, you'll see what I mean.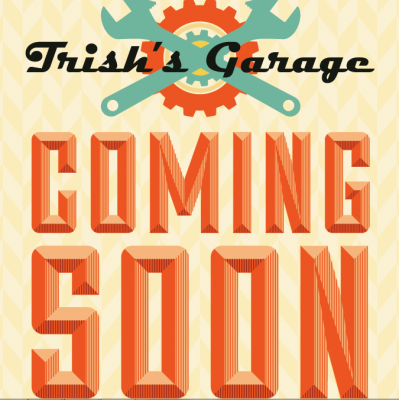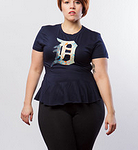 Trish's Garage, a store offering reconstructed clothing and handmade gifts, is popping up in downtown Detroit at 1249 Woodward Ave. From April 7th- May 30th.
Shop owner, personal stylist, and sewer extraordinaire Ebony makes fun peplum shirts for ladies out of men's T shirts and recycled denim, and also carries handmade and locally made goods from FireBrand Candle, Trice Clark Brand, Salikas Jewels, Good Cakes and Bakes, Detroit Wall Paper Co, Voigt's Soda House, and Reware Vintage in the shop.
Trish's Garage opens on April 7th, with a Grand Opening party on April 11th. More information and RSVP to the Grand Opening on the Facebook event page, and check out Ebony's clothing on the Trish's Garage website.
On April 8th I'll be participating in a synchroblog. You don't know what a synchroblog is? Basically, it's an online conference through blogging. A number of people write about a given topic. They link to and comment on one another's blog posts on a particular day. The idea is to drive some significant conversation about a particular topic. The topic for this synchroblog is, "Share a story about one moment where you experienced what you think Jesus had in mind for 'the church'."
As a result, I'll be writing a few posts leading up to April 8 on my understanding of what it means to "be the church". So, I'll write about worship gatherings, structure, etc…
If you are one of the two people who are interested in what I think about "ecclesiology" then you'll be really excited about these posts.
Yuri's Night celebrates the first manned space flight. i3Detroit is hosting a Yuri's Night event on Saturday April 12th starting at 7PM, open to the public. Come to i3 and join the celebration. We will have demonstrations of planetary dynamics, observation of the night sky, water rocket launches, space themed refreshments, videos, and games!
Two films released this week have created quite a buzz in my little world, Noah and God's Not Dead. It's fascinating to watch the way folks approach these films, depending on where they come from in their worldview. I have friends who declare the greatness of one and stupidity of the other.  Others see nothing in them of any good. As they write their diatribes on Facebook all I can hear is,
Henry Cloud in his wonderful book, Changes That Heal, talks about a developmental task called the "Good – Bad Split". This is where we are able to discern the reality that people and circumstances are neither all good nor all bad, but there are elements of both.
When people begin to diatribe about things like film, their good/bad split issues come to the forefront. They cannot see the good in them or the bad. God's Not Dead is a Christian film, it must be all good! Noah is written by an Atheist, it must be all bad (and vice versa)!
Wrong! When we wade into cultural evaluation, we must see that there is both good and bad. We must fight against the natural inclination within ourselves to only see one or the other.
I read a fantastic book a number of years ago, Plowing in Hope
. It points out that the creation of culture is an outworking of the image God in humanity. We, being created in God's image, can't help but create culture. Therefore, within cultural creation there will be good and there will be bad because the image of God within us is radically corrupted.
Every diatribe I read, I cringe. I cringe, because friends, Christian and non-Christian, are acting the way they don't want the other person to act.  So my friends, as you critique culture I challenge you to do this: write one paragraph about the good things you see, one paragraph about the bad things, and one paragraph about how you would improve it. If you're not doing long form, then one sentence or one tweet each. If you're not willing to do the work, in the words of Bob, "JUST STOP IT!"
Over the last 48 hours some of the dearest people in my life have experienced death and pain. Their hearts are hurting. Death has a way about it that brings things into focus. It forces us to stop and look at what we believe.
What has struck me about both of my friends is that their response to the pain has been one of moving towards Jesus. There is a recognition of grief, a crying out in heartbreak, but then a turn towards joy in the knowledge that death has lost its sting. They look forward to the day when they will again be with their loved ones.
As we approach Easter I continue to think about the resurrection. Hardly a day goes by that I don't ponder it in some way. A week ago I was studying Jesus' raising from the dead the widow's son. As I have watched my friends grieve, my mind has gone to the story of Lazarus and Jesus raising him from the dead. I think of the pain and sorrow in Martha and Mary, "Jesus had you been here, he would not have died."
The resurrection is the central focus of all the Scriptures. It is the climax, everything else is leading up to or falling action from the resurrection. This is because it is in the resurrection we experience the fullness of the power of God. It is in the resurrection that the inbreaking of the God of the universe is made complete.
The resurrection points us to this one truth: Death has lost its sting. In all the ways that death stings: sin, pain, grief, expiration…the sting is gone. Jesus has risen. We grieve and then our tears turn to joy as we know that resurrection is coming. What a glorious day that will be!
Isaac Watts, my favorite poet, sums it up:
My God, how many are my fears!
How fast my foes increase!
Conspiring my eternal death,
They break my present peace.
The lying tempter would persuade
There's no relief in heav'n;
And all my swelling sins appear
Too big to be forgiv'n.
But thou, my glory and my strength,
Shalt on the tempter tread,
Shalt silence all my threatening guilt,
And raise my drooping head.
[I cried, and from his holy hill
He bowed a listening ear;
I called my Father, and my God,
And he subdued my fear.
He shed soft slumbers on mine eyes,
In spite of all my foes;
I woke, and wondered at the grace
That guarded my repose.]
What though the hosts of death and hell
All armed against me stood,
Terrors no more shall shake my soul;
My refuge is my God.
Arise, O Lord, fulfil thy grace,
While I thy glory sing;
My God has broke the serpent's teeth,
And death has lost his sting.
Salvation to the Lord belongs;
His arm alone can save:
Blessings attend thy people here,
And reach beyond the grave.