There is something beautiful about the installation of a pastor to a congregation. It feels much like a wedding ceremony. The pastor takes vows and so does the congregation. There is a charge and prayers and a message.
It's beautiful.
Then Monday comes.
The pastor is now the servant of the flock and the expectations are high. Everyone is an expert on how to lead churches. External gifts, strengths, and weaknesses will be weighed and judged. The success criteria of comparison to the church down the street is held close at hand. The pastor is so often judged by the externals.
Yet this is not his identity. His identity is in Christ. Consider Paul's words on this Sunday:
2 Look out for the dogs, look out for the evildoers, look out for those who mutilate the flesh. 3 For we are the circumcision, who worship by the Spirit of God and glory in Christ Jesus and put no confidence in the flesh— 4 though I myself have reason for confidence in the flesh also. If anyone else thinks he has reason for confidence in the flesh, I have more: 5 circumcised on the eighth day, of the people of Israel, of the tribe of Benjamin, a Hebrew of Hebrews; as to the law, a Pharisee; 6 as to zeal, a persecutor of the church; as to righteousness under the law, blameless. 7 But whatever gain I had, I counted as loss for the sake of Christ. 8 Indeed, I count everything as loss because of the surpassing worth of knowing Christ Jesus my Lord. For his sake I have suffered the loss of all things and count them as rubbish, in order that I may gain Christ 9 and be found in him, not having a righteousness of my own that comes from the law, but that which comes through faith in Christ, the righteousness from God that depends on faith— 10 that I may know him and the power of his resurrection, and may share his sufferings, becoming like him in his death, 11 that by any means possible I may attain the resurrection from the dead.
The good pastor counts all that we consider "success" as lost because his desire is to be found in Christ so that by any means possible he may attain the resurrection of the dead.
This season the Tigers double play combo will feature Jose Iglesias and Ian Kinsler. They will be wearing the numbers 1 and 3, respectively. For someone like me, this means that images of Tram and Sweet Lou flood my mind. As a kid, there was nothing more beautiful than seeing Tram and Sweet Lou turn the double play.  My grandparents took my brother and I to see the Tigers play every spring, and they anchored the infield every game we attended.
May 15th, 1987, I was ten, and it was 3-3 in the bottom of the 9th against the Indians.  Lou was the first batter up, as Tiger Stadium reverberated from the "Looouuu!" chant that greeted him at every at bat.  He took the 0-0 pitch and drilled a walk-off home run.  The stadium erupted!  To this day, is the most electric moment I have experienced at a ball game.
Tram and Lou were the Dynamic Duo of the Motor City; they are arguably the greatest SS-2B combo in the history of baseball. Not to mention the fact they made a guest appearance on Magnum P.I.  (Pop culture put Tom Selleck on the map as a Ferrari driving Hawaiian P.I. who always wore the English D ball cap.)
Yes, you read that right. They were the best in the 80s, and a case can be made for their ranking among the best of the best. They were amazing to watch together. The center of the Tigers infield was locked down. If a man was on first, he was going to be doubled up. This is a huge reason why in 1984 the Tigers started 35-5 and walked to a World Series Championship over Steve Garvey and the San Diego Padres.
And yet, Iglesias and Kinsler will wear 1 and 3.
These guys are good players. But they shouldn't be wearing 1 and 3, like no other pitcher for the Tigers ought to wear 47 (don't even get me started on the travesty that is Jack Morris being skipped over for the Hall of Fame.)  It's time for these numbers to be hung on the wall in the outfield. It's time for a bronze statue of Sweet Lou and Tram to be placed alongside Cobb, Kaline and other legends from the D.
Mr. Illitch, it's time.
Don't wait until they're dead like you did with Sparky.  Follow the Piston's lead and honor your '80′s icons.  Let's pay tribute and 'Bless Those Boys.'
I really hope this season with it being the 30th anniversary of the Bless You Boys Championship, that we see 1, 3, and 47 celebrated with their numbers retired as they should have been many years ago.
Over the last year or so I have been a part of launching the Antioch Movement, a church planting movement in Ypsilanti, MI. It has been an amazing experience. One that I can't really put into words. It's been full of joy, pain, excitement, and anguish. I keep learning everyday about the depth of my own sin and the boundlessness of God's overwhelming grace.
There is one thing that I seem to be more acutely aware of than ever before and that is the reality that the people of God are family. In the institutional church we experienced tastes of this through small groups or through relationships with certain people with whom we had an affinity. It's different now.
The life of my natural family is completely and utterly intertwined with the life of my spiritual family. Our worlds are coming closer and closer together. We babysit for one another, we go out of our way to help one another, the rhythms of our lives are more naturally in tune because we are living together in community. Our kids have similar schedules. We frequent the same places. Our outside of the family friends crossover.
There have been many times in the last number of months that I have looked people who used to be my friends with a new realization that we are now family. We are brothers and sisters, mothers and fathers, we are a family that God is knitting together for his glory.
The realization that we are family changes everything about how we interact. It allows us to fight and have disagreements because we're not worried whether someone will leave. We know that we're committed to one another as family. There is a bond that is more than a commitment to an institution. It's a bond that comes from our commitment to mission together. We are family.
Relationships are funny things. They come and they go. They are filled with joy and pain. Relationships can be acquaintances, friends, or lovers. We have family that we would rather not talk about and we have friends we wish were family. Relationships are definitely funny things.
When someone becomes a follower of Jesus they become part of a family. In a previous post we explored the importance of covenant theology in our emerging generations. This covenantal experience is not purely an abstract reality of God keeping his promises, it is also the very real experience of us keeping our promises. We do this primarily through relationships.
Throughout the Scriptures we see the twin ideas of covenant and kingdom which play out as relationship and authority 1. God interacts with us in relationship through his covenant. His promises are kept and they hold true. Through his covenant we are drawn into relationship with him.
We model this as followers of Jesus. We are in relationship with one another and covenantally so. What does this mean? This means that when we commit ourselves to being a follower of Jesus we are also committing ourselves to being a part of his body. Whether we like it or not we are now in a family relationship with people who also call themselves Christian.
To be in community with people we need to realize that conflict is inherent in relationship. If there is no conflict then we cannot move deeper into relationship with one another. Conflict forces us to make a decision: "Do I withdraw and stay where I am?" or "Do I engage and go deeper?" Covenantal relationships require the latter. To be the church demands that we enter in covenantally with our family, the Church, and go deeper. We can be confident in doing this because we are bound through the promise of covenant.
Does this mean that we might get hurt? Yes. Because none of us live this our perfectly. However, if we are following Jesus then we must follow him into relationship with those he calls his own and who are our brothers and sisters.
Relationships are indeed funny things.
When I was a kid my dad liked to teach me lessons about business. One of those lessons was about multiplication. He asked me one day, "Would you rather have $2,000 per day or would you rather be paid $.01 and the amount doubles everyday?" Being an impetuous young man I of course stated immediately that I would take the $2,000. Then he informed me that I made the wrong decision.
$.01, $.02, $.04, $.08, $.16, $.32, $.64, $1.28…you do the math. I will spoil it for you, that number is going to get really big, really fast.
This is the exponential curve. When multiplication happens it explodes. It starts slow, but then begins a meteoric rise to infinity.
This is how Jesus began the movement of the church. When you read the gospels you see how he moves from masses to disciples. As his ministry went on the masses received less and less of his attention and his disciples more and more. He spent most of his time with 12 men and a group of women. They lived together and traveled together. He modeled life for them and taught them. Jesus gave to them all of himself. They in turn did the same for the next generation.
The church in the West has lost our sense of discipleship. We have become much more interested in addition. We are satisfied with $2,000 per day. We don't want to wait for that $.01 to become millions. Why? Because we despise the day of small things. When we'r pouring out our lives in 4 or 5 people it doesn't look successful. When we have 300 people at a worship gathering we do look successful.
The thing is, if we would follow the path of Jesus we would see explosive growth. The visible Church in the developing world is multiplying. They don't have the resources to put on the show and market to the masses. They have to begin with their neighbors. They have to pour out their lives into just a handful of people and help those folks do the same. Is it really any surprise that the center of the "Christian World" has shifted? The Church is growing the fastest in the places where they must follow the model of Jesus.
This is the model of multiplication, also known as discipleship.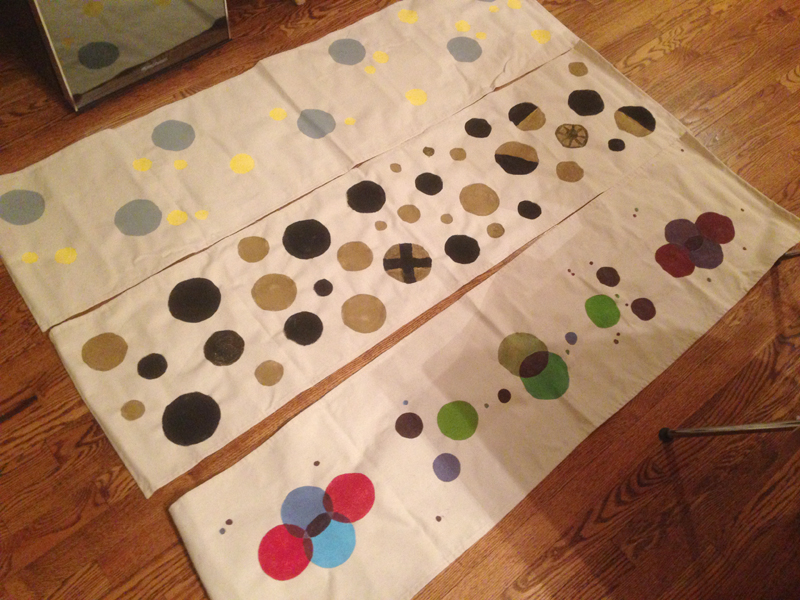 Did you know that March is National Craft Month? We love celebrating and crafting through the month while we (hopefully) watch the temperatures rise and the snow melt. When we were asked by Meijer if we would like to create a DIY project using only craft supplies from our local Meijer for National Craft Month and we enthusiastically said yes - times three!
Carey, Lish and I all wanted to craft-along, so we shopped the crafting aisles at Meijer and each got the same supplies for our project. We worked one evening with each other (and a little ice cream cake), and a bit the next afternoon on our own. It's amazing how different each of our projects turned out!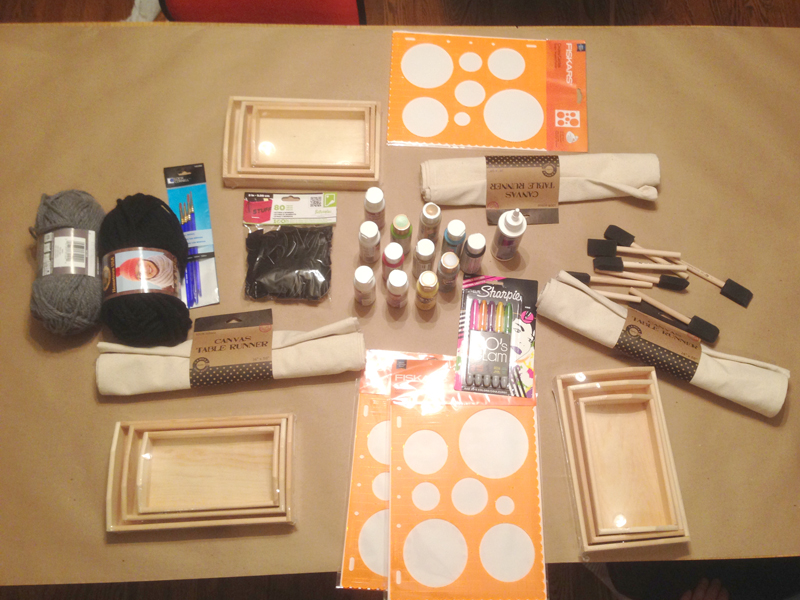 Each of us started with a canvas table runner and a set of 3 nesting wooden trays to decorate and make our own, using a circle shape template by Fiskars, some stick-on felt letters, and a big variety of paint, brushes and Sharpies to choose from. We even got a couple skeins of yarn to help us tie and store the runners when we aren't using them.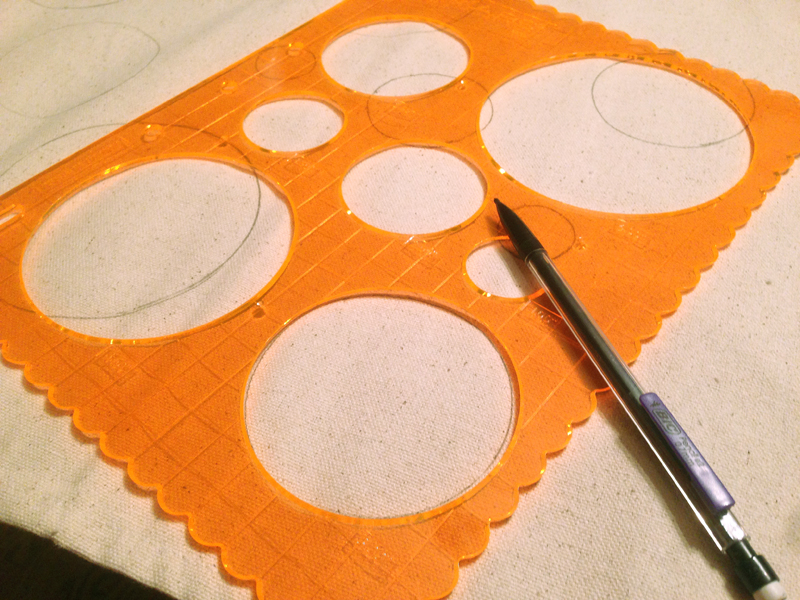 We started first on our runners, each using our circle templates to draw our design in pencil first.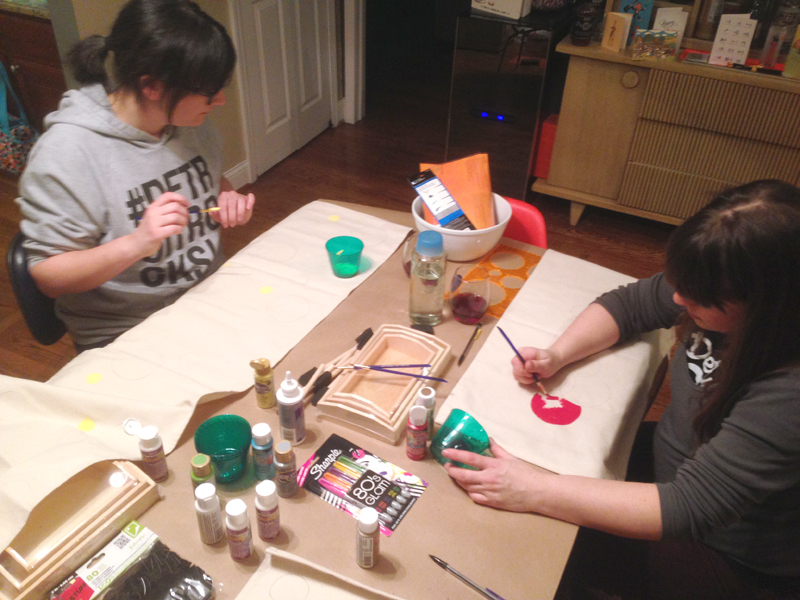 Then it was time to paint! We all had very different color schemes, and there was paint to match each of our homes and styles. The canvas runners were nice and thick and took the paint very well, without any bleeding on the other side (so you could also make a runner reversible by painting a whole different design on the other side).
While our runners dried, we began to work on our trays, then finished up at each at our homes the next day.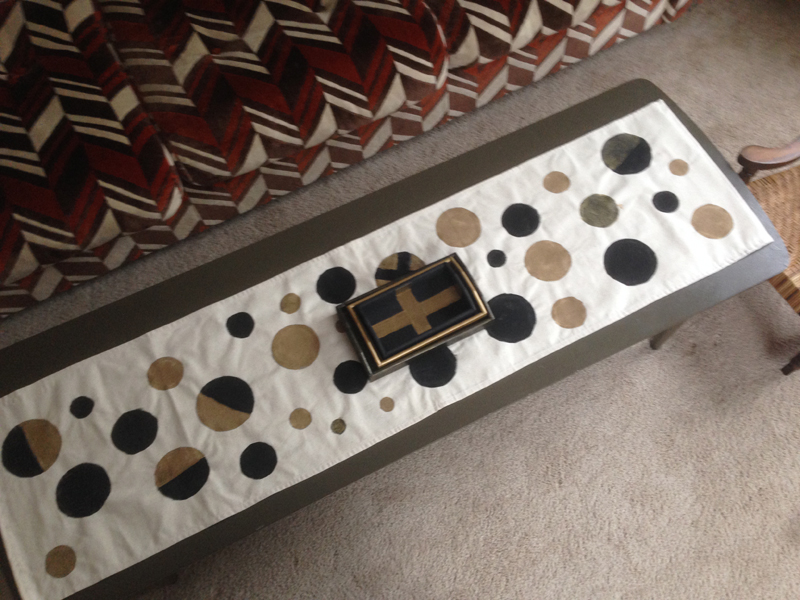 And here's our big reveal! I used metallic gold, black, and gold glitter and added free-form crosses and half moons on occasion, then painted the trays to match. I am using mine on our coffee table, and I totally love the set!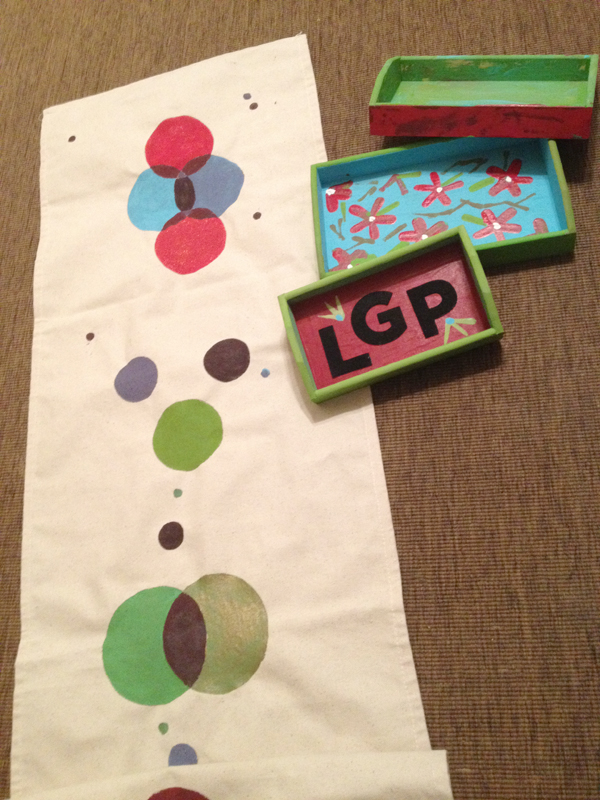 Carey says "I chose to layer the circle stencils to create little color wheel type patterns on my runner. But I wasn't thrilled with my first box i painted so I worked on it again with my daughter. Much happier with the second try!"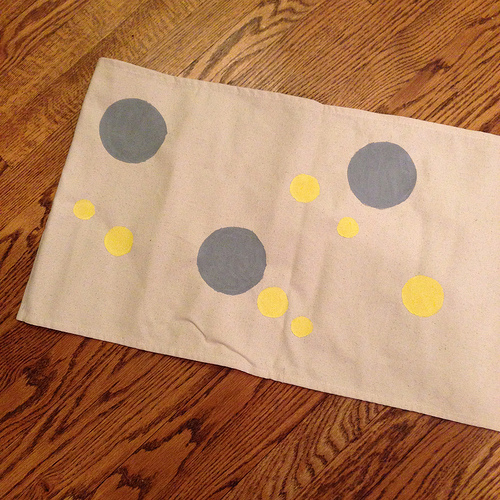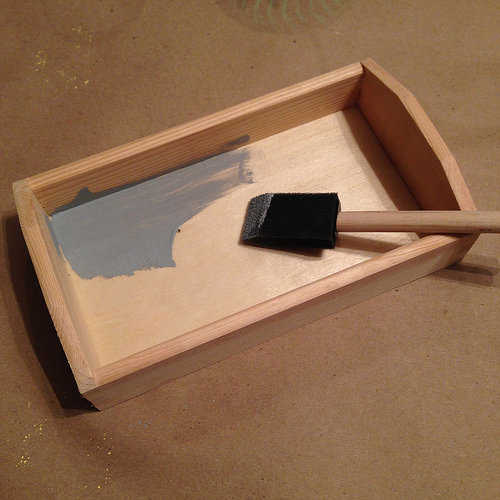 From Lish: "I went with spring-ready yellow and slate polka dots, in a variety of sizes, on my runner. I applied a simple coat of paint with my three trays to match, complete with a Mod Podge sealant finish. I really like how the yellow and slate worked together; it's a color trend I keep seeing for new babies, which is great! The Americana acrylic craft paints were really wonderful to work with. I added a bit of the fabric medium to my paints and it really helped make the paints extra smooth on the stiff canvas."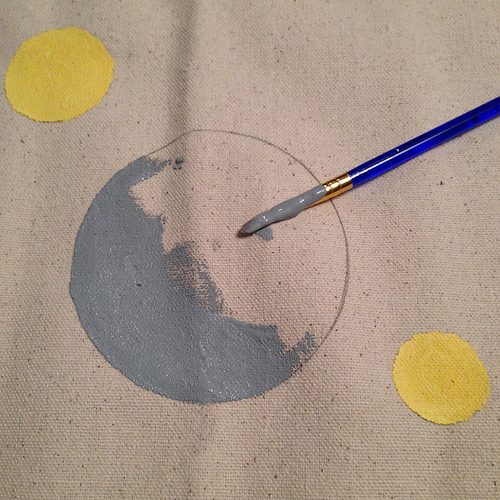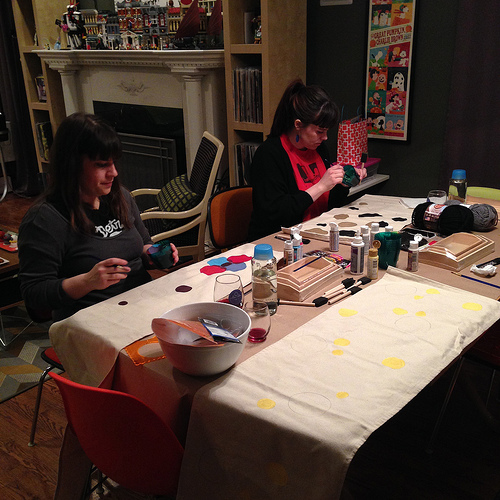 "When you've had a rough week, I highly recommend painting polka dots on ANYTHING. I loved how relaxing it was, especially when you have a few friends with you doing the very same thing!"
Thanks to Meijer for asking us to participate in this crafting challenge. We had a lot of fun shopping and crafting! If you are looking to do some crafting through National Craft Month too, use the mPerks digital coupon code "c4tb8d" to receive 20% off your craft purchase at Meijer (valid 3/1-4/1).
This is a sponsored post. We received a gift card to pay for our craft supplies purchased at Meijer; no other compensation was given. All opinions are ours.
On Sunday nights our community is working its way through the Gospel of Luke. The last few weeks we have been wrestling with Luke 6, the second half of the chapter, the red letter part. It contains the beatitudes and woes. It also contains this,
But love your enemies, and do good, and lend, expecting nothing in return, and your reward will be great, and you will be sons of the Most High, for he is kind to the ungrateful and the evil.
Today we quote two few verses down, "Judge not, and you will not be judged…" However, we skip the verse above. We don't like it. Not even a little bit.
Thankfully, my friends comprise people who make up all aspects of the spectrum in our culture. I have gay friends and straight friends. I have conservative friends and liberal friends. I have Christian friends and non-Christian friends. My friends cross every color barrier.
As you can imagine my Facebook and Twitter feeds can be a little interesting. The views that are expressed by my friends are about as divergent as you can get. One post will declare the President is a Muslim Anti-Christ and the next will declare the Republican party as Nazis.
One thing I notice is the anger and hatred that both have for the other, yet espousing how people ought love one another and be nice. The caveat by both: As long as you agree with me. 
I am amazed by the hatred and lack of respect spewed out. There are so many half-truths or lies that roll through my social media feeds. Yet, when I sit down with these people they are not hateful or mean. But the words that are posted on their social media site are.
We have lost this sense of loving our enemies. In so doing we are losing our humanity. We are unable to separate our ideas from our person-hood. Our person-hood is lost in our ideas and therefore when our ideas are challenged it is a challenge to our very being.
Sadly, we don't love though. We don't extend love to those who are different from us, at least not in the public spectrum. We return hate with hate and evil with evil. When we do, we lose ourselves a little bit in the process.
I challenge you to look at your Facebook or Twitter stream and ask yourself: If my opponent wrote this about me, would I be angry? Before you post that pejorative and incendiary article or comment, ask yourself: If my opponent did this, how would I respond?
Let us move away from snark, anger, meanness, and hate. Maybe, just maybe, we could love our enemies for a bit and the world just might change.
There is beauty in broken things that are redeemed. They are transformed and renewed into something beautiful. I love seeing how people take things like old forgotten fields and transform them into life giving gardens. In Isaiah 59 we see how God redeems an exiled people by his own power and his own hand through a beautiful poem.
Take Moment…
Behold, the Lord's hand is not shortened, that it cannot save,
or his ear dull, that it cannot hear;
2 but your iniquities have made a separation
between you and your God,
and your sins have hidden his face from you
so that he does not hear.
3 For your hands are defiled with blood
and your fingers with iniquity;
your lips have spoken lies;
your tongue mutters wickedness.
4 No one enters suit justly;
no one goes to law honestly;
they rely on empty pleas, they speak lies,
they conceive mischief and give birth to iniquity.
5 They hatch adders' eggs;
they weave the spider's web;
he who eats their eggs dies,
and from one that is crushed a viper is hatched.
6 Their webs will not serve as clothing;
men will not cover themselves with what they make.
Their works are works of iniquity,
and deeds of violence are in their hands.
7 Their feet run to evil,
and they are swift to shed innocent blood;
their thoughts are thoughts of iniquity;
desolation and destruction are in their highways.
8 The way of peace they do not know,
and there is no justice in their paths;
they have made their roads crooked;
no one who treads on them knows peace.

9 Therefore justice is far from us,
and righteousness does not overtake us;
we hope for light, and behold, darkness,
and for brightness, but we walk in gloom.
10 We grope for the wall like the blind;
we grope like those who have no eyes;
we stumble at noon as in the twilight,
among those in full vigor we are like dead men.
11 We all growl like bears;
we moan and moan like doves;
we hope for justice, but there is none;
for salvation, but it is far from us.
12 For our transgressions are multiplied before you,
and our sins testify against us;
for our transgressions are with us,
and we know our iniquities:
13 transgressing, and denying the Lord,
and turning back from following our God,
speaking oppression and revolt,
conceiving and uttering from the heart lying words.
14 Justice is turned back,
and righteousness stands far away;
for truth has stumbled in the public squares,
and uprightness cannot enter.
15 Truth is lacking,
and he who departs from evil makes himself a prey.

The Lord saw it, and it displeased him
that there was no justice.
16 He saw that there was no man,
and wondered that there was no one to intercede;
then his own arm brought him salvation,
and his righteousness upheld him.
17 He put on righteousness as a breastplate,
and a helmet of salvation on his head;
he put on garments of vengeance for clothing,
and wrapped himself in zeal as a cloak.
18 According to their deeds, so will he repay,
wrath to his adversaries, repayment to his enemies;
to the coastlands he will render repayment.
19 So they shall fear the name of the Lord from the west,
and his glory from the rising of the sun;
for he will come like a rushing stream,
which the wind of the Lord drives.

20 And a Redeemer will come to Zion,
to those in Jacob who turn from transgression, declares the Lord.

21 And as for me, this is my covenant with them, says the Lord: My Spirit that is upon you, and my words that I have put in your mouth, shall not depart out of your mouth, or out of the mouth of your offspring, or out of the mouth of your children's offspring, says the Lord, from this time forth and forevermore.
This week Spring Training began. In Detroit there is only one way by which we celebrate this moment. Ernie Harwell, arguably the greatest baseball announcer in history (Jack Buck and Vin Scully are the other two) would begin every Spring Training with this poem. Its simple beauty points to the simple beauty of the game itself. Enjoy the voice of spring, the very voice of baseball itself.
We live in a world today where promises are not much more than cute ideas. Promises mean very, very little. We promise someone something and then we go on our merry way. For example, "I promise to pray for you." Really? Most people don't and we know that. The most heartbreaking is of course marriages. Men and women promise to be together for life. Those promises are basically worthless in our culture.
The emerging generations are coming to age as skeptics. They believe very little of what anyone tells them. Why would they? Most likely their favorite coach or athlete left their favorite team for something bigger and better before their contract was up. Their parents or grandparents are most likely divorced. If they're the religious sort they have seen pastor after pastor fall. There seems to be little value in terms of someone's promise.
For these reasons and many others, I think that what is known as Covenant Theology is crucial for our day and time. Covenant theology has at its heart God's promise to make for himself a people. It's a promise that we see renewed again and again. This promise begins in the Garden of Eden after the fall of Adam,
 I will put enmity between you and the woman,
and between your offspring and her offspring;
he shall bruise your head,
and you shall bruise his heel. (Genesis 3:15)
Here God, speaking to the Serpent, is communicating to Adam and Eve that someday their offspring will have victory over the serpent. But it gets better, God kicks them out of the Garden in a merciful act so that humanity could be redeemed.
A few years later God clarifies and develops his promise through Abraham.
Now the Lord said to Abram, Go from your country and your kindred and your father's house to the land that I will show you. And I will make of you a great nation, and I will bless you and make your name great, so that you will be a blessing. I will bless those who bless you, and him who dishonors you I will curse, and in you all the families of the earth shall be blessed. (Genesis 12:1-3)
This covenantal promise is renewed with Abraham, Isaac, Jacob, and Moses. He adds to it and through David, confirming the royal priesthood of his people. The promise was displayed over and over again through circumcision. This outward act was a sign of God's promise, his covenant.
Jesus burst on the scene and as a result the global scope of the covenant became clear. Now baptism is the sign of the covenant so that it includes Jews, non-Jews, male, and female.
What I love about God's covenantal promises is that he makes good on them. In a culture where promises mean nothing, the Scriptures reveal to us a God who makes promises and keeps them. So many Christian folks talk about the need to live "counter culture". As a result they seek to avoid as much of "this world" as they can. However, the best way for us live "counter culturally" is to embrace the promises and tell the stories of God's great covenant keeping work in our lives and community.
When you live in a culture where promises are not kept the covenant keeping God stands out in stark contrast.