Stirling and Charles English (Photo by Peter Schorn/RockOutShots.com)
Retro music fans will have three good reasons to get together this December! There will be a reunion of friends, fans, and family of the seminal '80s nightclubs Todd's and Liedernacht/City Club and a birthday celebration for Stirling - the creator of these two (and many other) nightclub new wave theme nights. The party is on
Saturday, December 19, 9 pm at Northern Lights Lounge in Detroit's New Center.
The night will feature original Todd's DJ Charles English spinning music from the '80s for your listening and dancing pleasure. The night is also a party for a good cause, as a portion of the proceeds will benefit the release of a local documentary film.
"AMERICA YOU KILL ME" is a feature-length documentary film about the pioneering work & impact of gay rights activist Jeffrey Montgomery, and the struggle for equality in the midwest. The film is in its final production stages and is scheduled to be released in 2016, once funding is completed. Stirling specifically requested that some of the proceeds go towards this important documentary as it needs to be seen and gay rights was an integral part of the Todd's legacy. The 2014 short film is here:
https://vimeo.com/92246156
The history of Todd's was an East Side gay nightclub that welcomed and transitioned into a new wave/punk dance club two nights a week by nightclub impresario Stirling in the early '80s. He then worked his magic at the old Leland House Hotel and transformed its' upstairs club into the subculture enclave Liedernacht on the weekends. This eclectic club hosted techno pioneer Derek May as a DJ followed by punk Djs on Sundays. The club still remains an underground nightspot today as the City Club and is one of the longest running clubs in the city. Stirling also helped found The Majestic Theatre, and the now defunct Sardine Bar, The Warehouse, and live music club 313.jac.
Northern Lights Lounge is located at 660 W. Baltimore in Detroit.
(313) 873-1739
.
www.northernlightslounge.com
21 & Over welcome. $6 cover with a portion of the proceeds to benefit the documentary film "America You Kill Me."
https://www.facebook.com/AMERICA-YOU-KILL-ME-1612820898962956/
Mike Galbraith
The holiday season is upon us and it is time once again for "Home for the Holidaze 13: Songwriter Showcase & Charity Drive." Static Network has been hosting this night of songwriters for the past decade to benefit the community's homeless citizens and animals.

The event brings together six local singer-songwriters in one evening of acoustic music for a good cause.

Performing will be:
AUDRA KUBAT

ALISON LEWIS

EMILY ROSE

MICHELLE HELD

MIKE GALBRAITH

MARK BOLOHAN

The donations and proceeds from the event go towards purchasing food and winter clothing items that is distributed to the homeless thru our selected charities:

Outcry Youth & Street Ministry - Brother Joe Hicks has been helping the homeless and youth in Detroit for over a decade. His nights are spent on the streets of downtown helping those less fortunate with the donations he receives. http://brotherjoesyouthandstreetministry.com
The Congregation of Every 1 - Local artist and philanthropist Jeff Hocking started the secular community group turned charity to help the homeless and also contribute goods to other homeless shelters for people and also animal rescue groups. https://www.facebook.com/congregation1

Pet food donations are also collected each year and donated to a non-profit animal rescue shelter.

Hater Kitty Rescue Army (www.HaterKitty.com) is a local cat rescue group who takes care of strays, gets them health checked, and places them in forever homes. www.HaterKitty.com.

The show is on

FRIDAY, DEC. 18 at 9 pm

. The venue is THE CADIEUX CAFE located at 4300 Cadieux Rd. in Detroit. Please call 313-882-8560. www.cadieuxcafe.com. 21 & over are welcome. Admission is $5 with one can of people or pet food or winter clothing item or $6 without. Boots, blankets, socks and hats are much needed items this year.
featuring
Future Criminals
The Failures
Saturday 28 November 2015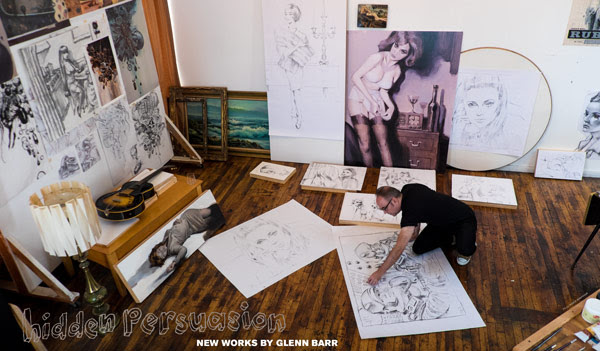 Inner State Gallery Presents Glenn Barr's Hidden Persuasion November 20th
Prolific Detroit Artist Returns Home For His Latest Exhibition
Join Us
Tonight
From
7-10pm
Inner State Gallery
1410 Gratiot Avenue, Detroit, Mi 48207
Directions
/
RSVP
Opening Friday November 20th, Inner State Gallery is proud to present Glenn Barr's
Hidden Persuasion
. With an entirely new body of work, Detroiters are invited into the mind of a true master of the new contemporary art movement. In this collection Barr explores a vast array of characters and situations, immersing viewers into his complex visual storylines spanning decades of cinematic folklore.



"My new work in
Hidden Persuasion
is a tiny bit of a departure for me. In my past work, surreal manifestations inspired by the unconscious mind came to life. The source for this current body of work is inspired by subject matter taken from films and television. I transform these characters turning them into archetypes and visually complex icons," Glenn Barr said discussing his upcoming solo exhibition.
After wildly successful shows at Los Angeles' trendsetting Merry Karnowsky Gallery and New York City's playful Cotton Candy Machine, Barr returns to Detroit's Inner State Gallery with his most refined and complete body of work to date, showcasing his unparalleled painting techniques to elicit emotion and draw viewers into his vast visual dialog.
"Previous exhibitions always had a few of these images, but this time I really went for it. Not to worry, you'll still find an alluring dark undercurrent in my new work that will take you into this parallel world. Also, in following with the theme I've created some installations. One in particular is an interactive 'set' which I hope everyone will take part in," Barr added from his studio space in Detroit's historic Corktown neighborhood.
Inner State Gallery
1410 Gratiot Ave
Wednesday, November 11, 8pm
Admission: $8 ($5 for members)
Museum of Contemporary Art Detroit
4454 Woodward Ave.

'Industrial Soundtrack for the Urban Decay' traces the origins of Industrial music, taking a journey through the crumbling industrial cities of Europe to America's thriving avant-garde scene. Industrial music emerged in the mid 1970s, providing a vibrant, provocative, and artistic soundtrack to the picket lines, economic decline, and cultural oppression of the era. Whether factory workers, students, or unemployed, industrial music pioneers were all educated, artistically minded and politically aware artists who started with little to no musical background and went on to change musical history. Featuring Throbbing Gristle, Cabaret Voltaire, and many other pioneers.
On Wednesday, November 18 Small's Bar in Hamtramck is hosting an exclusive screening of the documentary "I Am Thor," an official selection of the 2015 Sundance Film Festival.
The film will be followed by a performance by the bodybuilding champion and heavy metal singer himself- Jon Mikl Thor and his band THOR.
FILM SYNOPSIS
Jon Mikl Thor was a bodybuilding, steel bending, brick smashing rock star in the 70's & 80's whose theatrical band THOR hit the scene alongside Metallica and Kiss, but never achieved the gold record status of its contemporaries. After a brief but memorable film career saw him starring in the cult classics Rock 'n' Roll Nightmare and Zombie Nightmare, Thor all but disappeared from the entertainment map. But ten years into retirement, and incapable of living like a normal mortal human being, Thor attempts a comeback to achieve the level of success that had eluded him his entire career - a comeback that nearly kills him. Tracing the rise, fall, and rebirth of a determined performer over the course of a career that has seen more than its fair share of highs and lows, I AM THOR paints a fascinating and sometimes unbelievable portrait of this larger-than-life icon.
Show Details:
Date:
Wednesday, Nov. 18
Location:

SMALL' S BAR located at 10339 Conant, Hamtramck
8 p.m. doors, 9 p.m. film followed by performance
$12 in advance, $15 at the door

Limited seating during the film is available on a first come, first serve basis
Purchase advance tickets
HERE.
For more info on the film visit: http://www.iamthormovie.com/
"Love is what I have for my city, Detroit. 'Detroit Love' is my way of spreading this love, a love for music from the city, my heritage and who I am as a producer and performer. My love for Detroit is my inspiration, my inspiration is 'Detroit Love'." – Carl Craig
'Detroit Love' was launched at ADE 2014, in the underground recesses of Amsterdam's North Sea Jazz club. Carl Craig invited Detroit natives Recloose, Moodymann – who played a set encompassing disco, soul, house and hip-hop, and Mad Mike Banks to play keys over Carl Craig's Moog infused 4-cd-deck closing set, which included live editing, sampling, scratching and looping of soundscapes ranging from ambient textures to masterful techno. A Detroit focused line-up, showcasing only a few of the sublime talent that Detroit has to offer, the launch was a special and unforgettable night for those who attended.
For 'Detroit Love' events, Carl Craig will perform a new technical set up with 4-cd deck mixing, looping, live editing and sampling.
Special video mapping is being designed, depicting the surreal, urban Detroit landscape.