By Juan Cole | (Informed Comment) | – –
The Turkish incursion into Syria at Jarabulus was advertised as an attack on a Daesh (ISIS, ISIL) stronghold and smuggling station in conjunction with (fundamentalist) remnants of the Free Syrian Army.
But the southern outskirts of Jarabulus had already fallen to the Pentagon-backed Syrian Democratic Forces, which are majority Kurdish but have a significant Arab component. The Arab, non-Kurdish SDF brigades such as the Seljuk brigade, the Army of Revolutionaries, and Northern Sun Brigade had fought to liberate the northern Syrian city of Manbij, due south of Jarabulus from Daesh. They have an outpost in the village of Amarna just a few miles south of Jarabulus, where they call themselves the Jarabulus Military Council.
The Turkish army, having secured Jarabulus itself with the help of fundamentalist militias, moved down to Amarna, where they met fierce resistance from the Syrian Democratic Forces, who are allied with the Kurds. The Turkish air force bombarded the SDF positions in Amarna and the militias responded by destroying two tanks and killing one Turkish soldier. Fighting continues there.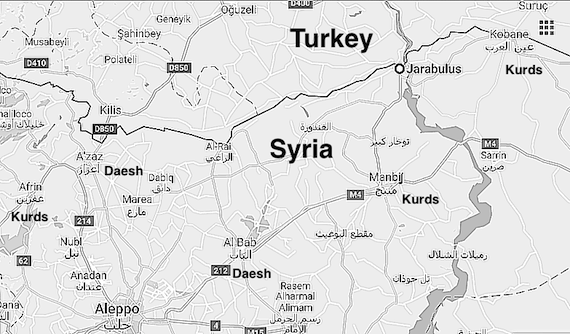 h/t Google Maps
Remember, Turkish forces were supposed to be going in to Syria to fight Daesh. But there they were, engaging in combat at Amarna with the SDF, which is backed by the US Department of Defense, which has 200 US special operations forces embedded with it, and which had itself taken heavy losses kicking Daesh out of Manbij.
These actions help answer the question I posed Thursday, about whether the Turkish incursion is really aimed at stopping the Kurds from consolidating their mini-state of Rojava in northern Syria rather than mainly targeting Daesh.
Kurdish media is saying,

"Furthermore, the Turkish-backed [fundamentalist] Sultan Murad brigade captured three SDF fighters in the Turkmen Yusuf Beg village, publishing a video beating them on camera, calling them 'PKK dogs'.
Turkey sees the leftist Kurdish YPG militia in Syria as a part of the Kurdistan Workers Party or PKK in Turkey. The latter is a terrorist organization according to the US, but the YPG is considered a US ally.
Kurdish sources also allege Turkish incursions near Kobane and Afrin. Afrin is the western-most of the three Kurdish cantons in northern Syria, and the Kurds are accusing the Turks of trying to keep it cut off from the others.
US Syrian policy is in disarray despite the victories against Daesh in Manbij and Jarabulus. US allies on the ground– the Turks, the fundamentalist Syrian rebels, and the leftist, pro-US Kurds and their Arab allies– are now actively combatting one another, and a group backed by the Pentagon has just killed a Turkish soldier, which is to say, a NATO soldier.
—–
Related video:
CCTV: "Syria crisis: Fighting between Turkish troops and Kurdish forces intensifies"
Shane and Melissa Douglas started the business in 2014 in a loft at Milwaukee Junction in Midtown with a very limited run of handmade leather goods, each created so you could match your individually with the individually of the product.
The word got out and business grew. Now they have moved their Douglas & Co. workshop and a store to 609 E. Milwaukee St. in the garage of the former Peerless Machine Weighing Co. The products will continue to be unique and special with a limited run of only 20-50 items, and, once in a blue moon, up to 100.
Their hand-crafted leather creations like bags, card-holders, clutches, key chains and wallets are paired with a certificate of authenticity signifying its series number and quantity in that run. Each of the items ranges in price from $8-$220.
"In the design process, Shane and Melissa are inspired by beautiful places, beautiful design, and the beautiful people of Detroit," the website says. "Each item that Douglas & Co. Detroit produces is a labor of love that is deeply rooted in Detroit."
One hundred percent of the manufacturing process takes place in Detroit including cutting, stitching and packaging. The Horween Leather used to create the leather goods comes from the US.
The new location is a step up from the loft at 800 square feet, with 200 square feet dedicated solely to retail, but still small enough for the intimate experience they want their customers. They will also offer workshops in the studio.
Other products found exclusively in the new store include:
Candles
Long bill wallet, which is a long wallet with a closure that holds credit cards as well as dollar bills
Flags – handmade stitched and screen-printed made in collaboration Wild Standard
Computer / document portfolio – for carrying a computer or tablet along with other documents, available in natural
Some of the products are available only online and several new and exclusive bags are only available in their new studio. The store is open Tuesday – Thursday from 12:00 p.m. to 5:00 p.m. and on Saturday from 11:00 a.m. to 2:00 p.m. For more information: douglasandcodetroit.com.
Made in Detroit usually conjures up images of assembly lines and robot arms. While that is of major importance, there are plenty of people who are taking our city back to its roots and creating smaller and more personal products.
– Photos courtesy of Douglas & Co.
By Juan Cole | (Informed Comment) | – –
Nicolas Cadène, in an interview at L'Express analyzes the French court ruling issued Friday that struck down the ban by the mayor of Villeneuve-Loubet on Muslim women wearing modest clothing at the public beach. The ban was on the burkini, invented by a Lebanese fashion designer to allow observant Muslim women to go to the beach with their families. But women wearing loose street clothes at the beach have also been bothered by police.
Cadène is a rapporteur at the "Secularism Watchdog" (l'Observatoire de la laïcité), a Ministry of Education body that advises the French government on the implementation of the secularism provisions of the French constitution.
The Counsel of State found that wearing a Burkini creates no trouble for public order and is simply not illegal in current French law. In response, the French right wing has demanded that the National Assembly enact anti-Burkini legislation. L'Express worries that the French executive, or at least the ministry of interior, might be inclined to appease the Islamophobic and anti-immigrant right wing on this issue.
L'Express asked Cadène for his reaction. He said he wasn't surprised and was very pleased that the court had upheld rights in such a clear way. He said that the court had reaffirmed the principle that secularism cannot be invoked to forbid wearing a piece of clothing in a public space, which creates no actual difficulty with regard to public order. And they found that the Burkini doesn't generate any such disturbances.
L'Express pointed out that the logic of rights is not particularly visible in the realm of politics, since several members of parliament have already called for anti-Burkini legislation.
Cadène said that it is disquieting to see these reactions. He pointed out that August 26, the date of the verdict, is the anniversary of the 1789 Declaration of the Rights of Man. Article 10 says, "10. No one shall be disquieted on account of his opinions, including his religious views, provided their manifestation does not disturb the public order established by law." He said the members of the National Assembly just are not reacting in accordance with the Rights of Man, which has constitutional force.
L'Express pointed out that the court did not address the question of whether the Burkini is "ostentatious" or not.
Cadène said that "ostentation" is a political judgment, not a legal one, and there are no laws forbidding it.
He instanced only three pieces of French legislation that observers have attempted to relate to this case, and dismissed all three as irrelevant.
There is the 2004 ban on wearing religious paraphernalia in K-12 schools. There, the rationale is to protect minors from any sort of pressure, so as to allow them to study in peace. He implied that such a rationale could not be invoked with regard to adults in public spaces.
There is also a prohibition on clothing that covers the face, but this provision, he said, is simply a matter of security, since it prevents the identification of the person who wears it. Again, this issue does not arise with regard to the Burkini, since it leaves the face bare.
He added that, third, government officials must avoid expressing their religious opinions. But this prohibition came about because they are representatives of the state and so must be neutral.
L'Express pointed out that some commenters look at the issue in the frame of women's rights, seeing this beachwear as retrograde, and wanted to know if this debate can be pursued in the wake of the ruling.
Cadène said that the decision has affirmed the law that is in effect. It doesn't forbid debating ideas. It should be decided whether this clothing is retrograde for the condition of women. But in a state based on the law, you can't just prohibit things you don't like with no legal basis.
I think Cadène's location of choice of clothing as an expression of one's opinion, and therefore protected under Article 10, is brilliant. In the US, this sort of issue would likely be decided in the light of our First Amendment.
Government laws dictating how people dress are called "sumptuary laws." Although some delegates to the US constitutional convention wanted to specify such laws as a prerogative of the federal government, in the end they did not. (Some wanted to forbid aristocratic dress inappropriate to a republic). In the end, the federal government doesn't have any right to tell us how we can dress. Local governments often pass decency legislation, but those laws typically mandate that people cover up, not that they uncover.
The French mayor wanted to make French women wear revealing bathing suits on the grounds that they are republican and secular, whereas Burkinis or loose street clothes on the beach are an ostentatious sign of a woman being pious and religious– inappropriate in the public spaces of a republic. This attitude comes out of the French conception of laïcité or secularism, which isn't like the American. French in the strong republican tradition see religion as a little like we now view smoking, as something that is probably bad for people and which should be discouraged, but which is too popular to be banned. So banning a Burkini for the public good would be viewed by them as like banning cigarettes in public. But there are real problems with giving the state the right to regulate what is essentially a manifestation of private opinions on the part of a citizen, as was pointed out above.
Sometimes Islamophobic conservatives express outrage that Western progressives support Muslim rights that the conservatives want to curb. But progressives also support Sikhs, Haredi Jews and others who want to be different, as long as their being different doesn't harm anyone. (Thus, Sikh construction workers have to wear a hard hat or they would cost everyone a lot of money in health care; and Haredi bus drivers can't exclude women or girls because that would be a form of discrimination and a tort). The reason progressives support these groups is that we believe being different is an extension of the First Amendment. Conservatives have passed a raft of state and federal laws protecting religious groups from government interference, but they define religion as only evangelical Christians and they ignore the issue of actual harm religious practices can do (thus business people claimed the right not to serve African-Americans on religious grounds back in the 1960s and 1970s). In short, the progressive position is principled, the conservative one hypocritical and arbitrary.
Let me also point out that the French Third Republic was founded in 1870, and that this swimsuit for women was proposed in 1893 in the French specialty publication, the Fashion Monitor (Le Moniteur de la mode : journal du grande monde):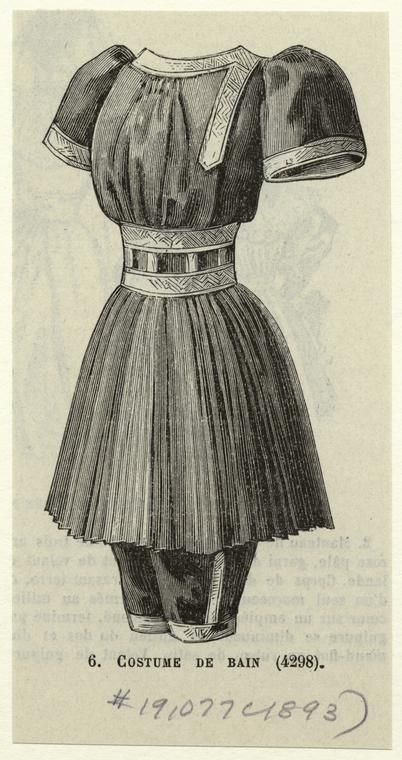 And here's Edouard Manet, "On the Beach," 1870:
You can say that wearers of Burkinis are hearking back to early days of the Third Republic. You can't say they are behaving in unprecedented ways for citizens of the Republic.
I don't think it's a secret that we love music in this family. Months and months ago, Cortney said, "hey…did you know there's a new show coming to Netflix with Beatles music and Eddie Vedder sings one of the songs?"
Usually I am the one giving the first-to-know Netflix news, but when it comes to Pearl Jam/Eddie Vedder, Cortney is usually the one in the know first.
We sort of forgot about it until a big box came in the mail the day I had my hernia surgery. Inside was a tambourine, harmonica, hats, and a microphone. I wondered for a moment if Netflix was trying to kill me, but then remembered that Beat Bugs was now available to watch!
The first day I was home with the kids after my surgery (which was 5 days post-op), I busted out the box of noise because I thought it would keep them occupied. I was right. Naturally they loved it. Naturally.
It was only after the kids put on an epic rock n roll concert that we settled down and found Beat Bugs on Netflix. Eddie was all like, "hey, they sing a song in every episode. That's neat." And Charlie was like, "I love songs!" And Alice just shook her booty.
I was like ZOMG THE BEATLES!  AND EDDIE VEDDER JUST SANG "MAGICAL MYSTERY TOUR!" And is that P!nk singing "Lucy in the Sky with Diamonds"? SHUT UP!
I mean, the show is cute. Yeah.
Do you want to hear something funny? Cortney was actually a little mad we watched the show without him!  Ha!  We are usually late to the new shows, but we jumped on this one because it has everything we like: cute characters (look at Buzz! Just look at her! She is adorable!), great music, and umm…that's it. That is all we require in a great show. It's surprising how few shows meet these qualifications, really.
The only draw back (other than the fact that Netflix sent noise to our house via FedEx) is that Eddie keeps arguing that one really does need more than just love. "Love will not fill your tummy with food mom, even if you DO say the secret ingredient in your ice cream is love. I'm pretty sure it's not."
Rock on, fellow Netflix watchers!
This post is not sponsored. Netflix provides free streaming and a device to watch on. I provide my own opinions.
My daughter isn't into sandwiches. It's a new thing. Tomorrow she might like them again but today, she's refusing to eat them. I get it. It's easy to get bored with your packed lunch. Which means, I'm pinning ideas on Pinterest like a mad woman, trying to prepare for back to school lunches. My son, he's easy going. He'll eat an apple, string cheese and whatever else I throw his way. Not my daughter.  I've come up with many new lunchbox ideas that are sandwich free for my picky eater and I'm excited to share a few of these with you. After all, us mama's need to stick together!
Cocktail shrimp – high in protein and I can buy a large frozen bag and thaw several pieces of shrimp for the week. Tip:   dry the thawed shrimp with a paper towel before packing them.
Mini Bagels & Cream Cheese – This does not count as a sandwich for some reason, in my daughter's mind, so I'm going with it!
Whole Wheat Noodles in Parmesan Cheese with Broccoli Florets – I mix it all together with olive oil and a touch of salt. To make life easier, I divide several days' worth into containers for easy packing!
Hard Boiled Eggs – I make a dozen at a time and have them all peeled and ready to pack. They're high in protein and my daughter loves them!
Oatmeal, Granola & Fruit – My daughter suddenly loves oatmeal and she prefers it cold (odd). This makes it easy to pack for lunch in a container with granola and fruit. It's heart healthy too! To mix it up, I can add Greek yogurt, make a bunch of mason jars for overnight oatmeal, and save myself a ton of time!
Mini Muffins – My daughter loves mini muffins and this makes for an easy lunch box addition, especially when I make them with fresh fruit, Greek Yogurt or protein powder for baking. Check out these 20 healthy muffin recipes if you're looking to mix it up in the recipe department!
Homemade Cold Pizza – We love to make homemade mini pizzas at home with whole-wheat crust and my daughter loves hers with very little sauce, lots of cheese and bacon. This makes for an easy leftover but when we make them, I make several, slice them and freeze them for easy lunches.
Chicken & Cheese Quesadillas – Another favorite in our home and we use our waffle maker to make them. I add lots of cheese, grilled chicken slices, and just like the pizza's, I make lots of these at once and freeze them for lunches. Thaw the night before and BAM, a sandwich free lunch!
For other back to school lunch ideas, try these recipes and inspirations:
Healthy Bento Box Inspirations from Back to Her Roots
6 Easy Lunch Kabobs from Mom Time Out
Back to School Mason Jar Ideas featured on Babble
13 Eco-Friendly Lunch Box Solutions
Books & Recipes on Amazon.com
Healthy Bento for Preschool to Age 10
The Best Homemade Kids' Lunches on the Planet
The post Kid Approved Sandwich Free Lunches appeared first on Green and Clean Mom ™.
Drool. #chelseaeats #latergram #bbq #bbqchicken #atlanta #krogstreet (at Krog Street Market)
One-to-one marketing is about building relationships that put your clients/customers at the heart of everything you do. It is the epitome of customer-centric marketing. Quality communication is the cornerstone of a successful one-to-one marketing strategy. It establishes trust and helps to eliminate misunderstandings. That also includes having a deep understanding of their transactional data, demographics, social graphs and data collected using the latest digital tools to identify their best prospects. By using predictive modeling, you can put the right message, in front of the right people, at the right time to maximize your return on investment.
Start by establishing a learning relationship with your customers. That way, through every interaction, you can modify and improve your ability to meet their needs.   
It's all about re-framing the way you think about your relationship with your customers. For example, here are some questions to ask yourself in order to put the focus on them:
What does your customer need and how can we help? Vs. What can we sell to our customers?

What kind of relationship does your customer expect to establish? How can we be more involved? Vs. How do we get them to buy more?

What value do your customers need to see before they'll purchase? Vs. How can we make more money from our customers?
Implementing a one-to-one marketing program means getting as close to personalization for each customer as possible. If you are just starting out, your business may not be set up to address everyone's needs uniquely right away, but little by little you can get there. Every step towards personalization and customization sets you one step above your competition.
4 Steps to putting together a one-to-one marketing plan:
Identify: Identify your customers. Get to know them.
Differentiate: Customers represent different levels of values and have distinguishing sets of needs. Separating each of these into buckets will help you focus your efforts and map out an appropriate one-to-one marketing strategy.
Interact: Improving cost efficiency and the quality of your interactions is crucial to one-to-one marketing. Better insight helps build a more accurate picture of your clients and their customers. Every interaction should take place in context with all of the other interactions. If they called yesterday, be able to pick up where that conversation left off. TIP: Directing your customers to more automated customer interactions helps cost efficiency.
Customize: Treat the customer differently based on what you have learned from interactions, sales, marketing...etc. Then adapt accordingly to meet their needs and behavior.
Results can be a challenge to measure when there are so many channels to communicate. Create strategies that align with your customer's shopping journeys in a scalable, meaningful way. When companies leverage data analysis and digital technology, they are able to deliver more individualized messaging, services and product offerings. Advancements in data collection technology have made it possible to measure results and customize creative in real time. Technology is able to pair 1st party data such as demographics with 2nd party data like social media participation.
1st party data: This is the most relevant and accurate kind of data because it is collected directly from customers. This information is most often collected on websites, at the point of sale, email or text messages. Highest ROI
2nd party data: This is first party data that has been purchased from another company. It can be beneficial for two non-competing brands to partner with each other and share data sets if they complement each other. Middle ROI
3rd party data: These are the bottom of the barrel kind of data sold by big data collection companies. The chances of it being unique to your business or useful are slim. It can be costly, but it's readily available and far reaching. This kind of data is easy to get, but you have to be careful because it often breaches data regulations. Lowest ROI
Database management platforms, customer relationship management platforms, beacon technology and IP address targeting.
Database Management Platforms: Centralized computer system for merging, integrating and collecting data. These are essential to giving relevant, timely, engaging and personalized messaging that resonates with your customer's unique needs and wants.
Customer Relationship Platforms: These are used to manage and analyze customer interactions and data throughout the customer lifecycle. They have the goal of improving business relationships, improving customer retention and driving sales growth.
Beacon Technology: Beacons use Bluetooth technology to reach the mobile devices of people on the go. Potential customers are looking at their cell phones for over two hours a day. Beacon Technology allows retailers to customize messaging based on things like proximity to a store. 
IP Address Targeting makes match-back reporting more efficient. It quickly gives quality feedback on what is working and what isn't so that you can adjust your one-to-one marketing strategy accordingly. It allows you to compare and analyze targeting segments with new sales and return on investments. It also measures impressions, clicks, click-through rates and conversions.
Once you have collected the data, you'll start to understand your customers unique set of challenges and opportunities. This will help you put together performance driven solution plan that involves clear calls to action and simple paths to purchase.
Relationships evolve over time. The longer they are, the richer they become. The insights gained from knowing the way a customer operates and having a deep understanding of their history, goals and expectations are the human element that bridges the gap between business and data. It's something we call Humanalytics. This offers an unbeatable level of convenience and customer service. You'll be more efficient, be able to anticipate challenges, recognize opportunities and deliver more personalized results.
5 Ways to open up the lines of communication:
Listen

Be responsive

Ask the right questions

Make the most of meetings

Combine communication methods
The Future:
There can be a lot of gray areas where these steps overlap each other, but this can be a good general checklist for putting together a successful one-to-one marketing strategy. 
identify your customers

differentiate them

adapt your behavior to address each one's needs
With the evolution of technology, mobile apps, social media, the internet and mobile platforms - one-to one marketing is constantly evolving. What are some of the ways that your business opens up the lines of communication? We would love to hear what steps you take to make the best connections with your customers, providing them one-to-one marketing communications. Join us in the conversation below. Or, if you you have questions, drop me a line at mmorin@yaffe.com. 
Michael Morin - always looking for ways to make better connections
Detroit, like many cities, has its share of friends and foes. There are plenty of companies that deserve to hang their collective heads in shame for polluting, dumping and plain-old ignoring the city's natural resources and long-standing architectural gems.
But then there are the heroes. The companies, business owners and employees who are trying to do what is right. They're trying to contribute to Detroit both as corporate citizens and just people who want to see their city thrive. These are the shining examples of how you enhance Detroit's revival rather than hinder it.
One such business is DTE Energy. Sure, it has a headquarters in the city, so there is an investment already there. (The company also is in the midst of putting in a massive park across the street from its stately grounds; I think you can tell it's going to be impressive just from the size and amount of construction vehicles out there already.)
In August, the whole company – some 1,400 strong – put on their red T-shirts and got to work in another way. This was DTE Energy's first "Month of Caring," a way to cover the city with its volunteer efforts in a new and vibrant way. One of the stops I checked out was a new mural on the Milwaukee Junction substation, a project proposed by community partner Summer in the City.
The artwork being done that day was massive – it required ladders, people with long arms and many, many buckets of paint to get it done. What was a form cement-block wall is now a bright, Detroit-centric transportation mural, one that neighbors can enjoy and people across the region can admire when they come in for events at nearby art galleries or museums.
"These murals embrace the communities they're in – they serve both sides, both the residents and the buildings themselves," said Isaac Piepszowski, 22, co-director of this summer's activities for the non-profit organization.
Since 2010, the company has sponsored enterprise-wide volunteer initiatives, including "DTE Cares Day," and "DTE Cares Fridays." This year, DTE has expanded its initiative to an entire month to more positively impact the community through volunteering, fundraising and collection drives.
There were more than 100 different volunteer events scheduled across Michigan throughout the month. From Grand Rapids to Monroe to Pontiac and areas in between, the DTE Care Force assembled groups ranging from five and up to 200 employees, to team up and give back to the causes they care about – in their own way.
Employees donated their time to community service activities, including: o neighborhood clean-up and beautification; food packing and serving; recycling and environmental support; home building, restoration and furnishing services; and services to support children – through back to school support, educational services and classroom transformations.
"Our team was really excited at the opportunity to participate in the event and work with the various organizations," said Kevin Tomaszewski, manager of Logistics. "It took the hard work of many different groups both within DTE and outside of DTE. We really appreciate everyone coming together to do something good for the city."
Some 25 nonprofit organizations supported throughout Michigan – including Gleaners Community Food Bank, Habitat for Humanity, Summer in the City, Arise Detroit, Children's Center of Wayne County, Life Remodeled, Humble Design, Crossroads for Youth, Belle Isle Conservancy and more.
"Volunteerism matters. It strengthens the connections to our communities. Most importantly, it helps our communities and nonprofit partners make a meaningful difference in people's lives," said Mark Stiers, president and COO, DTE Gas. "DTE is encouraging our employees to volunteer because as a good corporate citizen, we recognize it is our responsibility to give back to the communities where we live and serve."
If a 501(c)3 nonprofit is looking for volunteers, and would like to connect with DTE Energy and its Care Force, it can email the company at volunteering@dteenergy.com.
From teaching kids the three Rs Greektown's long-forgotten St. Mary's School has found a new purpose in teaching businesses how to grow. The former halls of academia will now be walked by business innovators, industry pioneers and urban thinkers.
This new destiny for the historic building at 1041 St. Antoine Street comes from JACK Entertainment. It will make this former school its new headquarters in December and bring along 140 members. It is currently housed at One Woodward Avenue.
The spirit of the school will live on. The goal of JACK Entertainment is to foster collaboration among team members while preserving and enhancing the building's original architecture.
"This is an exciting period of evolution for our company and relocating to Detroit's vibrant entertainment district is a big step for us," says Matt Cullen, chief executive officer for JACK Entertainment. "Our move will bring us closer to our 2,000 team members at our Greektown Casino-Hotel and affirms our long-standing commitment to the Greektown district. It also provides us with the additional space we need to accommodate our dramatic growth."
The building is connected to Greektown Casino-Hotel by a pedestrian skywalk.
The five-story, 29,000-square-foot former school building is currently undergoing a $7 million renovation to bring the long-vacant building back to life. The project architect is Neumann/Smith Architecture and the general contractor is Colasanti Group, both located in Detroit.
There will be large open spaces and a fifth floor mezzanine will be home to JACK Entertainment's headquarters. The bottom level of the building is reserved for retailers to move in at some point in the future.
JACK Entertainment started its life as Rock Gamming LLC in 2009, with only 10 team members. In the corresponding years it has gained revenues exceeding $1.4 billion, as it spread across four states and gained approximately 7,000 employees across six properties in four states.
"At the core, our company is committed to urban revitalization," says Cullen. "We believe in fostering positive change in the downtown areas where we reside and this move is consistent with that commitment. Our move is not only good for our business, it also gives new life to this historic building and it benefits those around us. Success for our Greektown merchants and community means success for Detroit."
Designed by Puis Daubner, St. Mary's has been a fixture in Detroit since 1868. In its long life it has been a school, orphanage and sisters' residence. It became St. Mary's Community Center when it ceased functioning as a school in 1966. As one of the oldest Catholic buildings in the state, it was made a historical landmark in 1980.
JACK Entertainment and its affiliates purchased the Greektown Casino, which is attached to St. Mary's, back in 2013. A $70-million renovation of the casino was recently ended.  The main parts of the update were a state-of the-art HVAC system for enhanced air quality, new technology and gaming options for guests, advanced LED lighting throughout the property and beautifully upgraded interiors.
Greektown Casino-Hotel will be renamed JACK Detroit Casino-Hotel Greektown early next year as part of a rebranding effort for the new company.
The skyline and beloved architectural landmarks are getting a chance to stay around for Detroiters for years to come.