September 30, 2016 by Juan Cole
Filed under Uncategorized
By Juan Cole | (Informed Comment) | – –
Alarabiya says that Russia has killed over 3,000 civilians in its bombing raids of the past year.
BBC Monitoring translated an article by Mikhail Khodarenok at the Gazeta.ru site from 23 September that tries to explain why any decisive victory in Syria has eluded Russia during the past year.
The author points out that the Syrian Arab Army of Bashar al-Assad has not made any significant gains in territory in the past twelve months. He says that the rebels still control 60-70 percent of the country's territory, but this is completely misleading. Most of that "territory" is the eastern desert and it is irrelevant who holds it. The regime likely controls some 70 percent of the population mostly in the west or what the French colonialists used to call "useful Syria."
He says that people living in regime-held areas, even military personnel, "are forced to pay tribute to the corrupt special services." Khodarenok does not think the war is winnable under these circumstances without substantial rethinking.
He says that the lion's share of Russian armed forces have been withdrawn from Syria, save for a single aviation group at the Hmeimin base. The Russian government is strapped for cash and trying to do Syria on a shoe-string, using gasoline and jet fuel sparingly.
He says that the Russians are running low on ammunition, and are thinking of trying to buy some missiles that can be launched from the air from Belarus, which has large old Soviet stores of them.
Khodarenok will admit that the first six months of Russian air intervention in Syria went fairly well. Russian Aerospace Forces helped the Syrian army take some territory from the rebels.
But, he says, the second six months saw those efforts stall out, with rebels retaking some of the territory they had lost.
He describes rebel holdings as:

"a significant proportion of Aleppo, the whole of Idlib Province, a significant part of Homs Province, the area around the city of Deir al-Zour, the oasis of East Al-Ghutah to the south of Damascus, the district of Az Zabadani on the border with Lebanon, and a number of other areas."
The problem with this list is that he pays no attention to how many people live there. Syria had 22 million people in 2011 before the civil war. Deir al-Zor has only about a million. Likewise, al-Raqqa Province was 800,000 before the war, of which half have run away to Turkey or now live under Kurdish rule in the north of the province. East Aleppo is probably only 250,000, with three or four times that many under regime control in West Aleppo. You go down the list, and I doubt the rebels have more than 6 million or so under their control, and that is counting the Syrian Kurds. And I think the regime has the other 12 million. (Four million have fled abroad, so I think the country's population has fallen to 18 million).
The author maintains that the old USSR and Russian-trained officers have largely been fired, and most of the officer corps studied in the Middle East. Many of those with Turkish or Saudi ties defected. The remaining officers are plagued by corruption and fraud.
Russian military advisers have been withdrawn, and the Syrian Army HQ has no Russian advisory staff. There is little coordination on the battlefield.
Khodarenok advocates a single Russian command in Syria, with a kind of viceroy in charge of all the moving parts.
He suggests sending a brigade of some 10,000 men into Syria from Russian Chechnya.
He critiques the logistics of the Syrian army, which he says has no centralized supply system. As a result many young people have defected.
He complains that Syrian army morale is extremely low. At key moments in the struggle for Aleppo, troops ran away.
So that's a pretty pessimistic take on the Russian intervention.
I think he's missing some successes of a defensive sort– shoring up Latakia and forcing the fundamentalists out, e.g., or a similar strategy in other areas such as the city of Homs.
But he could be right that the struggle is going nowhere fast.
——
Related video:
Masdar News: "Syrian army advance in Bustan Basha district in Aleppo city"
September 30, 2016 by contributors
Filed under Uncategorized
By Mahsa Alimardani | ( Globalvoices.org) | – –
Some good news reached Canada this week when Homa Hoodfar, an Iranian-Canadian anthropologist, was released after months of incarceration in Iran. Hoodfar is known for her research on women and Islam, especially women's participation in Iranian elections.
Her arrest highlighted two particular areas of sensitivity for Iranian hardliners: the presence of dual nationals, and any activity related to women's rights in Iran. Hoodfar was therefore particularly problematic amongst the hardline Iranian institutions of the Iranian Revolutionary Guards and the judiciary. These two bodies have been responsible for the arrests and incarceration of many activists, journalists, and dual nationals. They operate independent of the elected government, and often work to undermine the relatively progressive tendencies of the moderate Rouhani administration.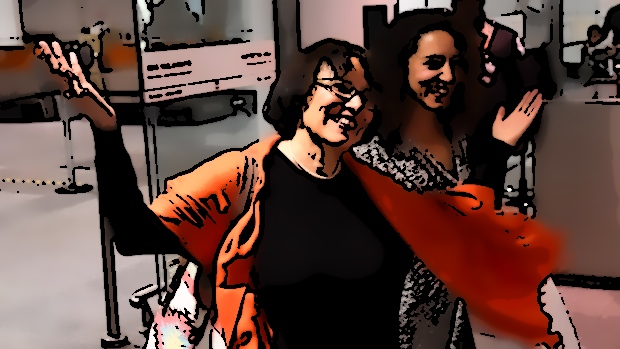 Hoodfar's status and persecution as a dual national has been widely discussed. However, what has been given less focus is the Iranian government's recent crackdown on activism and discourse around women's rights, in which Hoodfar's case was also entangled.
Women's participation in Iran's parliamentary elections in February 2016 was unprecedented since the 1979 Islamic Revolution. Women won 17 of the 209 parliamentary seats. These gains for women marked the first time since the revolution that there are more female politicians than clerical politicians in the parliament and signalled a shift in public support away from hardline Islamic conservatives. This female participation was the subject of Hoodfar's research when she spent time scouring the Iranian parliament's library on her February visit to Iran.
Following the beginning of her detainment in June, Tehran's prosecutor general gave a media interview stating that Hoodfar's "criminal" case was connected with "her entry into fields concerning feminism and national security offences". Days earlier, media outlets affiliated with the Revolutionary Guards ran articles claiming that the 65-year-old Concordia University professor was "the Iran agent of a feminist network building operation" and the Campaign for Changing the Male Dominated Face of Parliament was "her latest project".
Hardliners see feminism as a Western-orchestrated plot
The Campaign for Changing the Male Dominated Face of Parliament worked to promote women's participation within parliament; it is not clear if Hoodfar has any direct affiliation with them.
Those who participated in it belong to a large network of women in Iran with a solidarity network from within the Iranian diaspora, including prominent activists inside Iran such a Noushin Ahmadi Khorasani, who has previously faced arrest and imprisonment for her women's rights work on campaigns such as the One Million Signatures Campaign to Repeal Discriminatory Laws and the Feminist School.
The Feminist School explained on its website that its goal was to move beyond the right to vote towards the right to be elected — women only held 3% of the seats in the Iranian parliament before the February elections:
We need our parliamentary representatives to be committed to equal human rights for women and other citizens. It's because of this that we have initiated our campaign for changing the male-dominated face of the parliament. […] Women hold critical responsibilities at all levels of society from the household level to economic, social and cultural arenas. It's now time for the place of women in the legislative body to change commensurate with the responsibilities they hold.

Participation in the political management and legislative processes is a justified demand that has been stipulated in clause 25 of the Islamic Republic's constitution: "All citizens irrespective of their gender are protected by the law and enjoy political, economic, social and cultural rights consistent with Islamic standards".
The campaign's goal was to elect 50 female parliamentarians. While the total of 17 women elected fell short, they had significant success in generating an unprecedented amount of candidates. Official numbers calculated 1,234 women registered to run for parliament — a three-fold increase compared to the previous parliamentary elections in 2012 — and at least 16 women applied to become candidates in the Assembly of Experts. There were mass disqualifications by the Guardian Council, the body that vets all candidates running in different elections in Iran, and no woman was vetted to run for the Assembly of Experts, the body that will be responsible for electing the country's next Supreme Leader.
As the February elections neared, the Revolutionary Guards started an intensive campaign of repression against women's rights activists. In January, they started linking any collective initiatives in the field of women's rights to criminal activity, much like Hoodfar's case. Many with associations to the Campaign for Changing the Male Dominated Face of Parliament were summoned for interrogations by the Revolutionary Guards, according to Amnesty International. Their efforts promoting female political participation were cast as Western-orchestrated plots — Iran's hardline elements often view the expansion of a woman's role beyond the home as stemming from Western influence, as opposed to a homegrown desire by Iranian women to have a stake in their country's laws and policies.
In an interview with Basij news agency — the Basij being the volunteer militia under the authority of the Revolutionary Guards — Zahra Nasiri, a female member of the women's branch of the hardline Islamic Society of Students, explained that she was dismayed that elements within the Rouhani government were encouraging these "Western" derived efforts to promote women in parliament:
It's not surprising to see feminists popping up every once in a while and shouting slogans about equal rights, but what's unfortunate is seeing government officials supporting these ideas and allowing them to creep into government positions…These days it seems like the Arrogant Powers [Western governments] are trying to infiltrate our country through feminist forces.
President Rouhani and members of his administration had expressed their encouragement of women's participation in the February elections on numerous occasions, such as this December 2015 statement:
Women should be present in the elections for the Assembly of Experts and especially for [Parliament] because their presence in the mix is important for us…We are not doing women a favor [by bringing them into government]. This is their natural right…There's no difference between women and men as far as Creation, art, intelligence and closeness to God are concerned.
Nasiri's opinions however, were echoed amongst many other hardline figures, including the Supreme Leader Ayatollah Khamenei, whose notable theories on women include the following from May 2013:
One of women's greatest responsibilities is to bear children. That's the art of being a woman.
Khamenei's many speeches concerning women often discourage women from participating in activities outside of the home.
Many women however are hopeful that the election of the new female parliamentarians, mostly from within the more progressive reformist camp, will indeed push back against traditional policies regarding women through parliamentary legislature.
The crackdown inside Iran continues
These hardline sentiments were indeed the reason for the mass disqualifications by the Guardian Council, and the crackdowns on members of the Campaign before and after the parliamentary elections.
The interrogations the women faced had to do with their affiliation with both the Feminist School and Campaign for Changing the Male Dominated Face of Parliament. As a result, many working on the initiative either suspended or heavily self-censored their activities. The Campaign told Amnesty many of its active campaign members have ongoing national security-related cases against them.
The most tangible outcome of these crackdowns can be seen in the fact that neither the Feminist School website or Facebook page have been updated since February 2016. Additionally, Iran's renowned women's rights magazine Zanan-e Emrooz ceased its publication after years of struggle with the government over its content. The magazine was shut down in April 2015 and reopened again later in the year, only to be finally shuttered for good in July 2016.
While Hoodfar's release as well as the international attention are in large part due to her status as a Canadian academic and dual national, the continued persecution of women's rights activists with ties only to Iran should not be forgotten.
——
Related video added by Juan Cole:
CBC News: "Homa Hoodfar arrives in Montreal: 'It's wonderful to be home'"
September 30, 2016 by contributors
Filed under Uncategorized
By TeleSur | – –
Republican attorneys general are accused of helping shield ExxonMobil over climate change fabrications.
Environmental groups have called allegations of Republican attorneys generals colluding with lobbyists from the fossil fuel industry "a smoking gun when it comes to fossil fuel industry corruption."
These Republican officials are accused of protecting oil giant ExxonMobil, which faces ongoing investigations over downplaying climate change.
"The recently-exposed collusion between Republican attorneys general and fossil fuel lobbyists exemplifies exactly why we need to kick big polluters out of climate policymaking," said Katherine Sawyer, from Corporate Accountability International.
In July, audio recordings from the Center for Media and Democracy implicated Republican attorneys general in the scandal. Attorneys general met with fossil fuel lobbyists during private, undisclosed meetings during a Colorado summit hosted by the Republican Attorneys General Association, RAGA.
The allegations are "a smoking gun when it comes to fossil fuel industry corruption. These recordings are more evidence that big oil is bankrolling Republican attorneys general's attacks on climate legislation," said Jamie Henn, from 350.org Action.
The recordings reveal discussion on how ExxonMobil could be shielded from investigations that it was purposefully misleading climate change evidence to the public and its shareholders.
The RAGA hosted summit included a presentation "Climate Change Debate: How Speech is Being Stifled," which reportedly did not include any scientific reports. Climate change skeptic, Myron Ebell, also spoke at the meetings. Ebelll is currently part of Republican Presidential Candidate Donald Trump's energy team.
Representatives at the summit included a number of fossil fuels organizations such as the Competitive Enterprise Institute, CEI, and the American Fuel & Petrochemical Manufacturers, AFPM, who have received large funds from ExxonMobil. The RAGA has received US$100,000 from ExxonMobil since 2015.
Earlier in the year, 13 members of Congress were accused of attempting to protect ExxonMobil and protect its image against in relation to climate change, including funding scientists to argue that petroleum products could help control the climate.
—–
Related video added by Juan Cole:
Thom Hartmann from last year "Could Exxon Mobil Face RICO Charges over Climate Denial?"
September 30, 2016 by detroitfunk
Filed under Uncategorized
September 30, 2016 by SHirko
Filed under Uncategorized
#17 MSU 2-1/0-1. Indiana 2-1/0-0
Saturday, October 1, 2016.
8:00 pm ET.
Memorial Stadium, Bloomington, IN
Line: MSU by 6 (
vegasinsider.com
)
TV: BTN
Weather: 63 degrees, 50% chance of showers
Depth Chart -
MSU
-
Indiana
Which team will show up? Will Tyler O'Connor show up? Will Dave Warner show up? Will the defensive line show up? Will the RBs block? Who will show up? Reschke is OUT, Bullough didn't even dress last week... wha????
After Wisky lit up MSU because of our
MISTAKES
, I don't know where to go or what to expect. Indiana has, as typical, struggled against the
sisters-of-the poor
all year. This time, let's wing this prediction like a Whirling Dervish
Da ES will be up in Mt Pleasant to tailgate and witness the
End of the World
, CMU vs WMU... but tuning in via B1G2Go, the ES will see the Spartan O-Line getting back to basics to dictate the game, and opening up holes for LJ Scott and Gerald Holmes. Expect 175+ yards out of the two backs combined. Also, expect the maligned d-line to push up front and stop the run. Indiana has a prolific offense, as usual, but it is also prolifically mistake-prone. Who is MSU? Too tough to tell at this point.
Is the Big Green the brute that ran a 25-play drive over Iowa like a 26-wheeler over a Mac Truck? Or, is this the Big Green playing like a scared kitten in a box with a rabies-infested Rottweiler? This is more on Dave Warner and the offense. Stat to remember:
MSU is 13-2 since 2010 after a loss
; ain't too shabby.
ES sez: MSU 27-21 over Indy.
Peanut Barrel: Tom, MSU 36-24; Feather, MSU 35-17; Brad, Indiana, 31-17
LSJ
: MSU 37-31
Freep
: Solari, MSU 27-21
The Spun
: MSU 31-23
Det News
: Charboneau, MSU 30-21; Chengelis, MSU 24-17; Wojo, MSU 38-31; Niyo, MSU 34-21
SpartyMSU
: MSU 35-17
MLive
: MSU 41-28
Athlon
: MSU 27-23
CFN
: MSU 34-23
Campus Insiders
: MSU 31-20
Winners And Whiners
: MSU by 7.5+
CBSSports.com
: 5 of 7 pick MSU
Inspired by the Humans of New York project, I took the time to walk around my own area — Muskegon, Fruitport, and Grand Haven — to talk to strangers about their favorite parts of Michigan. Here are their photos and stories: What is your favorite place to relax? Nita:  "Heritage Landing, you get a chance to […]
The post 25 Strangers: A West Michigan Photo Journal appeared first on Awesome Mitten.
September 30, 2016 by SHirko
Filed under Uncategorized
If you saw the Spartans on Saturday, God Bless You. They sucked. Made so many mistakes everywhere, extremely disappointing. The ES' bud, Brock, threw out a 50-0 Wisky prediction about the game - and he was actually CLOSE.
It is only one game. Is it an aberration? Only time will tell. But, there are lots of questions raised - particularly, in order...
1. Tyler O'Conner. He played AWFUL. Andrew Maxwell-awful. What took the cake was when he rolled right from pressure and did not see Donnie Corley FREE to the end zone on a post route (the other 75,000 people saw it), and instead checked down and threw a terrible INT in the short flat. The ES threw up watching that.
2. Tyler O'Conner. OK, he deserves multiple mentions. ES thought improvement - but his play vs. a redshirt freshman was embarrassing. Can't find your tight ends? Jesus
3. Dave Warner. Worst game he called since... the Cotton Bowl. Poor opportunities to throw the ball downfield. Poor running plays - not enough trap blocking to open holes; Wisky made it tough, don't get me wrong... but lack of inspiration on the offensive line. They looked lethargic.
4. Defensive line. Where were they? Hardly any pass rush on their frosh QB? Give me a break.
5. MISTAKES!!!! Spotting Wisky 20 points off turnovers (60-yard fumble return, fumbled punt at the 5 y/l, O'Conner INT at MSU 30 y/l... ugh). You just can't do that.
6. Wisky 7-16 on 3rd downs, a diaper-dandy (Horney-brook)16-for-26 passing????
Stripe out was tres cool. The Spartans were ice cold. Sucked.
I stopped here because I couldn't take it any more. We have lots of work to do to right this ship.
                                    WIS      MSU
FIRST DOWNS...................       15       21
RUSHES-YARDS (NET)............   41-122    27-75
PASSING YDS (NET).............      195      250
Passes Att-Comp-Int...........  26-16-1  43-20-3
TOTAL OFFENSE PLAYS-YARDS.....   67-317   70-325
Fumble Returns-Yards..........     1-66      0-0
Punt Returns-Yards............      0-0     1-13
Kickoff Returns-Yards.........     2-37     4-70
Interception Returns-Yards....      3-8      1-4
Punts (Number-Avg)............   5-40.8   3-51.0
Fumbles-Lost..................      1-1      1-1
Penalties-Yards...............     7-67     5-35
Possession Time...............    32:48    27:12
Third-Down Conversions........  7 of 16  4 of 13
Fourth-Down Conversions.......   2 of 2   0 of 2
Red-Zone Scores-Chances.......      3-3      0-2
Sacks By: Number-Yards........     4-20     2-11

On Sunday, October 2, 2016, Cranbrook Institute of Science will open a new exhibit called Megalodon – Largest Shark that Ever Lived. The 5,000-square-foot traveling exhibit highlights the...
Please visit Detroit Mommies to read more!
Oil on linen panel, Image 8x6" 2016


This nocturne painting is a view of the Dix Ave Bridge over the Rouge river.
Post settings Labels #detroitart, #detroitartist, #fineart, #industriallandscape, #nocturne, #oilpainting, #postcardsfromdetroit, #realism, #stephenmagsig Published on 9/22/16, 11:18 AM Eastern Daylight Time Links Location Search Description Options
September 30, 2016 by Karen Dybis
Filed under Uncategorized
Building a brand is tough. Building a company is challenging. Building an industry is near to impossible. Yet a group of dedicated fashionistas are doing exactly that – they are building Michigan's fashion industry into something significant through events, new businesses and a wide-reaching educational conference known as FashionSpeak.
FashionSpeak, which takes place Oct. 13 in Detroit's One Woodward Building, is a day filled with internationally known speakers, plenty of networking with local stars and a room filled with the spark of young talent.
Presented by Taubman, this one-day conference brings together nationally recognized experts in five fields crucial to the success of the fashion industry. Each conducts a 70-minute workshop, centered on the business of fashion. There is a vast amount of talent in Michigan's fashion industry, and the event sponsor Detroit Garment Group is poised to bolster education, provide resources and promote the successes of those in this segment.
The first FashionSpeak conference, which took place October 2013 at the M@dison building in Detroit, quickly sold out with more than 200 people in attendance. The last two events at One Woodward brought a sell-out crowd of 250 attendees for each event.
This year's lineup has a talented group of speakers and a new special event, known as the Meijer Merch Search. The 2016 Keynote Speaker is Jeffry Aronsson, a turnaround expert, attorney and former CEO of Oscar de la Renta, Donna Karan, Marc Jacobs and more.
Having Aronsson come back to Michigan for FashionSpeak is a testament to the event, the man and Detroit Garment Guild's mission to make the state a fashion destination, said organizer Karen Buscemi, CEO at Detroit Sewn as well as Founder and President of Detroit Garment Group.
"We have another great lineup this year, and once again, every speaker either lives in Michigan or is originally from Michigan," Buscemi said. "Especially exciting is this year's keynote speaker, Jeffry Aronsson. This (Wayne State University) alum has had one heck of an impressive career in fashion, and he truly cares about giving back to Detroit. The attendees are going to learn so much from him."
The day's lineup includes Group Vice President, Softlines of Meijer Annette Repasch, who will talk about how to "Get Your Foot in the Door: Developing Relationships with Larger Companies." Product Development Expert Amy Dietrich will tackle how to "Determine and Develop Your Best Product." Buyer at Freeds of Windsor Lauren Kirsch Weiss will cover "Tradeshow 101." And Public Relations Expert Karen MacDonald will explain "How To Elevate Your Brand."
A key highlight is the inaugural "The Meijer Merch Search," where preselected FashionSpeak attendees will get the chance to pitch their fashion product(s) in front of a panel of Meijer buyers and executives for a chance at an order placement to be sold at Meijer stores.
FashionSpeak ticketholders can register for a chance at talking to Meijer here. Today is the last day to apply for this special opportunity, so grab your tickets here and apply via this link.
If you've ever had a dream of designing your own handbag. Perhaps you create jewelry and hope to start a full-time company. Maybe you watch "Project Runway," and you can picture yourself as one of the designers. Whatever your dream, attending an event like FashionSpeak, meeting the people in the room who are experts or on their way to being one and feeling the energy of the industry will push you toward that all-important first step.
Knowing that this event could change people's lives is what inspires Buscemi and other organizers, who truly put their hearts into this conference.
"The addition of The Meijer Merch Search helps DGG further our mission to retain talent and grow our fashion industry," Buscemi said. "Can you imagine if one of the lucky attendees pitching his or her idea got an order from Meijer? That could change the future of a fashion brand. It could create new jobs. It could bring more attention to our fashion community. That's exactly what we want for our fashion professionals."