November 25, 2015 by Katie
Filed under Uncategorized
I am not a crafting kind of mom. But of course I have two little boys who LOVE to do crafts.
This usually means when they ask if they can do crafts, I get out paper and crayons. The end. They can do their crafts at school/daycare.
Sometimes I let Eddie "do crafts" during his little brother and sister's nap time. That means stuff is everywhere and I get hives. There is no rhyme or reason, just scraps of supplies everywhere.
When I heard about Avery & Austin I thought it was the perfect idea! You get a box delivered to your house with everything in it for a "perfect play date:" a couple crafts (with everything you need right down to glue!), a healthy snack for two, and a cute hostess gift.
The November box had a photo theme. Each boy got to assemble a wooden model camera and then paint it (wooden model kit even includes sandpaper! and Avery & Austin supplied wood glue and acrylic paint AND brushes).
Then there were cardboard frames to decorate with stick on leaves. They even came with magnets so you can frame pictures on the fridge when you are done.
There were little speaking bubbles to write on too with a wood dowel–a prop for all the fun pictures that would be taken. Charlie asked me to write "help" on his. It was appropriate.
I mentioned a healthy snack. Eddie wasn't a fan, but Charlie–my uber-picky eater–devoured his bag and most of his brother's bag. WIN!
I have to say, I had some reservations. Even pre-planned crafts scared me a little, but it took up a huge chunk of our morning, created almost no mess (that's right, even with paint!) and the boys loved it! They were so excited to put together a planned craft rather than have me just shove crayons and paper at them.
We had fun! And I can't wait until the December box! It will be perfect for a day over Christmas break!
*************
Disclaimer: This is not a sponsored post. I am an ambassador for Avery & Austin, but I do not have to create blog posts. I just did because A) I am trying to post every day in November and B) We really had a great time with the crafts. I was truly impressed.
featuring
Future Criminals
The Failures
Saturday 28 November 2015
November 25, 2015 by Nick Catoni
Filed under Uncategorized
Funchess earned his first career start this week, and it looks like he's finally turned the corner, hauling in four passes for 64 yards and one touchdown. Also, Brady finds a way to win, Hall is good...then bad, and Shoelace receives some more carries.
Quarterback
Week 11 stats: 20/39 for 277 yards, 1 touchdown, 1 interception
The Pats-Bills game on Monday night was Ugly with a capital "U" as both offenses struggled to do anything and blunders by the refs became a major part of the game. Brady recorded his worst start of the season but probably would have another touchdown if not for an inadvertent whistle from the refs. The Bills pressured Brady more than any other team this season, but when they didn't, he torched them. He led a six-play, 62-yard touchdown drive in 33 seconds in the final minute of the first half. Those quick points proved critical later, especially considering the aforementioned screwup by the refs. Offensive line issues could eventually doom the Patriots, but for now, Brady and Co. are getting the job done as they are still undefeated at 10-0.
Running Back
Week 11 stats: 7 carries for 27 yards
While starter T.J. Yeldon received most of the workload last Thursday night, Shoelace played backup and matched his season-high in carries with seven as well as setting a season-high in yardage. Hopefully this leads to more action for Denard as the NFL season comes down the stretch.
Wide Receiver
Week 11 stats: 2 receptions for 26 yards on 2 targets
A solid performance for Avant after two consecutive stat-less weeks. He also made a key block on this big run:
Here's the most surprising part of Ware's big run; WAY shiftier than you'd expect a 230-pounder. Nice vision, too. pic.twitter.com/ncrxvS4iFH

— Seth Keysor (@RealMNchiefsfan) November 23, 2015
Week 11 stats: 4 receptions for 64 yards and one touchdown on 8 targets
The Panthers remain undefeated, and Funchess is starting to come into his own. He's had a positive PFF grade for three straight weeks, he earned his first career start this week, and he's making "some great plays" after struggling early this year. From Cat Scratch Reader:
Devin Funchess caught a lot of hell until a few weeks ago, and a lot of it was deserved. He didn't get separation, he dropped passes and for a while even staunch proponents got a little scared. These last three weeks, and especially on Sunday he showed his maturation. Being forced to play in Corey Brown's stead, Funchess caught four passes for 64 yards and a touchdown, he led the entire team in receiving. Cam made sure to get him involved early and it paid dividends late.
Defensive Line
Alan Branch (New England Patriots)
Week 11 stats: None
Branch failed to record any stats this week even though his usage shot up to 49% - due to the run-heavy Bills - when the Pats were on defense. However, Buffalo struggled to 94 yards rushing on 30 carries, so it seems Branch's presence made a difference even if it didn't show up in the box score.
Week 11 stats: None
Martin did not play this week. This is the fourth week in a row Martin failed to see any game action.
Linebackers
Week 11 stats: 2 solo tackles
This was an ugly week for the entire Eagles organization, including Graham, as the Bucs blew them out 45-17. When all that stands out in the game recap is an offside penalty Graham committed, you know this is a game to be forgotten.
Week 11 stats: 5 solo tackles, 3 assists, 1 pass defended, 1 QB hit
Standard fare for Harris this week as the Jets dropped their second consecutive game. Overall, the Jets defense looked bad against a normally lackluster Houston Texans offense.
Week 11 stats: None
After what looked like a breakout performance for Ryan two week's ago that would earn him more playing time, he's been on the field for just one defensive snap in the past two games. Baffling. If there's any Packers fans reading this, I'd be curious to know if there's a solid reason why.
Week 11 stats: None
Woodley had a quiet game in the box score this week on one-third of Arizona's defensive snaps. He continues to play a small role in their defense.
Secondary
Week 11 stats: 4 solo tackles, 2 assists, 1 pass defended, 1 interception
It was a tale of two halves for Hall this week. On the opening drive, he intercepted Carson Palmer - the 25th pick of his career - to swing momentum in Cincy's favor. However, he was "torched" by Larry Fitzgerald on Arizona's final drive, surrendering two catches for 38 yards that setup a Cardinals game-winning field goal. With Darqueze Dennard lost for the rest of the season, Hall will be leaned upon more as the Bengals try to bounce back from consecutive losses following eight straight wins.
Week 11 stats: None
Kovacs played on 15 (71%) special teams snaps and failed to record any stats.
Week 11 stats: 6 solo tackles
Woodson should have had an interception this week against the Detroit Lions as Matthew Stafford overthrew a pass by him. However, Woodson didn't make the play and had a quiet performance overall.
OFFENSIVE PLAYER OF THE WEEK
Devin Funchess
First career start, second career touchdown, and the Panthers leading receiver
DEFENSIVE PLAYER OF THE WEEK
David Harris
Nobody else stood out much
PLAY OF THE WEEK
Check out this gem:
WARNING: Cam Newton and Devin Funchess are starting to get on the same page. This is getting dangerous. #WASvsCAR https://t.co/syMbQk3OOb

— NFL (@NFL) November 22, 2015
WEEK 11 MATCHUPS REVISITED
The Broncos rushing attack came alive on Sunday, headlined by running back Ronnie Hillman going for 102 yards. However, the pass protection left much to be desired, with QB Brock Osweiler enduring constant pressure and five sacks throughout the game. Schofield struggled for a majority of the game, missing blocks and failing to pick up on the blitz multiple times.
WINNER: Bears Defensive Line
Charles Woodson vs. the Lions Receivers
Woodson had a rare quiet game on Sunday during his return to the Mitten State, only recording six total tackles. On the other side of the ball, Lions receivers went for 282 total yards during the 18-13 win. However, Woodson was extremely close to recording his ninth career interception against the Lions late in the game when QB Matthew Stafford overthrew a wide-open Eric Ebron. We'll consider this matchup a "draw" just because it appeared that Woodson was everywhere on the field during this game.
WINNER: Draw
Tom Brady vs. the Bills Secondary
The Bills defense had their way with Tom Brady on Monday night. He was sacked once and was hit several times throughout the course of the game, while only completing half of his passes. While the Patriots did come away with a win against Buffalo, Brady worked hard for every completed pass. We will give this matchup win to the Bills defense as a whole, due in large part to the constant pressure that Brady endured during the game.
WINNER: Bills Defense
WEEK 12 MATCHUPS TO WATCH
Tom Brady vs. the Broncos Defense
While the Broncos offense has been getting the majority of the attention in Denver following Peyton Manning's worse start of his NFL career, the Denver defense has quietly been putting together a spectacular season. They are currently ranked first in the league in points allowed per game (18.3) and yards allowed per game (284). However, they will perhaps have their toughest test of the season thus far when Tom Terrific and the Patriots come to town. Expect a defensive battle in this game, and with the decimated offensive line for the Julian Edelman-less Patriots, Brady may come out of the gate struggling. It's the classic case of an unstoppable force clashing with an immovable object, and it's going to be a good one.
ADVANTAGE: Broncos Defense
Devin Funchess vs. the Cowboys Secondary
Funchess once again proved to Cam Newton and the Panthers that he is a legitimate offensive threat, catching another touchdown on Sunday and leading the team in reception yards. In Week 12, he will be matched up against a Cowboys defense that is ranked 16th overall. While the defense has been steadily improving week to week, they have struggled with forcing turnovers. They are currently 30th in the league in turnover differential, only having six takeaways. Look for Funchess to continue to steadily improve week to week and see his playing time gradually increase as a result.
ADVANTAGE: Devin Funchess
David Harris vs. the Dolphins Offensive Line
Harris posted yet another solid game in Week 11 against the Texans. To date in 2015, he has recorded 2.5 sacks along with 71 total tackles. The Dolphins come to town on Sunday with a struggling offensive line that ranks 19th in the league per Football Outsiders. They have also given up 27 sacks this season, and because of that, expect Harris to record one (or two) of his own.
November 25, 2015 by zachlibby
Filed under Uncategorized
We introduce you to Michigan's historic and bitter rival, Ohio State, in preparation for this weekend's matchup.
Throughout the season during game week, we will be taking a look at what Michigan's opponent that Saturday has done so far and what the team looks like. With the game against Ohio State being a week thirteen opponent, we automatically go to the Buckeyes' loss to Michigan State last weekend and their outspoken running back.
Ohio State Overview: What The Hell Happened?
Zach: Before we get into this sought after rivalry, I want to focus on Ezekiel Elliott, the Ohio State running back who was in the news more for his postgame comments than his performance on the field last weekend against Michigan State. Does his remarks concerning the Buckeye's offensive game plan and him going on Twitter to announce his decision to leave early for the NFL merit a one game suspension? Or does he deserve to play in the regular season finale at the Big House?
Ricky: If I was Meyer, Elliott wouldn't see the field Saturday. No way, no how. While I appreciate his honestly being in the media, I think his comments were totally unwarranted. You're upset because you didn't get enough carries? Do something on the field to change it. Earn those carries. I know where Meyer is coming from with letting Elliott play because obviously he has to win this game, and he probably wouldn't be able to with Mike Weber or another player slotted at running back. Elliott wasn't the only one to sound off. A few other Buckeyes did so on Twitter. Zach, is that a cause for concern heading into The Game? Are they imploding?
Zach: You would like to think that it doesn't lead to an unfortunate implosion, because it's just another factor that helps knock the train (Ohio State) off its tracks. It's rather funny to think how the build up and implications for this game have drastically changed from earlier this past week to today, and part of that includes the fall from grace by Ohio State. From probable College Football Playoff finalists to Citrus Bowl candidates. Fans want to see a competitive game, but imploding what result in the second coming of the "Ten Year War" starting off on the wrong foot. With that being said, if Elliott continues his slump, who should Michigan's defense focus on containing?
Ricky: I think the obvious answer would be to key in on whomever is at quarterback, likely JT Barrett. But he hasn't been the same quarterback we saw last year before he broke his ankle in The Game. Through nine games, he's averaging 74.2 passing yards per game and 49.67 rushing yards per game. Those numbers are nothing like last year's: 236.2 passing yards per game, 78.17 rushing yards per game.Maybe it's the quarterback circus Meyer has been the ringleader of since Jones announced his return. Maybe it's the absence of Tom Herman. With the weight this game still carries, do we see Jones if Barrett struggles, or has that ship sailed?
Zach: Nah...for the reason being that Barrett's struggles against the Spartans can be blamed on Ohio State's putrid play calling. In Jones' case, when he was the team's starting quarterback, his struggles were because of him, not because of offensive coordinator Ed Warriner's decision making. There's no chance that Jones sees action on the field in Ann Arbor this weekend. And unlike Elliott, the quarterback's cryptic tweeting may have cost him playing time as the season comes to a close. But this is a Michigan blog and we have yet to talk about Jake Rudock. How will he do against Ohio State's pass defense?
Ricky: Ohio State, by the numbers, has the fifth-best pass defense in FBS. It has allowed 164.3 yards per game, and opposing quarterbacks are completing 49.1 percent of their passes. But, consider where those statistics come from: Hawaii passed for 85 yards, Northern Illinois for 80, Maryland for 133, Penn State for 120 and Michigan State for 91. Do any of those teams, besides the Nittany Lions, have a good quarterback? No. Ohio State faced Michigan State's backups, for crying out loud. If Mitch Leidner can pass for 281 yards and Wes Lunt for 241 yards against the Buckeyes, then Rudock can, too. I think Rudock will have to carry Michigan's offense in The Game, and 350 passing yards shouldn't be an unreasonable number to shoot for.
Recap: Michigan State 17, Ohio State 14
The game before The Game sure was ugly. Michigan State entered its game against Ohio State as a 13-point underdog with Connor Cook. But the fifth-year senior quarterback wasn't able to play against the Buckeyes, making an upset seem near impossible.
Mark Dantonio used a two quarterback system and let his running attack do what Ohio State's usually does as Michigan State pulled off a stunning 17-14 win. The Spartans totaled 203 rushing yards to the Buckeyes' 86.
Ezekiel Elliott was virtually a non-factor, rushing for 33 yards and a touchdown on 12 carries. JT Barrett tossed 16 passes for 46 yards and rushed for 44 yards on 15 carries in a letdown performance.
Tyler O'Connor played well in Cook's place, completing 7-of-12 passes for 89 yards and a touchdown. Gerald Holmes and LJ Scott were a two-headed monster in Michigan State's backfield. Holmes rushed for 65 yards and a touchdown on 14 carries; Scott totaled 58 yards on 13 carries.
Michael Geiger drilled a 41-yard field goal for the win as time expired.
Key Players
Ezekiel Elliott, Running Back
Elliott made headlines following the loss when he expressed his disappointment about the play calling, in which he only received 12 carries for 33 yards (2.8 avg.). He's already stated that this will be last season at Ohio State, so we'll see if he caves in or full throttles the offense to the Buckeyes' advantage.
Josh Perry, Linebacker
Perry has without a doubt carried the reigns as the leader of the Buckeyes' front seven and defense overall. Against the Spartans, he recorded 15 total tackles, seven more than both Tyvis Powell, Tyquan Lewis and Raekwon McMillan.
J.T. Barrett, Quarterback
Barrett had a quiet outing against a Spartans secondary that's suffered through a negative reputation throughout this season. He'll now square off with a Michigan defense that's fourth overall in the FBS against the pass this season.
Hot Takes
Zach: Michigan wins, but is not the team that'll represent the Big Ten East in the conference championship.
Ricky: Jabrill Peppers pulls off some Woodsonian feats in his first edition of The Game, returning a kick for a touchdown and scoring an offensive touchdown in a three-point win.
November 25, 2015 by ByAZuniga
Filed under Uncategorized
Jim Harbaugh joined Wolverine fans on Tuesday night in a tradition honoring Bo Schembechler, Fielding Yost and Bob Ufer.
ANN ARBOR -- The return of Michigan football came on a frigid Tuesday night in November, with more than 200 Wolverine fans linking arms and singing the alma mater.
Yes, ironically enough, the rebirth of Michigan football happened in a cemetery.
For the last several years, Michigan has had a football problem; there's no doubt about that. But, more deeply, the very pillars upon which one of the greatest programs in the nation was built had become rotten, putrid with mismanagement and disconnect between those in charge and those who love the excellence Michigan can embody.
The rebirth came Tuesday night, with Jim Harbaugh joining those Wolverine fans in a walk through Forest Hill Cemetery to visit the graves of Bo Schembechler, Bob Ufer and Fielding Yost. It came with his emotional speeches at each stop. It came when he asked the 200-plus fans to bow their head in prayer for Chad Carr. And it came when he led the group in "The Yellow and Blue" and "The Victors."
Video: Jim Harbaugh honors Chad Carr. "Yost and Ufer and Bo will be on the lookout for the newest angel." pic.twitter.com/mpuWibjK7d

— Alejandro Zúñiga (@ByAZuniga) November 25, 2015
Video: Jim Harbaugh leads Michigan fans in "The Victors" at the grave of Fielding Yost. pic.twitter.com/u9GXs3RHUC

— Alejandro Zúñiga (@ByAZuniga) November 25, 2015
Saturday afternoon will be about football -- Michigan isn't quite back in that just yet. But Bo, Yost, and Ufer, and all the Michigan faithful, were smiling Tuesday night.
* * *
Jeff Holzhausen, the original Michigan super fan, has been leading the graveyard walk for more than 20 years. It began when he was a student here, and it has stuck as tradition.
Every year, the Tuesday before the Ohio State game, Holzhausen leads a walk from Burton Bell Tower to the cemetery, where he stops at the graves of some of the biggest names in Michigan athletics. He lays a yellow rose on their tombstones and offers anyone the opportunity to share their stories. Then, in a symbolic gesture, smashes a buckeye nut with a hammer.
It's a wonderful tradition, and dozens of people join him each year. Sometimes the crowds are bigger, like the year Schembechler passed away. Sometimes they're smaller -- last year was one of those times.
Tuesday, though, he ran out of flowers to distribute. The procession was so large it briefly stopped traffic; once it arrived at the cemetery, those in the back had to huddle tight just so they could hear.
And right as Holzhausen began navigating the group toward Schembechler's grave, the first stop, a car pulled into the cemetery. Jim Harbaugh, his father Jack, and Michigan director of internal relations Zach Eisendrath all joined the crowd.
Todd Anson, a family friend, had told the Harbaughs about the tradition, and the coach knew it would be a valuable experience, Jack explained.
So Holzhausen stopped at Schembechler's grave, where -- as is tradition -- he played the famous "The Team" speech, then afterward asked if anyone had any words. And Jim Harbaugh stepped forward.
"Bo Schembechler set the standard," Harbaugh said. "I draw daily inspiration from Coach Schembechler like so many that knew him, that were associated with him, anyone that played for him, anyone that coached with him. He set the standard at the very highest level. One of the greatest of all time."
Jim Harbaugh speaking at Bo's grave. pic.twitter.com/ApMvQyTGXa

— Alejandro Zúñiga (@ByAZuniga) November 25, 2015
And Jack Harbaugh: "Never once did he give a talk before a game that your hair didn't raise up on the back of my neck. He was such a motivator and inspiration. … I love the man, will always love him. As long as there's breath in my body, he will be an inspiration."
Then Holzhausen handed Jim a buckeye nut and the hammer, and Michigan's coach completed the ritual.
The next stop was the grave of Bob Ufer, the legendary Michigan radio announcer. Jack Harbaugh shared a story about how, on Fridays, Ufer would come into the football offices, find an empty room and play game film on a projector. He'd call the game "as if he were calling it on Saturday," preparing himself for the broadcasts he knew were so dearly beloved by Wolverine fans.
"It was a labor of love for Bob Ufer," Jack said. "I remember Jim and John, they had those record players, and they'd go up to the room and put those on, and they'd listen to Ufer's call of those great 1970s teams."
And finally, the group paid tribute to Yost. But before the walk ended, Jim Harbaugh asked the crowd to bow their heads and recite the Lord's Prayer for Chad Carr, the grandson of former coach Lloyd Carr who passed away Monday at age five.
"I know Coach Yost and Bob Ufer and Bo Schembechler will be on the lookout for the newest angel," Harbaugh said.
* * *
The Game won't be played until Saturday, and Michigan will need a win and some help to stay in the hunt for the Big Ten title.
But it already feels like Michigan has won something back, doesn't it?
Jim Harbaugh became the first coach to participate in Holzhausen's graveyard walk. He did so for the same reason that 200 fans braved the winter night -- to pay tribute to three men he respects greatly.
Harbaugh came because "it's about the people. People are Michigan's legacy and its future."
"It just doesn't get any better to have that connection, to have that feeling of pride and that feeling of love -- to love something and have it love you back as well," Harbaugh said. "If you talked to 99.9% of people who went to the University of Michigan, that's how they'd feel."
He because Michigan football is a family, and that's what families do.
Let it sink in: During the week of The Game, Jim Harbaugh spent his Tuesday night walking through a cemetery to honor Bo, Ufer & Yost. Wow.

— Alejandro Zúñiga (@ByAZuniga) November 25, 2015
Zuniga can be reached at ByAZuniga@gmail.com and on Twitter @ByAZuniga.
In this edition, check out a preview of the number one athlete in the nation's visit to Michigan this weekend as well as the new offers that the Wolverines have made in the past few days.
Mecole Hardman Jr. (Elberton, GA), ranked as the No. 1 athlete in the 2016 class and 21st overall, is planning attending The Game on Saturday. This could be big for the Wolverines.
Hardman Jr. is an extremely versatile athlete, with experience playing at several positions including quarterback, running back, wide receiver, and special teams. He projects as an impact receiver at the collegiate level. Current Michigan athlete Jabrill Peppers may host Hardman Jr for this visit, which will benefit the athlete greatly. He can see first-hand how he may fit into the offensive schemes for Michigan, perhaps similar to how they utilize Peppers.
Per Steve Lorenz of Wolverine247 ($), Hardman Jr.'s decision has come down to Michigan, Georgia, Auburn, Alabama, and Ole Miss. As of now, the 247 Crystal Ball shows favoritism towards Georgia for landing his services, but that of course is subject to change. Hardman Jr. was originally planning on silently committing to a university during the season, but as of Monday he has decided against that, indicating that he needs more time to decide. He now plans on announcing his decision on National Signing Day in February.
Stay tuned later in the week for a complete recruiting visitors list for this weekend's game.
Top50 DT Set to Visit Michigan This Weekend
On Tuesday, Steve Lorenz of Wolverine247 (FREE) reported that 2016 Top50 defensive tackle Jordan Elliott (Houston, TX) will be among those in attendance for the game vs. Ohio State this weekend.
Earlier this week, Elliott a photo of a Texas-shaped cake that Coach Harbaugh and the coaching staff had made for his birthday. When Elliott called them to express his gratitude, plans were finalized for this visit.
The 247 Crystal Ball is currently in favor of Texas landing Elliott, however that may be subject to change due to the Longhorns' struggles this season.
Michigan Offers 2017 4* OL from Ohio
Per Steve Wiltfong's Twitter page on Monday night, MIchigan has offered 2017 four-star offensive guard Matt Bockhorst from Cincinnati, OH (St. Xavier).
Bockhorst (6-4, 290) also boasts offers from Clemson, Michigan State, and Penn State, among others.
Take a look at Bockhorst's junior season highlights here:
Wolverines Extend Offer to 2017 3* QB
Per his Twitter page on Sunday evening, Michigan has offered 2017 three-star quarterback Kasim Hill from Baltimore, MD (Gilman).
Hill is the 18th-ranked QB in the 2017 class and sits at No. 11 in the state of Maryland, according to Wolverine247.
He holds offers from several universities, including Michigan State, Northwestern, and Penn State, among others.
Check out Hill's sophomore season highlights here, courtesy of Hudl:
4* 2018 TE Receives Offer from Michigan
On Sunday, the Wolverines offered 2018 four-star tight end Mustapha Muhammad out of Missouri City, TX (Ridge Point) per Steve Lorenz of Wolverine247 (FREE).
During the 2015 season, Muhammad (6-4, 225) recorded 13 catches for 242 yards and three touchdowns.
Per 247Sports, Muhammad is ranked as the No. 5 TE in the 2018 cycle. He currently holds offers from Texas A&M and Houston.
November 25, 2015 by Juan Cole
Filed under Uncategorized
By Juan Cole | (Informed Comment) | – –
The Turkish government decision to down a Russian jet operating in the north of the Syrian province of Latakia is breathtaking in its boldness. Russia may no longer be a superpower, but it is a nuclear-armed great power. The newly elected Justice and Development Party (AKP) government of Prime Minister Ahmet Davutoglu and his mentor President Tayyip Erdogan in Turkey can rule without the help of any other party in parliament, and seems determined to double down on its policy of intervening in Syria.
The Davutoglu government risks substantial economic harm. Russian tourism has boosted the Turkish economy, and Russia was planning an important gas pipeline through Turkey as well as the building for Ankara of a nuclear power reactor. All those activities have just been cancelled, and tour operators in Russia are looking for other tourist markets after pressure from the Putin government. Russia is attributing the attack to an attempt by Turkish officials to protect gasoline smuggling routes from Daesh (ISIL, ISIS) to Turkey, but the geography of the shoot-down tells against this interpretation. This was near al-Qaeda territory in the northwest, not Daesh territory in the northeast, and the issue is arms smuggling, not oil smuggling.
Turkey has backed a range of Muslim fundamentalist groups in northern Syria in hopes of eventually overthrowing the Baath government of Bashar al-Assad. Turkey is also afraid of the leftist Kurds of northern Syria, which are accused of attempting to ethnically cleanse Arab and Turkmen villages that stand in the way of their establishing land bridges between the three major Kurdish cantons of northern Syria. The People's Protection Unites (YPG) or leftist Kurdish militias have already linked two of these cantons, defeating Daesh in order to do so. The third, Afrin, is separated from Kobane by a set of Arab and Turkmen villages north of Aleppo.
The blue territory on the map shows Turkmen villages in Syria. Also home of the proposed security zone pic.twitter.com/qg1k6SG8t1

— Ragıp Soylu (@ragipsoylu) July 26, 2015
But there are also Turkmen villages in the north of Idlib province west of Aleppo, and in the north of Latakia province to the west of Idlib. Turkmen populations in those provinces have organized militias and have joined rebel groups fighting the al-Assad government. Some of them have sometimes tactically allied with the Jabhat al-Nusrah, al-Qaeda in Syria, against government troops.
The Turkmen in the north of Latakia province live in an area called Turkmen Mountain near the Turkish border, including the sub-districts of Rabia and Qastal Maaf. The Turks call this area Bayirbucak. It is alleged that Turkey and the CIA are sending weapons for the rebel groups through Turkmen Mountain. Rabia is just southwest of the Idlib city of Jisr al-Shughour, which fell to al-Qaeda and its allies in late April. This city is a potential launching pad for the conquest of Latakia Province by hard line Salafi groups who are hand in hand with al-Qaeda.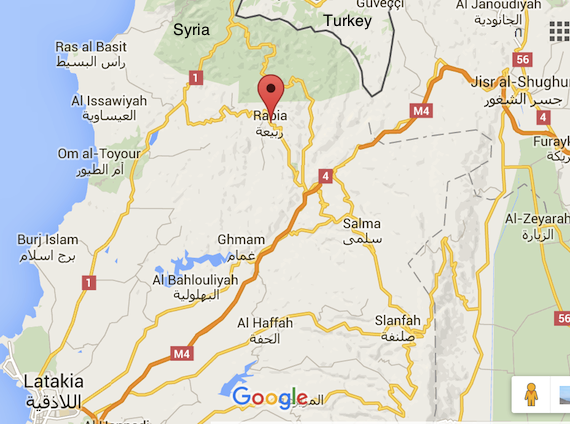 Via Google Maps
One of Russia's current strategic goals is to keep Latakia Province from falling to the rebels. Latakia contains a crucial port of the same name, as well as the Tartous naval facility leased to the Russians. Latakia is heavily Alawite, the Shiite group that is a mainstay of the al-Assad government.
Russia appears to have been attempting to cut off a smuggling route for CIA weapons such as T.O.W. anti-tank missiles through Jabal Turkmen by attacking the Turkmen militias of northern Latakia Province, in the interests of shoring up the al-Assad government there. This attack may also have been intended to panic Turkmen populations into fleeing over the border into Turkey, thus removing a power base for Turkey on the Syrian side of the border and removing a group that would aid al-Qaeda and its allies in Jisr al-Shughour to move west.
The Turkish press has been extremely exercised about this Russian campaign against the Turkmen in Rabia and Jabal Turkmen more generally, and some newspapers appear to have foreseen the attack on the Russian jet.
The centrist Milliyet wrote (BBC Monitoring trans.): "The picture has totally changed in Syria. Russian jets have hit and Al-Asad's Hezbollah-supported troops have started an operation to expel Turkmens from Bayirbucak. Was that a calculated move? Al-Asad's intention is to widen his sphere of influence by taking control of the Turkmen region with Russia's support… The more Ankara says that Al-Asad will go, the stronger Al-Asad makes his position."
The centrist, pro-government Turkish newspaper Sabah wrote on Tuesday, according to BBC Monitoring, "Now, attacks conducted by the Russia-Iran-Asad alliance against Turkmens have been added to that. The aim is clear: to draw Turkey into the war or to weaken its hand at the table. There are some other intrigues as well."
The religious-Right Yeni Safak wrote (BBC Trans.): "Turkmen Mountain? It is Turkey's 'red' line! No-one should assume that Turkey is just watching and waiting. So many things are being done behind the scenes! We will soon see them. Ankara will not be deterred by Turkey's enemies!.. What is going on is an 'unannounced world war'! Briefly, independent Muslim Turkey is putting up a vital fight against the Crusader-Zionist alliance!"
This paper seems to see Putin's Russia as an Eastern Orthodox Christian power allied with Israel against Turkmen populations. (None of this is true). Its sources appear to have predicted to it Turkey's dramatic response to the Russian campaign. The center-right Turkiye compared the Russian campaign against Jabal Turkmen as a "Second Gallipoli," referring to Winston Churchill's hope of taking the Gallipoli Peninsula in WW I and then marching right up to the then capital, Istanbul, thus cutting the war in the eastern Mediterranean short. The British empire was thwarted in this plan by a strong Ottoman defense and use of machine guns and artillery. Turkiye is hearkening back to WW I, when Russia attacked eastern Anatolia!
Source: Quotes package from BBC Monitoring, in Turkish 24 Nov 15
We may conclude that Russia's targeting of Turkmen, an ethnic group that speaks a language similar to that spoken in Turkey, raised nationalist hackles in Ankara. But in addition, these Syrian Turkmen are religious, just as is the leadership of the ruling AKP in Turkey. And, further, they are a linchpin for Turkish, American and Saudi intervention in Syria, since they appear to be among the arms smugglers getting munitions to the rebels against the al-Assad government. Although the CIA maintains that these weapons only go to some 45 "vetted" groups that are not extremists, they in fact get into the hands of al-Qaeda and its allies, grouped as the Army of Conquest, as well. Russia must defeat the Army of Conquest and protect the Alawites of Latakia if it is to achieve its war aims in Syria, and appears to have decided to begin by blocking Turkmen smuggling. The Turkmen had their revenge, killing one or both of the pilots who ejected from the downed fighter jet and also taking down a Russian helicopter that attempted to rescue them.
Russia and Turkey are now fighting a proxy war in Syria, and have been all this fall. As of yesterday, they are not just using proxies, but are directly in conflict with one another.
Turkey and the Turkmen are carving out a sphere of influence in northern Syria and are insisting that Russia recognize it. How severe the conflict becomes depends in part on how Russia responds to this setback for its war aims. It also depends on whether Turkish goals are more ambitious, to help the al-Qaeda-led Army of Conquest take Latakia. If Jabal Turkmen is a red line for Turkey, Latakia port is a red line for Russia. Red lines have a way of turning into hot wars.
Shelby Holliday | (WSJ Video Report) | – –
"In the wake of the Paris attacks, French President Francois Hollande is traveling to Washington and Moscow to build support for a new "grand coalition" to defeat Islamic State. As WSJ's Shelby Holliday reports, disagreement over the future of Syrian President Bashar al-Assad could stand in the way."
Wall Street Journal: "Defeating ISIS: Challenges of Building a Global Alliance"
By Rebecca Gordon | ( Tomdispatch.com) | – –
A top government official with energy industry holdings huddles in secret with oil company executives to work out the details of a potentially lucrative "national energy policy." Later, that same official steers billions of government dollars to his former oil-field services company. Well-paid elected representatives act with impunity, routinely trading government contracts and other favors for millions of dollars. Meanwhile, ordinary citizens live in fear of venal police forces that suck them dry by charging fees for services, throwing them in jail when they can't pay arbitrary fines or selling their court "debts" to private companies. Sometimes the police just take people's life savings leaving them with no recourse whatsoever. Sometimes they steal and deal drugs on the side. Meanwhile, the country's infrastructure crumbles. Bridges collapse, or take a quarter-century to fix after a natural disaster, or (despite millions spent) turn out not to be fixed at all. Many citizens regard their government at all levels with a weary combination of cynicism and contempt. Fundamentalist groups respond by calling for a return to religious values and the imposition of religious law.
What country is this? Could it be Nigeria or some other kleptocratic developing state? Or post-invasion Afghanistan where Ahmed Wali Karzai, CIA asset and brother of the U.S.-installed president Hamid Karzai, made many millions on the opium trade (which the U.S. was ostensibly trying to suppress), while his brother Mahmoud raked in millions more from the fraud-ridden Bank of Kabul? Or could it be Mexico, where the actions of both the government and drug cartels have created perhaps the world's first narco-terrorist state?
In fact, everything in this list happened (and much of it is still happening) in the United States, the world leader — or so we like to think — in clean government. These days, however, according to the Corruption Perception Index of Transparency International (TI), our country comes in only 17th in the least-corrupt sweepstakes, trailing European and Scandinavian countries as well as Canada, Australia, and New Zealand. In fact, TI considers us on a par with Caribbean island nations like Barbados and the Bahamas. In the U.S., TI says, "from fraud and embezzlement charges to the failure to uphold ethical standards, there are multiple cases of corruption at the federal, state and local level."
And here's a reasonable bet: it's not going to get better any time soon and it could get a lot worse. When it comes to the growth of American corruption, one of TI's key concerns is the how the Supreme Court's 2010 Citizens United decision opened the pay-to-play floodgates of the political system, allowing Super PACs to pour billions of private and corporate money into it, sometimes in complete secrecy. Citizens United undammed the wealth of the super-rich and their enablers, allowing big donors like casino capitalist — a description that couldn't be more literal — Sheldon Adelson to use their millions to influence government policy.
Kleptocracy USA?
Every now and then, a book changes the way you see the world. It's like shaking a kaleidoscope and suddenly all the bits and pieces fall into a new pattern. Sarah Chayes's Thieves of State: Why Corruption Threatens Global Security shook my kaleidoscope. Chayes traveled to Afghanistan in 2001 as a reporter for NPR. Moved by the land and people, she soon gave up reporting to devote herself to working with non-governmental organizations helping "Afghans rebuild their shattered but extraordinary country."
In the process, she came to understand the central role government corruption plays in the collapse of nations and the rise of fundamentalist organizations like the Taliban, al-Qaeda, and the Islamic State. She also discovered just how unable (and often unwilling) American military and civilian officials were to put a stop to the thievery that characterized Afghanistan's government at every level — from the skimming of billions in reconstruction funds at the top to the daily drumbeat of demands for bribes and "fees" from ordinary citizens seeking any kind of government service further down the chain of organized corruption. In general, writes Chayes, kleptocratic countries operate very much as pyramid schemes, with people at one level paying those at the next for the privilege of extracting money from those below.
Chayes suggests that "acute government corruption" may be a major factor "at the root" of the violent extremism now spreading across the Greater Middle East and Africa. When government robs ordinary people blind, in what she calls a "vertically integrated criminal enterprise," the victims tend to look for justice elsewhere. When officials treat the law with criminal contempt, or when the law explicitly permits government extortion, they turn to what seem like uncorrupted systems of reprisal and redemption outside those laws. Increasingly, they look to God or God's laws and, of course, to God's self-proclaimed representatives. The result can be dangerously violent explosions of anger and retribution. Eruptions can take the form of the Puritan iconoclasm that rocked Catholic Europe in the sixteenth century or present-day attempts by the Taliban or the Islamic State to implement a harsh, even vindictive version of Islamic Sharia law, while attacking "unbelievers" in the territory they control.
Reading Thieves of State, it didn't take long for my mind to wander from Kabul to Washington, from a place where American-funded corruption was an open secret to a place where few would think it applicable. Why was it, I began to wonder, that in our country "corruption" never came up in relation to bankers the government allowed to sell mortgages to people who couldn't repay them, then slicing and dicing their debt into investment "securities" that brought on the worst recession since the 1930s? (Neil Barofsky, who took on the thankless role of inspector general for the Troubled Asset Relief Fund, tells the grim tale of how the government was "captured by the banks" in his 2012 book Bailout.)
Chayes made me wander ever deeper into the recent history of Washington's wheeling and dealing, including, for instance, the story of the National Energy Policy Development Group, which Vice President Dick Cheney convened in the first weeks of George W. Bush's presidency. Its charge was to develop a national energy policy for the country and its deliberations — attended by top executives of all the major oil companies (some of whom then denied before Congress that they had been present) — were held in complete secrecy. Cheney even refused to surrender the list of attendees when the Government Accountability Office sued him, a suit eventually dropped after Congress cut that agency's budget. If the goal was to create a policy that would suit the oil companies, Cheney was the perfect man to chair the enterprise.
In 2001, having suggested himself as the only reasonable running mate for Bush, Cheney left his post as CEO at oilfield services corporation Halliburton. "Big changes are coming to Washington," he told ABC News, "and I want to be a part of them." And so he was, including launching a disastrous war on Iraq, foreseen and planned for in those energy policy meetings. Indeed, documents shaken loose in a Freedom of Information Act suit brought by Judicial Watch and the Sierra Club showed that in March 2001 — months before the 9/11 attacks — energy task force members were already salivating over taking possession of those Iraqi oil fields. Nor did Cheney forget his friends at Halliburton. Their spin-off company, KBR, would receive a better-than-1,000-to-1 return on their investment in the vice president (who'd gotten a $34 million severance package from them), reaping $39.5 billion in government contracts in Iraq. And yet when did anyone mention "corruption" in connection with any of this?
Chayes's book made me think in a new way about the long-term effects of the revolving door between the Capitol — supposedly occupied by the people's representatives — and the K Street suites of Washington's myriad lobbyists. It also brought to mind all those former members of Congress, generals, and national security state officials who parachute directly out of government service and onto the boards of defense-oriented companies or into cushy consultancies catering to that same security state.
It also made me think in a new way about the ever-lower turnouts for our elections. There are good reasons why so many Americans — especially those living in poverty and in communities of color — don't vote. It's not that they don't know their forebears died for that right. It's not that they don't object when their votes are suppressed. It's that, like many other Americans, they clearly believe their government to be so corrupt that voting is pointless.
Are We in Ferguson — or Kabul?
What surprises me most, however, isn't the corruption at the top, but the ways in which lives at the bottom are affected by it. Reading Thieves of State set me thinking about how regularly money in this country now flows from the bottom up that pyramid. If you head down, you no longer find yourself on Main Street, U.S.A., but in a place that seems uncomfortably like Kabul; in other words, a Ponzi-scheme world of the first order.
Consider, for instance, the Justice Department's 2015 report on the police in Ferguson, Missouri, about whom we've learned so much since Michael Brown, an unarmed black teenager, was shot to death on August 9, 2014. As it happens, the dangers for Ferguson's residents hardly ended with police misconduct. "Ferguson's law enforcement practices are shaped by the city's focus on revenue rather than by public safety needs," Justice Department investigators found:
"This emphasis on revenue has compromised the institutional character of Ferguson's police department, contributing to a pattern of unconstitutional policing, and has also shaped its municipal court, leading to procedures that raise due process concerns and inflict unnecessary harm on members of the Ferguson community."
The report then recounted in excruciating detail the extent to which the police were a plague on the city's largely black population. Ferguson was — make no mistake about it — distinctly Kabul, U.S.A. The police, for instance, regularly accosted residents for what might be termed "sitting in a car while Black," and then charged them with bogus "crimes" like failing to wear a seat belt in a parked car or "making a false declaration" that, say, one's name was "Mike," not "Michael." While these arrests didn't make money directly for the police force, officers interested in promotion were told to keep in mind that their tally of "self-initiated activities" (tickets and traffic stops) would have a significant effect on their future success on the force. Meanwhile, those charged often lost their jobs and livelihoods amid a welter of court appearances.
Ferguson's municipal court played its own grim role in this ugly scheme. As Justice Department investigators discovered, it did not "act as a neutral arbiter of the law or a check on unlawful police conduct." Instead, it used its judicial authority "as the means to compel the payment of fines and fees that advance[d] the city's financial interests."
By issuing repeated arrest warrants when people missed court appearances or were unable to pay fines, it managed to regularly pile one fine on top of another and then often refused to accept partial payments for the sums owed. Under Missouri state law, moving traffic violations, for instance, automatically required the temporary suspension of a driver's license. Ferguson residents couldn't get their licenses back until — you guessed it — they paid their fines in full, often for charges that were manufactured in the first place.
As if in Kabul, people then had to weigh the risk of driving license-less (and getting arrested) against losing their jobs or — without a car — not making it to court. With no community service option available, many found themselves spending time in jail. From the police to the courts to city hall, what had been organized was, in short, an everyday money-raising racket of the first order.
And all of this was linked to the police department, which actually ran the municipal court. As the Justice Department report put it, that court "operates as part of the police department… is supervised by the Ferguson chief of police, is considered part of the police department for city organizational purposes, and is physically located within the police station. Court staff report directly to the chief of police." He, in turn, ran the show, doing everything from collecting fines to determining bail amounts.
The Harvard Law Review reported that, in 2013, Ferguson had a population of 22,000. That same year, "its municipal court issued 32,975 arrest warrants for nonviolent offenses," or almost one-and-a-half arrests per inhabitant. The report continued:
"In Ferguson, residents who fall behind on fines and don't appear in court after a warrant is issued for their arrest (or arrive in court after the courtroom doors close, which often happens just five minutes after the session is set to start for the day) are charged an additional $120 to $130 fine, along with a $50 fee for a new arrest warrant and 56 cents for each mile that police drive to serve it. Once arrested, everyone who can't pay their fines or post bail (which is usually set to equal the amount of their total debt) is imprisoned until the next court session (which happens three days a month). Anyone who is imprisoned is charged $30 to $60 a night by the jail."
Whether in Kabul or Ferguson, this kind of daily oppression wears people down. It's no surprise that long before the police shot Michael Brown, the citizens of Ferguson had little trust or respect for them.
Privatizing Official Corruption
But might Ferguson not have been an outlier, a unique Kabul-in-America case of a rogue city government bent on extracting every penny from its poorest residents? Consider, then, the town of Pagedale, Missouri, which came up with a hardly less kleptocratic way of squeezing money out of its citizens. Instead of focusing on driving and parking, Pagedale routinely hit homeowners with fines for "offenses" like failing to have blinds and "matching curtains" on their windows or having "unsightly lawns." Pagedale is a small town, with 3,300 residents. In 2013, the city's general revenues totaled $2 million, 17% percent from such fines and fees.
Might such kleptocratic local revenue-extraction systems, however, be limited to just one Midwestern state? Consider then the cozy relationship that Augusta, capital of Georgia, has with Sentinel Offender Services, LLC. That company makes electronic monitoring equipment used by state and local government agencies, ranging from the Los Angeles County Probation Department to the Massachusetts Office of the Commissioner of Probation. Its website touts the benefits to municipalities of what it calls "offender-funded programs" in which the person on probation pays the company directly for his or her own monitoring, saving the courts the cost of administering a probation system. In return, the company sets its own fees at whatever level it chooses. "By individually assessing each participant a fee based on income," says Sentinel, "our sliding-fee scale approach has shifted the financial burden to the participant, allowing program growth and size to be a function of correctional need rather than budget availability."
"Profiting from Probation," a 2014 Human Rights Watch report, offers a typical tale of an Augusta resident named Michael Barrett. Arrested for shoplifting a can of beer, he entered a local court system that was focused on revenue extraction via a kind of official extortion, which is the definition of corruption. Even to step into a courtroom to deal with his "case," he had to hand over an $80 fee for a court-appointed defense lawyer. Then, convicted, he would be sentenced to a $200 fine and probation. Because the charge was "alcohol-related," the court required Barrett to wear an electronic bracelet that would monitor his alcohol consumption, even though his sentence placed no restrictions on his drinking. For that Sentinel bracelet, there was a $50 startup fee, a $39 monthly "service" charge, and a $12 "daily usage" fee. In total, he was forced to pay about $400 a month to monitor something he was legally allowed to do. Since Barrett couldn't even pay the startup fee, he was promptly thrown in jail for a month until a friend lent him the money.
Such systems of privatized "justice" that bleed the poor are now spreading across the U.S., a country officially without debtor's prisons. According to the Harvard Law Review article, some cities charge a "fee" to everyone they arrest, whether or not they're ever convicted of an offense. In Washington, D.C., on the other hand, for "certain traffic and a number of lower level criminal offenses," you can simply pay your arresting officer "to end a case on the spot," avoiding lengthy and expensive court costs. Other jurisdictions charge people who are arrested for the costs of police investigations, prosecution, public defender services, a jury trial ("sometimes with different fees depending on how many jurors a defendant requests"), and incarceration.
Watch Your Ass(ets)
Even Machiavelli, who counseled princes seizing new territory to commit all their crimes at once because human beings have such short memories, warned that people will accept pretty much any kind of oppression unless "you prey on the possessions or the women of your subjects." So many centuries later, while we women now tend to believe we belong to ourselves, civil asset forfeiture is still a part of American life. Unlike criminal asset forfeiture, which permits the government to seize a person's assets after conviction of a crime, civil forfeiture allows local, state, or federal law enforcement to seize and keep someone's money or other property even if he or she is never charged. If, say, you are suspected of involvement with drugs or terrorism, the police can seize all the money you have on you on the spot, even if they don't arrest you — and you have to go to court to get it back.
Federal asset forfeiture collections have risen from around $800 million in 2002 to almost $4.5 billion in 2014, according to the Institute for Justice (IJ). Governments defend the practice as a means of preventing suspected criminals — especially high-level drug dealers — from using their money to commit more crimes. But all too often, it's poor people whose money is "forfeited," even when they've committed no crime. The Pennsylvania ACLU reported that police take around a million dollars from Philadelphians each year in 6,000 separate cases — and not from drug lords either. More than half the cases involve seizures of less than $192, and in a city that's only 43% black, 71% of those seizures from people charged with no crimes come from African Americans. If your property is seized, you can try to go to court to get it back but, says the ACLU, you should expect to make an average of four court appearances. Most people just give up.
Reading Thieves of State reminded me that we're not living in the country many of us imagine, but in something like an American klepto-state. Corruption, it turns out, doesn't just devour the lives of people in far-off nations. Right now, it's busy shoving what's left of our own democracy down our throats.
Chayes documents how such corruption can lead to violent explosions in other countries. Indeed, it was a final kleptocratic insult — a police woman's slap in the face after he refused to pay a bribe to retrieve his confiscated vegetable cart — that led Tunisian Mohamed Bouazizi to burn himself to death and touch off the Arab Spring. As Machiavelli wrote so long ago, people will put up with a lot — torture, mass surveillance, even a car full of clowns masquerading as candidates for president — but they don't like being robbed by their own government. Sooner or later, they will rebel. Let's hope, when that happens, that we don't end up under the rule of our own American Taliban or some billionaire reality TV star.
Rebecca Gordon is a TomDispatch regular. She teaches at the University of San Francisco and is the author of Mainstreaming Torture: Ethical Approaches in the Post-9/11 United States and the forthcoming American Nuremberg: The Officials Who Should Stand Trial for Post 9/11 War Crimes (Hot Books, 2016).
Follow TomDispatch on Twitter and join us on Facebook. Check out the newest Dispatch Book, Nick Turse's Tomorrow's Battlefield: U.S. Proxy Wars and Secret Ops in Africa, and Tom Engelhardt's latest book, Shadow Government: Surveillance, Secret Wars, and a Global Security State in a Single-Superpower World.
Copyright 2015 Rebecca Gordon
Via Tomdispatch.com
—-
Related video added by Juan Cole:
Newsbeat Social: "New Report Says Corruption, Conflicts of Interest Rampant in U.S. States"
EurActiv.com | – –
Russian President Vladimir Putin called Turkey's downing of a Russian fighter jet today (24 November) a stab in the back administered by "the accomplices of terrorists," saying the incident would have serious consequences.
Speaking in the Russian Black Sea resort of Sochi on Tuesday before a meeting with Jordan's King Abdullah, Putin said the downed plane had been attacked inside Syria when it was 1 kilometre from the Turkish border and had come down 4 kilometres inside Syria.
That contradicted Turkey's assertion that the aircraft had been warned multiple times that it was straying into Turkish airspace before it was shot down.
"Today's loss is linked to a stab in the back delivered to us by accomplices of terrorists. I cannot qualify what happened today as anything else," said a visibly furious Putin.
"Our plane was shot down on Syrian territory by an air-to-air missile from an F-16. It fell on Syrian territory 4 kilometres from the Turkish border. It was flying at 6,000 metres one kilometre from Turkish territory when it was attacked."
Putin said Russian pilots and planes had in no way threatened Turkey, but had merely been carrying out their duty to fight Islamic State militants inside Syria.
"We established a long time ago that large quantities of oil and oil products from territory captured by Islamic State have been arriving on Turkish territory," he said, saying that was how militants had been funding themselves.
"And now we get stabbed in our back and our planes, which are fighting terrorism, are struck. This despite the fact that we signed an agreement with our American partners to warn each other about air-to-air incidents and Turkey … announced it was allegedly fighting against terrorism as part of the US coalition."
If Islamic State militants earned hundreds of millions of dollars from trading oil and enjoyed the protection of the armed forces "of entire governments" no wonder, said Putin, they behaved so boldly.
"We will of course analyse everything that happened and today's tragic events will have serious consequences for Russo-Turkish relations," he said.
Turkey is one of the most popular holiday destinations for Russians, and the two countries enjoy active diplomatic relations.
Foreign Minister Sergei Lavrov cancelled his visit to Turkey due on Wednesday (25 November), in a trip arranged before the incident. Turkish President Recep Tayyip Erdoğan is scheduled to visit Russia for talks with Putin in December.
Putin expressed anger at Turkey's decision to convene a meeting of NATO to discuss the incident, suggesting Ankara should instead have swiftly tried to contact Moscow.
"It's as if we shot down a Turkish plane rather than them shooting down one of ours. What do they want? To put NATO at Islamic State's disposal? We will never tolerate such crimes like the one committed today."
EU leaders will hold a summit with Turkey of Sunday (29 November). Asked to comment on the incident with the Russian jet, a commission spokesperson said the EU executive was still trying to establish the facts.
Via EurActiv.com with Reuters
—-
Related video added by Juan Cole:
Putin fury after Turkey downs warplane – BBC News