Your humble narrator has just returned from a long weekend in Wisconsin (made longer courtesy a stray nail 15 miles from the nearest anything, under a sky filled with a billion stars and zero cell satellites — like the beginning of a thousand urbanite nightmares and just as many horror films), and she's got just enough time to pack her costume and hit her favorite kinda-sorta yearly event, the Committee for Skeptical Inquiry's CSICon, this time in fabulous Las Vegas, Nevada.
I've written extensively — and I mean my god this girl won't shut up — about this event (and related) in previous installments, and it's something I look forward to very much when it does happen. So I'll be there with my little camera, my big costume (more on that later), and my notepad to share with all of you who spent Halloween some place more realistic (you fools).
But you know, there's still time to join us — and by "us" I mean the likes of Richard Dawkins, James "The Amazing" Randi, Lawrence Krauss, Joe Nickell, Jamy Ian Swiss, and a long list of other science and skepticism superstars — and flights to Vegas are cheap.
If you do make it, look for the girl with the chupacabra hoodie, red streaked mohawk, and goofy grin and say hi!
Which way do we go? Which way do we go? (at Burchfield Park)
Dust mites gross me out but they are everywhere, especially on mattresses. A single mattress can have up to 10 million dust mites. For someone who is allergic, that spells misery. Now think of the dust mites on your upholstered chairs, fancy throw pillow or drapes. These are all items in your home that you cannot easily clean or might not think to clean.
Both my husband and my daughter are allergic to dust mites, meaning they sneeze, have scratchy throats, runny noses and for my daughter, she itches like crazy. Which means, I am at war with dust mites and luckily I have the RAYCOP RS2 on my side.
The RAYCOP purifiers patented RayClean Technology® uses UV sanitization, pulsating pads, a purification filter and suction to extract bacteria, pollen and house dust.  This into the future Jetson looking device has three cleaning levels (heavy, normal and delicate) allowing you to clean different fabrics with care. To suck those dust mites out of a mattress, use heavy. Just think of all the surfaces in your home that you could clean!
The sofa that dog loves to claim as his own – time to get rid of the pet dander and all the bacteria that the pooch brings with him!
The guest mattress that your great grandmother gave you – yuck, how old is that and how much dust has collected on the mattress after all of these years?
How about the dry clean only rug that will cost a fortune to clean and so it therefore never is cleaned?
The list goes on.
With the RAYCOP RS2 you can win the battle with the dirt, bacteria and pollen. You can help clean the unseen and give those with allergies, relief.
Watch how easy it is to use the RAYCOP RS2 as I clean a 13-year-old chair in my office:
Disclaimer:  I was sent this product to review and compensated for my time. My thoughts and opinions are my own. 
The post Good Bye Dust Mites Thanks to RAYCOP RS2 appeared first on Green and Clean Mom ™.
October 24, 2016 by Marge Sorge
Filed under Uncategorized
Every Detroit neighborhood must be livable, loveable and vibrant for our city to truly transform. Its future depends on it.
Our neighborhoods are looking for ways to:
Fight blight and crime.
Set up strong block clubs.
Find volunteers.
Help youth find the right path.
Find funding.
Groom future leaders.
Train for jobs.
The 7th annual ARISE Detroit! Neighborhoods Rising Summit addresses these issues and more. It will be held Saturday, Nov. 5 from 8 a.m. to 4 p.m. at the downtown campus of Wayne County Community College District at 1001 W. Fort Street. A continental breakfast and lunch are included.
Sponsored by the Kresge Foundation, Detroit Future City and the DTE Energy Foundation, the summit is free. You can register at www.arisedetroit.org or call 313-921-1955.
"We hope the summit inspires more people to get involved in transforming our neighborhoods and making them the best they can be," says Luther Keith, executive director of ARISE Detroit. "Our panelists are not just experts. They have all really rolled up their sleeves to make things happen in city neighborhoods and will have excellent advice and best practice strategies to share with residents."
The summit will cover many hot topics including Proposals A and B, which residents will vote on in the upcoming election. Proposal A would require developers of projects costing $15 million or more with public subsidies of at least $300,000 to meet with community members and create a legally enforceable community benefits agreement.
Proposal B sets a different threshold. It would require those with projects worth at least $75 million that receive subsidies of $1 million or more to create community benefits agreements. If both pass, whichever proposal receives the most votes will be put into place.
The summit will offer 12 workshops. Here's the list and the times:
10:45 a.m. – noon
Collaborations For Change: How to secure volunteers, sponsors, support for neighborhood projects.
Diversity In Entrepreneurship: Ensuring business opportunities for all groups.
Home Buying in Detroit: How to use Detroit Land Bank and bank programs for home purchases.
Organizing/Planning: How to form block clubs, develop neighborhood strategies & build coalitions.
Positively Programing Youth: Connecting young people to programs to help them make good life choices.
Public Safety: Crime fighting strategies, neighborhood patrols, volunteer programs, peace walk, etc.
1:45 p.m.-3 p.m.
Alternative Funding: How to use social media for funding for community projects.
District Manager Forum: Using District Manager services to fight blight and improve neighborhoods.
Getting To Next Level: How to connect your group to funding and strategic planning programs.
Hire It Done: Overcoming job barriers, connecting to training and job programs.
Neighborhood Comebacks: Learning tools neighborhoods use to grow stronger, attract new residents.
Next Generation Leaders: Grooming millennials and other youth to become neighborhood leaders.
Community organizations will have exhibits on hand with information and resources to help neighborhood residents.
There certainly will be great suggestions that will help make Detroit's neighborhoods livable, loveable and vibrant. Sign up and find out how. You can register at www.arisedetroit.org or call 313-921-1955.
October 24, 2016 by Marge Sorge
Filed under Uncategorized
Headed west for Thanksgiving and steeling yourself for the car or plane ride? Amtrak could be your solution.
It is adding more trains and more cars on several routes in the Midwest. Amtrak will operate every available passenger railcar in its fleet and extra trains will run to and from Michigan and downstate Illinois.
Tickets sell out quickly so get yours now. Click here for information.
To make travel easier the railroad has made improvements to the boarding process at Chicago Union Station in time for Thanksgiving travel.
Business class travelers have a new Metropolitan Lounge, located near the station's historic Great Hall and next to a new ticket area for those who are making cash transactions. These customers, along with Amtrak Guest Rewards Select Plus or Select Executive Members, board ahead of coach customers.
Customers traveling in coach class on reserved trains can receive priority boarding by buying Legacy Club access. Other coach customers will board in the order they check in. They can receive a same-day boarding pass at the new service center in the Great Hall, and at other locations in the station.
The South Boarding Lounge in the station's Concourse level is for the assisted boarding of customers 62 and over, those with disabilities, families traveling with children 12 and under, and active duty military personnel.
Amtrak suggests the following for a smooth trip:
Purchase tickets: eTicketing is available on every train route throughout the nation. Travelers may purchase tickets early using Amtrak.com, Quik-TrakSM or ticket windows at staffed stations (where available), Amtrak mobile apps, or by calling 800-USA-RAIL.
2+2 = free: Passengers can bring two bags and two carry-ons, up to 150 pounds collectively, for free. If you're  carrying multiple bags use the elevator whenever possible for safety and convenience.
Avoid the rush: The busiest travel days are the Tuesday and Wednesday before Thanksgiving and the Sunday after the holiday. Other than on Thanksgiving Day, morning trains typically have more available seats than those in the afternoon or evening.
Arrive early: Allow plenty of time at stations prior to departure – at least 45 minutes beforehand if picking up tickets. Arrange for pre-boarding if you need extra time or assistance, and use Amtrak Red Cap agents to help you with your baggage.
Check train schedules: Make sure to check holiday train schedules prior to arriving at the station with the online-only timetable provided by Amtrak.
Carry photo ID: Passengers are required to show valid photo identification when purchasing tickets. Make sure to carry valid photo ID at all times. It may be requested aboard trains
Be safe: Be aware of your surroundings, stand back from the edge of the platform, do not leave your bags unattended, and watch your step when boarding or leaving the train or when walking between cars when the train is in motion.
A train ride keeps the stress down, lets you see some beautiful scenery and gets you there in plenty of time to enjoy the turkey, cranberries, mashed potatoes, and pumpkin pie and, best of all, your family.
– Lead photo by Dwight Burdette
Here are the schedules:
Long ago, a mother bear and her two cubs were living in the forest along the shore where Lake Michigan meets Wisconsin. One night, a raging forest fire broke out, driving the bears to the lakeshore. In order to escape the flames, the mother bear and her two cubs jumped into the lake and headed […]
The post Mama Bear and Her Cubs: The Story of Sleeping Bear appeared first on Awesome Mitten.
October 24, 2016 by detroitfunk
Filed under Uncategorized
Who doesn't love trains ? Well, maybe not everybody loves railroad stuff, but I do. Most of these are from the west end of Milwaukee Junction.
TeleSur | – –
Coalition whip MK David Bitan also wants to strip citizenship from B'Tselem director Hagai El-Ad, after he made calls to sanction Israel.
"The only democracy in the Middle East" has a prominent politician calling for legislation to bar Israelis from advocating for sanctions against the state at global colloquiums.
Coalition whip MK David Bitan (Likud) proposed such legislation Saturday, in the wake of leftist organization B'Tselem director Hagai El-Ad's comments, who during a special session of the UN Security Council on Israeli settlements last week, called on the member states to act against Israel's occupation of the West Bank.
While opposition parties blasted the proposal, MK Tzipi Livni, Herzog's co-chair of the Zionist Union party, said even if it doesn't become legislation "this type of poisonous rhetoric is destroying Israel from within and from without. The damage they cause to Israel's standing abroad is much bigger than any insignificant organization."
There is already legislation, under the title of the Boycott Law, passed by the Knesset in 2011, that penalizes individuals or organizations that call for the economic, cultural or academic boycott of Israel or the settlements.
Bitan told Channel 2's "Meet the Press" on Saturday that El-Ad's statement was an "explicit breach of trust by an Israeli citizen against the state, and as such he should find himself another citizenship." The politician said he plans to make an appeal to Interior Minister Arye Dery to revoke El-Ad's citizenship over his remarks.
In response, B'Tselem said, "For almost 50 years the Palestinians have had no citizenship and no rights, and now the prime minister's emissary wants to rescind the citizenship of a person who speaks out against this." The threats will not hinder the group's activism, not stopping them "and the hundreds of thousands of Israelis who oppose the occupation."
Opposition members leveled heady criticisms at Bitan.
"Bitan is only trying to derive a little more political benefit on the backs of B'Tselem, but such calls are dangerous and are very close to calling for bloodshed. Democracy is a basic right, not a gift given to those to look good to the coalition chairman. It's open season," Meretz Chairwoman MK Zahava Galon said.
Even Zionist Union MK Miki Rosenthal said, "Bitan learned from (Culture) Minister Miri Regev and has become a generator of empty headlines and bills that will never pass. I doubt that his voters buy his foolishness but the damage this man does to Israel's international image only grows."
Israeli Prime Minister Benjamin Netanyahu responded to the debate by saying, "What these organizations cannot achieve through democratic elections in Israel, they try to achieve by international coercion," adding that he would take steps to remove B'Tselem from the list of organizations under which young Israelis can fulfill national civil service commitment.
Via TeleSur
——
Related video added by Juan Cole:
Btselem: "Hagai El-Ad's address in a special discussion about settlements at the UNSC, 14 Oct. 2016"
By Gary Younge | ( Tomdispatch.com ) | – –
Every day, on average, seven kids and teens are shot dead in America. Election 2016 will undoubtedly prove consequential in many ways, but lowering that death count won't be one of them. To grapple with fatalities on that scale — 2,500 dead children annually — a candidate would need a thoroughgoing plan for dealing with America's gun culture that goes well beyond background checks. In addition, he or she would need to engage with the inequality, segregation, poverty, and lack of mental health resources that add up to the environment in which this level of violence becomes possible. Think of it as the huge pile of dry tinder for which the easy availability of firearms is the combustible spark. In America in 2016, to advocate for anything like the kind of policies that might engage with such issues would instantly render a candidacy implausible, if not inconceivable — not least with the wealthy folks who now fund elections.
So the kids keep dying and, in the absence of any serious political or legislative attempt to tackle the causes of their deaths, the media and the political class move on to excuses. From claims of bad parenting to lack of personal responsibility, they regularly shift the blame from the societal to the individual level. Only one organized group at present takes the blame for such deaths. The problem, it is suggested, isn't American culture, but gang culture.
Researching my new book, Another Day in the Death of America, about all the children and teens shot dead on a single random Saturday in 2013, it became clear how often the presence of gangs in neighborhoods where so many of these kids die is used as a way to dismiss serious thinking about why this is happening. If a shooting can be described as "gang related," then it can also be discounted as part of the "pathology" of urban life, particularly for people of color. In reality, the main cause, pathologically speaking, is a legislative system that refuses to control the distribution of firearms, making America the only country in the world in which such a book would have been possible.
"Gang Related"
The obsession with whether a shooting is "gang related" and the ignorance the term exposes brings to mind an interview I did 10 years ago with septuagenarian Buford Posey in rural Mississippi. He had lived in Philadelphia, Mississippi, around the time that three civil rights activists — James Chaney, Andrew Goodman, and Michael Schwerner — were murdered. As I spoke to him about that era and the people living in that town (some of whom, like him, were still alive), I would bring up a name and he would instantly interject, "Well, he was in the Klan," or "Well, his Daddy was in the Klan," or sometimes he would just say "Klan" and leave it at that.
After a while I had to stop him and ask for confirmation. "Hang on," I said, "I can't just let you say that about these people without some proof or corroboration. How do you know they were in the Klan?"
"Hell," he responded matter-of-factly, "I was in the Klan. Near everybody around here was in the Klan around that time. Being in the Klan was no big deal."
Our allegiances and affiliations are, of course, our choice. Neither Posey nor any of the other white men in Philadelphia had to join the Klan, and clearly some were more enthusiastic participants than others. (Posey himself would go on to support the civil rights movement.)
It's no less true that context shapes such choices. If Posey had grown up in Vermont, it's unlikely that he'd ever have joined the Klan. If a white Vermonter had been born and raised in Mississippi in those years, the likelihood is that he'd have had a pressed white sheet in the closet for special occasions.
At the time, for white men in Philadelphia the Klan was the social mixing place du jour. It was what you did if you had any hope of advancing locally, did not want to be left out of things, or simply preferred to swim with the tide. Since pretty much everyone you knew was involved in one way or another, to be white and live in Philadelphia then was to be, in some way, "Klan related." That doesn't mean being in the Klan should give anyone a pass, but it does mean that if you wanted to understand how it operated, why it had the reach it did, and ultimately how to defeat it rather than just condemn it, you first had to understand its appeal in that moment.
The same is true of gangs today in urban America. On the random day I picked for my book, 10 children and teens died by gun. Not all of their assailants have been caught and probably they never will be. Depending on how you define the term, however, it would be possible to argue that eight of those killings were gang related. Either the assailant or the victim was (or was likely to have been) part of a group that could be called a gang. Only two were clearly not gang related — either the victim and the shooter were not in a gang or membership in a gang had nothing to do with the shooting. But all 10 deaths did have one clear thing in common: they were all gun-related.
The emphasis on gang membership has always seemed to me like a way of filtering child deaths into two categories: deserving and undeserving. If a shooting was gang related then it's assumed that the kid had it coming and was, in some way, responsible for his or her own death. Only those not gang related were innocents and so they alone were worthy of our sympathy.
Making a "Blacklist"
The more I spoke to families and people on the ground, the more it became clear how unhelpful the term "gang related" is in understanding who is getting shot and why. As a term, it's most often used not to describe but to dismiss.
Take Edwin Rajo, 16, who was shot dead in Houston, Texas, at about 8 p.m. on that November 23rd. He lived in Bellaire Gardens, a low-rise apartment complex on a busy road of commercial and residential properties in an area called Gulfton in southwest Houston. It sat between a store selling bridal wear and highly flammable-looking dresses for quinceañera — the celebration of a girl's 15th birthday — and the back of a Fiesta supermarket, part of a Texas-based, Hispanic-oriented chain with garish neon lighting that makes you feel as though you're shopping for groceries in Las Vegas. Opposite it was a pawnshop, a beauty salon, a Mexican taqueria, and a Salvadorean restaurant.
The Southwest Cholos ran this neighborhood, complex by complex. There was no avoiding them. "They start them really, really young," one of Edwin's teachers told me. "In elementary. Third grade, fourth grade. And that's just how it is for kids… You join for protection. Even if you're not cliqued in, so long as you're associated with them, you're good. You have to claim a clique to be safe. If you're not, if you're by yourself, you're gonna get jumped."
In other words, if you grow up in Bellaire Gardens you are a gang member in the same way that Soviet citizens were members of the Communist Party and Iraqis under Saddam Hussein, the Baath Party. There is precious little choice, which means that, in and of itself, gang affiliation doesn't tell you much.
Edwin, a playful and slightly immature teenager, was not, in fact, an active member of the Cholos, though he identified with them. Indeed, you get the impression that they considered him something of a liability. "They accepted him," said his teacher. "He hung with them. But he wasn't in yet." His best friend in the complex, Camilla (not her real name), was in the gang, as allegedly was her mother. She sported the Cholo-style dress and had a gang name. After several altercations with someone from a rival gang, who threatened them and took a shot at Camilla's brother, she decided to get a gun.
"We were thinking like little kids," Camilla told me. "I didn't really know anything about guns. I just know you shoot with it and that's it."
Sure enough, Edwin was at Camilla's apartment that night and suggested they play with the gun. In the process, she shot him, not realizing that, even though the clip was out, one bullet was still in the chamber. So was that shooting gang related? After all, the shooter was in a gang. She had been threatened by someone from a rival gang and Edwin may indeed have had aspirations to be in her gang.
Or was it an accidental shooting in which two kids who knew nothing about guns acquired one and one of them got killed while they were messing around?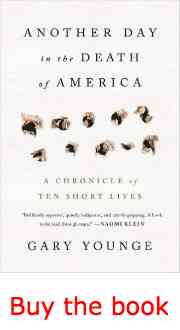 In an environment in which gangs run everything, most things most people do are in some way going to be "gang related." But defining all affiliation as a kind of complicity in violence not only means writing off children in entire communities for being born in the wrong place at the wrong time, but criminalizing them in the process.
For one thing, the criteria for gang membership couldn't be more subjective and loose. Gang leaders don't exactly hand out membership cards. Sometimes it's just a matter of young people hanging out. Take Stanley Taylor, who was shot dead in the early hours of that November morning in Charlotte, North Carolina. He spent a lot of his time on Beatties Ford Road with his friends. "I ain't gonna say it was a gang," says his buddy Trey. "But it was a neighborhood thing. Beatties Ford. We got our own little clique. We on the West Side. North Side is a whole different neighborhood you don't even fool with. Everybody was together. This my brother, this my brother. We all in the same clique. We got each other's back. I'm not going to let nobody else touch you. If you hit him, I'm gonna hit you. Cos I'm his brother."
Stanley was shot at a gas station in the wake of an altercation with Demontre Rice, who was from the North Side, after Rice allegedly almost ran him over as he pulled in. It's not obvious that either man knew where the other was from and yet if Rice were in a gang (something I can't even confirm), that would, of course, make his killing gang related.
Sometimes gangs do have actual rites of initiation. Since, however, gang affiliation can be a guide to criminal activity, authorities are constantly trying to come up with more definite ways of identifying gang members. Almost inevitably, such attempts quickly fall back on stereotypes. A 1999 article in Colorlines, for instance, typically pointed out that in "at least five states, wearing baggy FUBU jeans and being related to a gang suspect is enough to meet the 'gang member' definition. In Arizona, a tattoo and blue Adidas sneakers are sufficient." In suburban Aurora, Colorado, local police decided that any two of the following constituted gang membership: "slang," "clothing of a particular color," "pagers," "hairstyles," "jewelry."
Black people made up 11% of Aurora's population and 80% of its gang database. The local head of the ACLU was heard to say, "They might as well call it a blacklist."
Under the Gun
Gangs are neither new nor racially specific. From the Irish, Polish, Jewish, and Puerto Rican gangs of New York to the Mafia, various types of informal gatherings of mostly, but not exclusively, young men have long been part of Western life. They often connect the social, violent, entrepreneurial, and criminal.
None of this should in any way diminish the damaging, often lethal effects organized gangs have on the young. One of the boys who died that day, 18-year-old Tyshon Anderson from Chicago, was by all accounts a gang member. His godmother, Regina, had long expected his life to come to an early end. "He did burglary, sold drugs, he killed people. He had power in the street. He really did. Especially for such a young kid. He had power. A lot of people were intimidated by him and they were scared of him. I know he had bodies under his belt. I seen him grow up and I loved him and I know he could be a good kid. But there ain't no point in sugarcoating it. He was a bad kid, too." If I'd chosen another day that year, I could well have been reporting on one of Tyshon's victims.
And although gangs involve a relatively small minority of young people, they still add up to significant numbers. According to the National Youth Gang Survey, in 2012 in the United States there were around 30,000 gangs and more than 800,000 gang members — roughly the population of Amsterdam.
What's new in all this isn't the gangs themselves, but how much deadlier they've become in recent years. According to the National Youth Gang Survey, between 2007 and 2012, gang membership rose by 8%, but gang-related homicides leapt by 20%. It seems that the principal reason why gang activity has become so much more deadly is the increasingly easy availability of guns — and of ever deadlier versions of such weaponry as well. Studies of Los Angeles County between 1979 and 1994 revealed that the proportion of gang incidents involving guns that ended in homicide leapt from 71% to 95%. "The contrast with the present is striking," argues sociologist Malcolm Klein, after reaching a similar conclusion in Philadelphia and East Los Angeles. "Firearms are now standard. They are easily purchased or borrowed and are more readily available than in the past."
This raises the stakes immeasurably when it comes to parents and caregivers trying to protect their adolescent children from bad company or poor choices (as parents of all classes and races tend to do). Identifying with a gang and doing something as seemingly harmless as wearing clothing of a certain color or befriending the wrong person can result in an early death. As a result, Gustin Hinnant's father in Goldsboro, North Carolina, used to burn his red clothes if he saw him wearing them too often. Gustin died anyway, hit in the head by a stray bullet meant for another boy who was in a gang. Pedro Cortez's grandmother in San Jose, California, used to similarly hide his red shirts — the color identified with the local Nortenos gang — just in case. Yet on that same November 23rd, Pedro, who was legally blind, was shot dead while walking in a park. He was dressed in black, but a friend who was with him was indeed wearing red.
Gangs are hardly unique to America, nor do Americans make worse parents than those elsewhere in the world, nor are their kids worse. There is, however, an unavoidable difference between the United States and all other western nations, or the book I wrote would have been inconceivable. This is the only place where, in addition to the tinder of poverty, inequality, and segregation, among other challenges, you have to include the combustible presence of guns — guns everywhere, guns so available that they are essentially unavoidable.
As long as Americans refuse to engage with that straightforward fact of their social landscape, the kinds of deaths I recorded in my book will keep happening with gruesome predictability. In fact, I could have chosen almost any Saturday from at least the past two decades and produced the same work.
Dismissing such fatalities as "gang related" — as, that is, victims to be dumped in some morally inferior category — is a way of not facing an American reality. It sets the white noise of daily death sufficiently low to allow the country to go about its business undisturbed. It ensures a confluence of culture, politics, and economics guaranteeing that an average of seven children will wake up but not go to bed every day of the year, while much of the rest of the country sleeps soundly.
Gary Younge is editor-at-large for the Guardian. He was based in the U.S. for 12 years before recently returning to London. He also writes a monthly column, "Beneath the Radar," for the Nation magazine and is the Alfred Knobler Fellow for the Nation Institute. His new book is Another Day in the Death of America: A Chronicle of Ten Short Lives (Nation Books).
Follow TomDispatch on Twitter and join us on Facebook. Check out the newest Dispatch Book, Nick Turse's Next Time They'll Come to Count the Dead, and Tom Engelhardt's latest book, Shadow Government: Surveillance, Secret Wars, and a Global Security State in a Single-Superpower World.
Copyright 2016 Gary Younge
Via Tomdispatch.com
October 23, 2016 by Juan Cole
Filed under Uncategorized
By Juan Cole | (Informed Comment) | – –
On Sunday, AFP reports in Arabic, Iraqi forces continued their advance on Mosul despite the car bombs and sniping tactics of Daesh (ISIS, ISIL). They moreover were able to expel a whole group of Daesh fighters. Sunday morning, the Peshmerga, the paramilitary of the Kurdistan Regional Government in Iraq, announced that they had launched a big campaign on Bashiqa to the north of Mosul, deploying 10,000 men to take the city back from Daesh.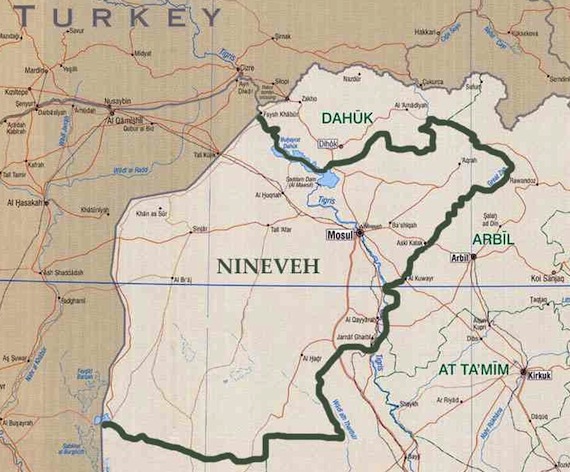 Ninevah Province, courtesy ISIP
By late Sunday, the town was in Peshmerga hands. Its inhabitants had been largely Izadis ('Yazidis), members of a folk religion with old Indo-Iranian influences. But many of them had fled when Daesh took over the town in 2014, since it considers them wretched heretics and has displaced, killed or enslaved hundreds of thousands of Yazidis.
The Peshmerga also took 7 other villages in the area and gained control of the highway heading from Bashiqa toward Mosul.
Operation #MosulOps October 20th Battle Map #IraqiArmy and #Peshmerga on the road to #Mosul #iraq #Bartella and #Bashiqa advances pic.twitter.com/lb6oy8ltlO

— Hussain (@HussainAlt) October 20, 2016
In a remarkable development, the Peshmerga Kurds received artillery support in the Bashiqa campaign from the Turkish army! Relations between the KRG in northern Iraq and Turkey have fluctuated a great deal, and sometimes have been tense. (Turkey is 20% Kurdish and fears ethnic separatism in its own southwest. The PKK terrorist group is seen by Ankara as the main secessionist threat, and it has bases in the KRG.) But apparently Daesh is so awful that it has managed even to bring Turkey and the Iraq Kurds together against it.
Turkey PM says its artillery hits IS positions in Iraq's Bashiqa https://t.co/phVRNhVJUA pic.twitter.com/cbJVffnMo3

— Mike Walker (@New_Narrative) October 23, 2016
The Kurds are also receiving US air support, and US Secretary of Defense Ashton Carter visited Erbil on Sunday to conver with Kurdistan presidetn Massoud Barzani about the campaign.
One complicating issue here is that Bashiqa is coveted by Kurdistan nationalists in Iraq for their super-province, but lies in majority-Arab Ninewah Province. It may well be that Baghdad will now never get it back.
The campaign to take Bashiqa was launched two days after a Daesh infiltration of Kirkuk, which was de facto annexed by the KRG in summer of 2014, in which dozens of fighters and suicide bombers sought to take over government buildings there. Peshmerga forces are still hunting down the perpetrators, who failed in their attack, and who have fled into the countryside east of the city. Some 54 Daesh fighters involved in that attack have been killed. Some 46 Kurdistan security personnel and others are dead at the hands of Daesh in Kirkuk, as well.
It is estimated that Mosul is now held by 3,000 to 5,000 Daesh fighters inside the city and another 2,000 positioned on its outskirts.
The fighting so far has for the most part been in the regions around Mosul, which are thinly populated, and so has produced about 5,000 refugees, who, the UN says, are in dire need of humanitarian assistance. It is feared that when the fighting reaches the center of this city, where about 1 million still reside (down from 2 million in 2013), it will produce a massive wave of refugees.