Anyone, even the least informed, can tell you that we live in a volatile political climate. The recent announcement of a travel ban, dubbed by many the "Muslim Ban," has certainly added to the tension and caused fear and anxiety in many Detroit neighborhoods.
That brought several Detroit-area organizations with deep ties to that community together to voice their concerns about the far-reaching impact of this disputed ban as well a revised version set to come out soon.
The Michigan Roundtable for Diversity and Inclusion, ACCESS, American Arab Anti-Discrimination Committee, Council of American Islamic Relations, and the Michigan Muslim Community Council recently put out a joint statement detailing their concerns.
We caught up Steve Speitzer, president and CEO of the Roundtable, and asked him what the organizations hoped to accomplish with the statement.
"The Roundtable is not a political advocacy group, but rather a convening organization helping to make the places we work and live places where all people are welcome and treated fairly." says Speitzer. "We work with people both sides of the political spectrum as well as business, faith, law enforcement and and government leaders.
"We are concerned about the bullying taking place in schools and communities and want to build a base of people who know and care about their Muslim neighbors and all those at risk during this time of increased otherization," says Speitzer. "Our fear is that the bullies in our midst will continue to act unabated and move toward increased violence in the days ahead.  Now is the time to challenge any form of hate, letting people know it is not acceptable," he says.
In case you're wondering "otherization" is defined to make or regard (a person, social group, etc.) as alien or different. The Roundtable and the other five organizations are alarmed what they see happening in cities and communities around the nation as a result of that.
They put out the following statement under the title Loving out Neighbors Is What Has Always Made America Great.
Our organizations have come together to protect and defend this country we all love from the dangers of unbridled fear and the ill-considered actions that have followed.
America is undoubtedly a great nation. And yet at times we forget what has made it great. Since its revolution it has had the advantage of millions of immigrants who have been willing to work hard to make America great right alongside those who arrived earlier. Just like our forebears these new immigrants pour their creative energies into America because they are so grateful to be in a place that respects them, honors their efforts and insists on the value of religious freedom.
Now America seems willing to ignore all of that at a time in our economic history when we can least afford to lose that effort and creativity. We are literally turning on ourselves, willing to succumb to our fears despite the damage it will do – damage much more certain than what it fears. We are concerned that America will lose its soul and much more.
Have no doubt that we recognize our government's obligation to protect us from foreign and domestic threats. Our government has taken that responsibility very seriously by carefully investigating refugees and immigrants for two years before they are allowed to enter the country.
The executive order banning travel from seven majority Muslim countries harms our American families and is alienating the very friends we need right now. It follows a record number of documented hateful actions perpetrated upon Muslims in Michigan and throughout the United States and clearly communicates that this is a religious ban on all Muslims. We are watching as this travel ban brings pain to our good friends and productive neighbors while unleashing unstable individuals to commit more acts of hate and discrimination upon innocent Muslims who love America dearly.
Few people know someone who is Muslim nor are many people knowledgeable about the religion of Islam. Misinformation and fear can cause people to scapegoat others. Muslims are peace-loving citizens. All religions, including Islam, have been used for political and economic gain at one time or another. Some disturbed people, calling themselves Muslims, have hijacked Islam. Muslims worldwide have roundly condemned them. People who do not know Muslims may be moved to voice hatred. Unstable people may feel they were given license to do even worse, the fire set at a mosque in Texas being a sad recent example.
This executive order singling out Muslims has created a very dangerous situation for our Muslim neighbors and their families. It is a religious ban that raises troubling Constitutional issues. It has not made Americans safer. It is in fact harming the social fabric that protects us all and has always made America great.
Our organizations are busy engaging people across religious difference and we urge all Michiganders to reach out to your Muslim neighbors to assist them with their safety concerns. If you do not know someone who is a Muslim, reach out to our organizations and we will assist you in this journey of, friendship, solidarity and public safety.
The statement was signed by:
Hassan Jaber, ACCESS
Abed Ayoub, American Arab Anti-Discrimination Committee
Dawud Walid, Council of American Islamic Relations
Bob Bruttell, Interfaith Leadership Council
Muzammil Ahmed, Michigan Muslim Community Council
Steve Spreitzer, Michigan Roundtable for Diversity and Inclusion
Sitting in a hospital bed can be really boring for kids (and adults) but reading can transport them to a whole new world.
To help that along, Pi Beta Phi Fraternity for Women donated 3,500 books to Children's Hospital of Michigan as part of its Detroit Fraternity Day of Service. This month the group will donate 20,000 new books to Detroit area schools, after-school programs and community programs serving students from low-income families. For any kids it will be the first new book they've ever owned.
The fraternity hosted a special event at the hospital to kick off the Day of Service and launch the brand new Detroit Little Library at Children's Hospital. The Detroit Little Libraries campaign has been working to promote reading and community in the city by installing doll house-size libraries in public places. They look a little like a big bird house filled with books. The idea is to take a book or leave a book.
So far Detroit Little Libraries has put almost 313 little libraries in front of individual homes, small businesses, nonprofits, community gardens, worship houses, health centers, all 97 Detroit public schools and now at Children's Hospital of Michigan.
"Everyone knows reading is so important," says Kim Kozlowski, founder of Detroit Little Libraries. "But it is especially critical for children because reading can change the trajectory of someone's life. That is why we are so thrilled there is now a Little Free Library at the Children's Hospital of Michigan. It's wonderful that Pi Beta Phi has stepped up to steward the library and keep it stocked with books."
Along with special appearances by Detroit Pistons Aron Baynes and Pistons mascot Hooper and the Detroit Police Department SWAT (special weapons and tactics) team there was a very poignant moment when the very special "little library" was unveiled in the Children's Emergency Department in memory of a patient.
At eight weeks old Jenny Lyn Preston was diagnosed with mitralstenosis, causing 95 percent blockage of the heart. She was given 90 days to live. That was in 1978.
She had a lifesaving procedure at the Children's Hospital of Michigan. When she grew up she became a librarian at the Novi Public Library.
Preston died at 36 in March 2015 and her best friend, Melissa Burden, wanted to honor her memory. She chose to sponsor a Little Library at the Children's Hospital of Michigan and the emergency room seemed the perfect place to install it.
Detroit Little Libraries works with many Detroit artists, who put their work on a few "blank" libraries to raise awareness of the campaign. Melissa hired Plymouth artist Eno Laget to customize a Little Library to honor Preston. She wanted his art to complement the hospital emergency room's safari theme. Laget and his wife and daughter, Grace and Zoe Stanczak, worked on it together as a family.
The books will make time in the emergency room a little easier so combining the unveiling with the Phi Beta Phi event was the perfect time to introduce the new little library.
"When we saw the opportunity to donate 20,000 books through Pi Beta Phi Fraternity Day of Service Signature Events, we immediately thought of Detroit," says Jennifer Bartleman and Michelle Woodhouse, Detroit's Fraternity Day of Service co-chairs. "We felt compelled to evoke positive change on Detroit's staggering low literacy rates and high poverty rates."
Over the past several years, Pi Beta Phi has donated well over $1 million to literacy causes and given more than one million books to children in need. The Fraternity is currently working toward a goal of impacting one million lives through its philanthropy Read > Lead > Achieve® by the time Pi Beta Phi celebrates its 150th anniversary this summer.
"Our Fraternity of almost 300,000 women is united in the cause to promote the importance of reading," says Pi Beta Phi President Paula Shepherd. "According to the National Assessment of Adult Literacy, one in four children grows up functionally illiterate, and we believe that is one too many. Pi Beta Phi is thrilled to participate in this book distribution because we believe reading transforms individuals, creates leaders and is the foundation of all that we can achieve in life."
For additional information, visit www.pibetaphi.org or follow Pi Phi on Twitter and Facebook.
Cancer. The word has the worst type of power over people, and it is universal.
With 12,000 women in the U.S. diagnosed with cervical cancer and more than 200,000 diagnosed with breast cancer annually, it has earned that looming shadow for many women.
Some of the most at risk are uninsured and low-income women who aren't screened because of the cost. St. Joseph Mercy Ann Arbor wants to help put some of their concerns to rest by offering free cancer screening on April 22.
As the only location in Michigan participating in the See, Test & Treat program, SJMAA will provide uninsured and low-income women ages 21 to 64 with free pelvic and breast exams and Pap tests with same-day results. Women ages 40 to 64 can also receive a free mammogram with same-day results. HPV tests, health education and access to community health resources will also be offered. Spanish-speaking staff will be available for those needing translation services.
"Our growing Spanish-speaking population in Washtenaw county and neighboring communities can truly benefit from See, Test & Treat," says Dr. Sharon Bihlmeyer, pathologist, St. Joseph Mercy Ann Arbor. "Breast cancer is the leading cause of cancer-related death for Hispanic women. And, among some underserved groups, the incidence of cervical cancer is 25 percent higher than national averages. But with regular screening, cervical cancer can be nearly eliminated and we can catch breast cancer early, when the potential for survival is greatest."
In Michigan the incidence of cervical cancer among underserved groups is above the national average. Moreover, breast cancer is the leading cause of cancer death among U.S. Hispanic women.
"With See, Test & Treat, we have the potential to reach patients who otherwise might receive a diagnosis much later, perhaps too late," Bihlmeyer says. "But more than that, as we serve these patients and their families, we hope to have a sustainable impact on their future health as they gain an understanding of the services they can regularly access in their community."
With regular screening cervical cancer can be nearly eliminated and there's a five-year survival rate of 98 percent for breast cancer when found in early stages, so frequent screening is nothing but logical. This screening is free, which makes it all the easier.
"With See, Test & Treat, we have the potential to reach patients who otherwise might receive a diagnosis much later, perhaps too late," Bihlmeyer says. "But more than that, as we serve these patients and their families, we hope to have a sustainable impact on their future health as they gain an understanding of the services they can regularly access in their community."
Through See Test & Treat, a growing number of underserved women nationwide are gaining culturally sensitive access to preventive care, including Pap tests and mammography, with results and follow-up consults delivered the same day. Tailored to the needs of each targeted community, the program typically includes interpreters, multilingual patient outreach and education materials, even transportation and children's activities. This patient-centered, coordinated approach helps ensure that underserved women gain the early detection advantage and life-saving services that pathologists provide.
Screening will be held on April 22 from 10 a.m. – 3 p.m. at Women's Health Center on the campus of St. Joseph Mercy Ann Arbor, 5320 Elliott Drive in Ypsilanti.
To register Call 734-712-7881.
By Juan Cole | (Informed Comment) | – –
On Friday, Trump was making news again, after having appeared to be subdued (or muzzled?) by his staff midweek. But he addressed the conservative equivalent of that bar scene in Star Wars, CPAC. As usual, the sum total of his wacky pronouncements added up to a minus number. Here are a few of the more striking contradictions:
1. At CPAC Trump complained that the US deficit has soared to $20 trillion.
Then he said,

"We're also put nothing a massive budget request for our beloved military. And we will be substantially upgrading all of our military, all of our military, offensive, defensive, everything, bigger and better and stronger than ever before. And hopefully, we'll never have to use it, but nobody's gonna mess with us, folks, nobody.
The annual US military budget is $773.5 billion. The US spends as much on the military as the next 14 countries, and this massive spending on war-related institutions drives the country into repeated wars (war spending creates constituents and lobbies). The federal government plans to collect $3.2 trillion in taxes and fees in fiscal 2017 and to spend $3.6 trillion– i.e. is spending $400 bn more than it has. The military budget is a quarter of the federal budget. War spending cannot be expanded without vastly increasing the deficit, as Trump himself seemed to admit when he talked about the wastefulness of the Bush wars.
2. At CPAC he said, "So I'm not against the media, I'm not against the press. I don't mind bad stories if I deserve them." And he said, "And I love the First Amendment; nobody loves it better than me. Nobody."
Then he disinvited CNN, NYT, LAT, Politico and Buzzfeed from the Friday press briefing. Trump is attempting to make Breitbart and other alt-NeoNazi outlets into the mainstream media and to destroy even the center-right corporate media which he and Steve Bannon see as insufficiently worshipful of the privilege of the white and wealthy, and insufficiently worshipful of Trump.
3. Trump is always going on about how he will make the US more secure.
Then he basically called for a new nuclear arms race and ratcheting up of the planet's most deadly arsenal.
4. Trump said, "And by the way, I want regulation. I want to protect our environment, I want regulations for safety, I want all of the regulations that we need and I want them to be so strong and so tough…"
But Trump is now again allowing corporations to dump their coal ash into our rivers and thus our drinking water. He also intends to reverse many of President Obama's other clean water regulations.
5. Trump says he wants the intelligence community to report on the danger to the US emanating from the 7 countries whose citizens he wishes to place on a travel ban.
But when on Friday The Department of Homeland Security issued a report questioning the premises of Trump's 7-country visa ban, Trump immediately and totally dismissed it.
—-
Related video:
PBS NewsHour: "What Trump targeting the media means for press access"
The Watchers | – –
Each year, 2 to 16 percent of hydraulically fractured oil and gas wells spill hydrocarbons, chemical-laden water, hydraulic fracturing fluids and other substances, according to a study published yesterday in Environmental Science & Technology.
The analysis, which appeared February 21 in Environmental Science & Technology, identified 6 648 spills reported across Colorado, New Mexico, North Dakota and Pennsylvania during a 10-year period.

"This study provides important insights into the frequency, volume, and cause of spills," said Lauren Patterson, policy associate at Duke University's Nicholas Institute for Environmental Policy Solutions and the study's lead author.
Researchers examined state-level spill data to characterize spills associated with unconventional oil and gas development at 31 481 wells hydraulically fractured or "fracked" in the four states between 2005 and 2014.
"State spill data holds great promise for risk identification and mitigation," Patterson said. "However, reporting requirements differ across states, requiring considerable effort to make the data usable for analysis."
North Dakota reported the highest spill rate, with 4 453 incidents, followed by Pennsylvania at 1 293, Colorado at 476 and New Mexico at 426. The number of spills reported is partly a reflection of the reporting requirements set by each state. For example, North Dakota required reporting smaller spills (42 gallons or more) than Colorado and New Mexico (210 gallons or more).
"As this form of energy production increases, state efforts to reduce spill risk could benefit from making data more uniform and accessible to better provide stakeholders with important information on where to target efforts for locating and preventing future spills," Patterson added.
The results of the study exceed the 457 spills calculated by the U.S. Environmental Protection Agency (EPA) for eight states between 2006 and 2012 because the EPA's analysis only considered the hydraulic fracturing stage, rather than the full life cycle of unconventional oil and gas production.
"Understanding spills at all stages of well development is important because preparing for hydraulic fracturing requires the transport of more materials to and from well sites and storage of these materials on site," Patterson said. "Investigating all stages helps to shed further light on the spills that can occur at all types of wells – not just unconventional ones."
Fifty percent of spills identified in the Environmental Science & Technology article were related to storage and moving fluids via pipelines, although it was not always possible to determine the cause of the spill because some states explicitly required this data to be reported while others relied on narrative descriptions.
Across all states, the first three years of a well's life, when drilling and hydraulic fracturing occurred and production volumes were highest, had the greatest risk of a spill. The study found that a significant portion of spills (from 26% in Colorado to 53% in North Dakota) occur at wells that experienced more than one spill, which suggests that wells where spills have already occurred merit closer attention.
"Analyses like this one are so important, to define and mitigate risk to water supplies and human health," said Kate Konschnik, director of the Harvard Law School's Environmental Policy Initiative. "Writing state reporting rules with these factors in mind is critical, to ensure that the right data are available – and in an accessible format — for industry, states and the research community."
A data visualization tool of spill data contained in this study is available at http://snappartnership.net/groups/hydraulic-fracturing/webapp/spills.html
DATA: The data, as reported by the states, is all publicly available and accessible. It's included in the supplemental information in the journal article and accessible at this link: https://knb.ecoinformatics.org/#view/doi:10.5063/F1TB14VK. Materials related to how the data was extracted for each state (http://pubs.acs.org/doi/suppl/10.1021/acs.est.6b05749/suppl_file/es6b05749_si_001.pdf) and a spreadsheet with calculations (http://pubs.acs.org/doi/suppl/10.1021/acs.est.6b05749/suppl_file/es6b05749_si_002.xlsx) is also available online at the same location.
Source: Duke University / Nicholas Institute
Reference:
"Unconventional Oil and Gas Spills: Risks, Mitigation Priorities and States Reporting Requirements" – L. Patterson, K. Konschnik, H. Wiseman, et. al. – Environmental Science & Technology (2017) – DOI: 10.1021/acs.est.05749.
Featured image: Visualizing spills data from unconventional oil and gas activity. Credit: Nicholas Institute/Duke University, SNAPP
Via The Watchers
by Ariana Tobin | ProPublica | – –
When it comes to death, my family honors all of the Ashkenazi Jewish traditions: We name our children after dead relatives, we sit shiva for a week, we gather around trays of fruit and lox and cream cheese, we cover the mirrors, we say the Kaddish prayer, we each toss three shovelfuls of dirt into the grave, and we wait a year to put a stone on top of it. When I got my driver's license at 16, my mom asked me not to sign the organ donor card because Jews are supposed to be laid to rest in one piece. When I turned 18 and signed it anyway, I couldn't stop imagining her face when she found out after I'd died in a car accident.
But traditions don't protect you from death, or the life of anxiety in preparation for it. When I told my grandmother — her mother called her Malka, her sisters called her Mollie — that I had an opportunity to teach English abroad, I knew what to expect in response: "That's nice, baby, but why don't you find a teaching job around here where it's safe?" That, and a $20 bill she couldn't necessarily afford to give.
But when I added, "I'm going to a place in Belarus called Minsk; it's a big city," her reply took me by surprise. "Minsk!" she exclaimed. "That's where my mother was from! I guess you could go. Maybe you'll see where they lived?"
I did go. I didn't see where they lived because that place does not exist anymore, thanks to World War II and the Soviets. To identify the symbols of Judaism left in a city that was about 37 percent Jewish in 1941, you have to squint at the stone facades of buildings and say, "Yes, I think that might be a Hebrew character." You have to stare hard, and wonder, "Hmm, is that Yiddish?"
There are statues and plaques here and there. But look as one might, there are few relics of Jewish death. When you visit Khatyn, a memorial to the victims of "the Great War," you learn about the deaths of hundreds of thousands of civilians, but little to nothing about what religion they practiced. Nor are there signs marking entire villages of Belarussians, Jews and non-Jews, that became unmarked mass graves. When I would ask my students and co-workers and friends, "What happened to the Jews here?" all most of them would say was, "They left."
Here, of course, we know why they "left." My relatives who stayed in Eastern Europe died. Those who moved to America lived. Every single one of my great-grandparents was a first- or second-generation Eastern European immigrant to St. Louis. If you've been following the news this week, you probably know where this story is going: Almost all of my immigrant ancestors are buried in the Chesed Shel Emeth cemetery, where nearly 200 graves were vandalized this past weekend.
I've been to only one funeral at Chesed Shel Emeth, which is in University City, about 15 minutes from where I grew up. I certainly wasn't there when they buried my grandmother's mother, Alice, the immigrant from Minsk, more than 40 years ago. Her tombstone wasn't among the ones vandalized. But I know the idea that it might have been desecrated — that it is even a possibility — is on Grandma Mollie's mind today, and on my mother's as well. I know because for the last several days all we've been talking about are relatives like "little Grandma Alice," who never grew to 5 feet, who cooked elaborate noodle kugels, whose husband died young, who never really learned to drive or speak English and who was scared of strangers unless her family was around.
I'm privileged to have grown up in St. Louis, a place where my grandparents wanted me to stay because it felt "safe" to them — a place they'd made their way to with the help of documents that we know weren't entirely accurate or complete, and they became citizens anyway. So when a news link about my family's Jewish cemetery popped up in the group chat for a reporting project on hate crimes that I'm involved in at ProPublica, I wasn't prepared. Nor was I prepared when I called home and my mom told me that she was going to exchange cash for gold in case "things get worse" and that my dad — who has never considered shooting anything in his life — had wondered out loud about getting a gun.
I wanted to say, "You're overreacting." But I can't, really, in part because it's so hard to gauge the threat. Data on hate crimes — against Jews and everyone else — is miserably incomplete and poorly tracked. My job is about presenting facts to contextualize the news of the day, horrible as it may be. This time, I had to tell my family that I didn't have them.
We don't know if the vandalism at Chesed Shel Emeth was technically a hate crime. The motives behind it may well be uncovered. What we do know is that there is a long tradition of desecrating Jewish cemeteries, from Nazi Germany to present-day France and New York. And whatever the particulars, the news hit at a time when the Jewish community has been put on edge by threats to Jewish community centers where kids go to preschool and their retired grandparents take Kabbalah-infused yoga classes.
That's why our project, "Documenting Hate," an attempt to create a reliable database of hate crimes and bias incidents, asks victims to submit their stories. When I read the submissions, it's clear that defining "hate crimes" can be as elusive as reliable data tracking them. It's just as clear that we need to make the attempt to define them, report them, investigate them — to gather enough, at least, for context.
Yes, it's about confronting the ugliness and comforting the scared. But it's also about giving real answers, using actual numbers and telling true stories when our children ask questions like, "What happened to the Jews?"
ProPublica is a Pulitzer Prize-winning investigative newsroom. Sign up for their newsletter.
Ariana is an engagement reporter at ProPublica.
Via ProPublica
—–
Related video added by Juan Cole:
The Young Turks: " Muslims Organize Fundraiser For Vandalized Jewish Cemetery"
By Kevin Hagopian | (The Conversation) | – –
Politics loom over this year's Oscars, with many bracing for what the winners will – or won't – say when they ascend the stage before millions of television viewers on Feb. 26.
One nominee, however, has already made a statement.
Iranian filmmaker Asghar Farhadi's "The Salesman" is one of five films nominated for Best Foreign Language Film. But last month, after President Trump issued an executive order temporarily banning immigrants from seven Muslim majority countries – Iran included – Farhadi decided to boycott the annual awards ceremony.
"To humiliate one nation with the pretext of guarding the security of another is not a new phenomenon in history and has always laid the groundwork for the creation of future divide and enmity," he wrote. "I hereby express my condemnation of the unjust conditions forced upon some of my compatriots and the citizens of the other six countries trying to legally enter the United States of America and hope that the current situation will not give rise to further divide between nations."
Given the attention Farhadi has received for his act of protest, it's worth looking at how Iranian film has evolved under a regime that seeks to quell criticism – and how filmmakers like him navigate these restrictions to produce powerful, politically potent art.
A bipolar movie culture
Before the 1979 Islamic Revolution, an independent film sector existed alongside government-financed film production. Revolutionaries, however, viewed the film industry as a symbol of cultural corruption, and during the revolution set fire to hundreds of movie theaters.
Beginning in 1982, Iranian cinema began to regroup. The government wanted to construct a national film culture that would express the ethics of Islam and the unique history of the Iranian state. But this goal often clashed with filmmakers who had strong ties to Iran's literary culture and wanted to be able to portray modern Iran in critical terms. As a result, Iran's movie culture is bipolar, with apolitical, domestic melodramas outnumbering art films that critique everyday life.
Today, Iranian cinema reveals some of the contradictions of life under a theocracy. Yes, filmmakers must adhere to strict guidelines: The Ministry of Culture forbids unflattering portrayals of Islam, women, the nation and its history. But these rules are vague, and censorship of Iranian films is inconsistent, often based on the tastes of individual officials.
Nonetheless, the art cinema of filmmakers like the late Abbas Kiarostami, Jafar Panahi and Mohsen Amiryoussefi has received worldwide acclaim. Since the mid 2000s, Iranian films have won awards at prestigious festivals such as Cannes, Venice and San Sebastian.
The extraordinary overseas success of Iranian films has further complicated the censorship picture. It was the Iranian government, for instance, that approved the script of "The Salesman," and determined that the film would be the country's official entry in the Best Foreign Language Film category.
Perhaps authorities give films like "The Salesman" a pass because their depiction of Iran's social realities is subtle, not strident. Literal-minded officials are often unable to find obvious examples of blasphemy or criticism of the political regime.
Gentle – but forceful – criticism
In "The Salesman," for instance, a couple, Ranaa and Emad, are performers who are rehearsing for a production of Arthur Miller's "Death of a Salesman."
Their own home, however, is collapsing, the result of faulty construction. They're forced to rent an apartment, which, they soon discover, had previously been occupied by a prostitute. Her clients continue to show up, creating a whole host of new problems for Ranaa and Emad.
In its elliptical treatment of Iran's civil society as a "crumbling building" – and its depiction of the conflicting social and religious roles Iranian women must grapple with – the film subtly manages to be critical of modern life in Iran. In "The Salesman," Islam is not the problem; rather, the film insists that repressive institutions – cultural, economic or religious – are what narrow the possibilities for humane communication and equality. These, Farhadi seems to argue, are the true dangers to any society.
Meanwhile, female filmmakers like Samira Makhmalbaf – joined by other female actors, writers and directors – bring a muted feminism to an industry that exists at the sufferance of a patriarchal government.
What scholar Hamid Naficy calls a "cinema of the averted gaze" has emerged. Both male and female filmmakers obliquely confront the terms of female subservience – as well as the hidden sources of female cultural power – in a patriarchal society.
Defying the censors
Even though the criticism of the theocracy is often so gentle that it's hardly noticeable, that hasn't stopped the government from banning some Iranian films for domestic audiences. "Circle" (2000) was banned for its depiction of runaway girls, a social problem that's at least partially the result of religious laws. Official regulators of culture in Iran have long seen themselves as fighting modernity and globalism, which they stereotypically connect with a hostile, decadent West – just the kind of xenophobia that, unfortunately, Trump's blanket indictment of Islam echoes.
Nonetheless, Iran's leaders haven't been able to fully halt the forces of globalism they despise, and art films have been able to examine the ways in which international capital and conflict impact Iranian lives. "Surviving Paradise" (2001), the story of two young Iranian refugees lost in the streets of Los Angeles, was the first English-language Iranian-American film to be distributed in America. Several festivals of Iranian cinema also continue to take place each year around the world, part of a pattern of cultural exchange that predates the 1979 revolution.
Iranian cinema has also undercut the monolithic narrative that the theocratic state seeks to communicate.
For example, an Iranian war film like "Duel" (2004) doesn't simply broadcast patriotic messages. Instead, it makes a powerful statement about the trauma of the Iran-Iraq War, using the memory of the conflict as a lens through which to understand modern Iran. Marjane Satrapi's animated film of her own graphic novel "Persepolis" (2007) is perhaps the most outspoken and direct cinematic revision of the government's version of the 1979 Revolution. (This film, however, was made in France.)
Looking ahead to the Oscars
Farhadi's personal boycott is significant because it shows that rash and punitive U.S. immigration policies can be counterproductive, limiting some of the most liberal and cosmopolitan voices in the Muslim world.
Farhadi previously won an Academy Award for directing "A Separation" (2011), a film about a marriage that dissolves over the question of whether or not to leave Iran. Credited as the writer, producer and director of "The Salesman," he is widely regarded as a luminary of world cinema, and has joined a handful of living directors – Martin Scorsese, Pedro Almodovar, Wong-kar Wai and Alfonso Cuaron – as auteurs who are making lasting contributions to the art.
If the contentious statements from the podiums of the Golden Globes, Screen Actors Guild Awards and the Director's Guild Awards are any indication, the Oscars will culminate a unique post-election season of cultural politics – and a rejection of the cultural assumptions inherent in Trump's brand of politics. Farhadi referred to the Oscars as "this great cultural event." But with Farhadi absent and his film present, he will be able to contribute to the political undertones of this year's Oscars in a way that American movie stars ascending the stage can't.
In his statement, Farhadi also wrote that "Hard-liners, despite their nationalities, political arguments and wars, regard and understand the world in very much the same way…via an 'us and them' mentality." In this sense, he seems to be equating the Trump administration with Iran's ruling regime.
Some have urged the Oscar organizers to use Skype to at least allow Farhadi to be present visually, if not politically. In either case, if "The Salesman" ends up winning the Oscar for Best Foreign Language Film, it could be seen as yet another repudiation of Trump's xenophobic, "us versus them" platform.
After all, as Farhadi subtly points out, his executive order is comparable to the very Iranian extremism his policies claim to contain.

Kevin Hagopian, Senior Lecturer of Media Studies, Pennsylvania State University
This article was originally published on The Conversation. Read the original article.
——
Related video added by Juan Cole:
Wochit Entertainment: " Director Asghar Farhadi To Address Crowd"
By: Ramzy Baroud | (Ma'an News Agency) | – –
The president of the United States can hardly be taken seriously, saying much but doing little. His words, often offensive, carry no substance, and it is impossible to summarize his complex political outlook about important issues.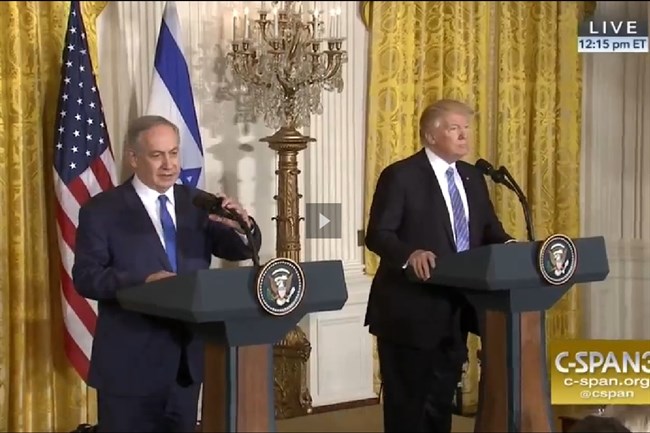 This is precisely the type of American presidency that Israeli Prime Minister Benjamin Netanyahu prefers.
However, Donald Trump is not just a raving man, but a dangerous one as well. His unpredictability must worry Israel, which expects from its American benefactors complete clarity and consistency in terms of its political support.
At the age of 70, Trump is incapable of being the stalwart, pro-Zionist ideologue in a way that suits Israeli interests well.
Take, for example, the White House press conference following the much anticipated visit by Netanyahu to Washington on Feb. 15.
The visit was scheduled immediately after Trump's inauguration on Jan. 20, and is considered the Trump presidency's answer to what Israel wrongly perceives as a hostile US administration under former President Barack Obama.
However, Obama has granted Israel $38 billion over the course of ten years, estimated to be the most generous aid package in US history. He has supported all Israeli wars against Palestinians throughout his presidency, and unfailingly defended Israel before the international community, at the United Nations and every global forum in which Israel was justifiably criticized.
But Israel expects blind support. It needs a US administration that is as loyal as the US Congress, always praising Israel, degrading Palestinians, dismissing international law, calling to stop funding the UN for daring to demand accountability from Israel, feeding Israeli 'security' phobias with monetary and absolute political backing, demonizing Iran, undermining the Arabs and repeating all Israeli talking points fed to them by Tel Aviv and by the fifth column lobbyists in Washington.
Trump is striving to be that person, the messiah that Israel's army of right-wing, ultranationalists and religious zealots have been calling for. But this appears beyond the man's control, no matter how hard he tries.
"Looking at two-state or one-state, I like the one that both parties like. I'm very happy with the one both parties like. I can live with either one," Trump said in answer to a journalist's question, implying to Israel that the US will no longer impose solutions; instead, Trump pushed the "one-state solution" idea to the very top of the discussion. It is not what Israel wanted — or expected.
In Washington, Netanyahu, with unmistakable pomposity, stood before the media and simply lied. He painted Israel as vulnerable, a prey for dark "radical Islam" forces, ready to strike from every corner.
He presented Iran's nuclear capabilities as if it is lined up to incinerate Israel, itself built atop the graves and villages of dispossessed Palestinians. No journalist had the courage to quiz the Israeli leader about his own country's massive nuclear arsenal and other weapons of mass destruction. Listening to him preach fabricated history to the incurious American media, one would think that militarily powerful Israel is occupied by hostile Palestinian foreigners, and not vice versa.
Netanyahu claimed his people belonged to Palestine as the French belonged to France and the Chinese to China. But if European Jewish immigrants are the natives of Palestine, then what is one to make of Palestinians? How is one to explain their existence on land that has carried their collective name for millennia?
This is inconsequential to the US government and mainstream media. US media is as uninformed about the realities of the Middle East as Trump, who seems to have only two main talking points about the whole issue, both embarrassingly bizarre:
Israel has been treated "very, very badly" by the US, and he has a "really great peace deal" in store.
On the contrary, Palestinians have been treated "very, very badly" by the US, the most generous supporter of Israel. Israel has used mostly American weapons in its wars against Palestinians and other Arab nations, with thousands of Palestinians losing their lives because of this blind American patronage.
As for his "really great peace deal," Trump has nothing. "Really great" seems to be his answer to everything, to the point that his words are becoming ineffectual cliches, suitable for Twitter jokes and comedy.
Furthermore, Netanyahu, urged on by — to quote former Secretary of State John Kerry — the "most right-wing coalition in Israeli history," wants the US to unconditionally support Israel as the latter is finalizing its future "vision."
Now, it seems that Israel is concluding that territorial quest. The "Regularization Law" passed recently in Israel's parliament — the Knesset — will retroactively validate all Israeli illegal settlers' claims over Palestinian land. Top Israel officials now openly speak of annexation of the West Bank, using language that was formerly reserved for Jewish extremists.
Israel's president believes annexation is the answer. "I, Rubi Rivlin, believe that Zion is entirely ours. I believe the sovereignty of the State of Israel must be in all the blocs," Rivlin said, emphasizing that he was referring to the entire West Bank, as quoted by the Times of Israel.
The consensus among Israel's ruling class is that a Palestinian state should never be established. Trump, although incoherent, granted them just that.
So what does Netanyahu want? We know he does not want a Palestinian state and plans to annex all Jewish colonies, while continuing to expand over stolen Palestinian land. He wants Palestinians to exist, but without political will of their own, without sovereignty, forced to accept that Israel is a Jewish state (thus signing off on their historic right to their own land); to remain subdued, passive, disarmed, dehumanized.
Netanyahu's end game is Apartheid, racist segregation where one party, Israeli Jews, dominates and exploits the other — Palestinian Arabs: Muslims and Christians.
But human dignity is not open for negotiation, no matter how a "good negotiator" Netanyahu is — according to Trump's assertion.
Palestinians have resisted Israel for nearly seventy years because they challenge their servitude. They will continue to resist.
Israel has the military means to punish Palestinians for their resistance, to push them behind military checkpoints and trap them behind walls. Yet, it is not a matter of firepower, and no wall can be high enough to stymie the echoes of oppressed people striving for freedom, human rights, equality and solidarity.
Netanyahu must feel triumphant because of Trump's assuring words. The Israeli leader wants any victory, however illusive, to buy time and the allegiance of his camp of extremists, especially now that he is being investigated for fraud and is likely to be indicted.
He may even initiate a war against Gaza to create further distraction, and will readily spin facts so that his country is presented as a victim, to test American support and to "downgrade" Hamas' and other Palestinian groups' defenses.
However, none of this will change the reality that Netanyahu has unwisely constructed. His vision for Israel is the perpetual subjugation of Palestinians through a system of racial discrimination that will continue until the world unravels the lies and the propaganda.
Having Trump by his side, Netanyahu will work diligently to perfect the Palestinian prison in the name of Israel's security.
Palestinians must now respond, without the irrelevant rhetoric of a "two-state solution," but with a unified universal message to the rest of the world: expecting — in fact, demanding — freedom, equality, and full rights in a society that is not predicated on racial order, but on equal citizenship.
Israel has laid out its dark vision. Palestinians must present the antithesis to that destructive vision: a road map towards justice, equality, and peace for all.
Ramzy Baroud is an internationally-syndicated columnist, author, and the founder of PalestineChronicle.com. His latest book is My Father Was a Freedom Fighter: Gaza's Untold Story.
The views expressed in this article are the author's and do not necessarily reflect Ma'an News Agency's or Informed Comment's editorial policy.
When I was a kid, I wasn't afraid of motion. Spinning, twirling, rolling – I could do it all. The only times I can remember having an issue with motion sickness were when I attempted to read in the backseat of a moving car, so I learned pretty early on to avoid combining books and vehicles. But I loved amusement park rides, doing underwater cartwheels, and never thought twice about any kind of motion.
In my early twenties, things changed. Suddenly I began feeling nauseous when exposed to sudden motion. Not only was I ill when reading in a car, but even just riding in a backseat caused issues. Amusement park rides were out for good, unless it was a rollercoaster moving steadily ahead with no loops or backwards motion. I couldn't even take my kids on a carousel when they were too small to go on by themselves, or I would feel dizzy and sick for hours afterward. My husband was, by necessity, our 'go to' carousel rider.
Over the years I've learned to avoid motion where I can. I sit out on rides at amusement parks and instead take pictures of my kids having a blast. I do my best to sit at the front of buses on field trips or ride shotgun whenever I can during carpools. Sometimes I'm still taken by surprise as during a holiday party last month when I realized about 30 seconds into the planetarium show that I would have to keep my eyes closed the whole time. Virtual reality rides or games are an absolute no for me. I know there are options that could help, but I hate the idea of taking medication, plus I don't always have time to wait for it to take effect.
For the most part, my kids do ok when it comes to motion sickness, although my 14-year-old has always struggled on long car trips, especially ones full of hills and/or curves. She doesn't throw up, but her stomach hurts (sometimes greatly) and we end up having to make a lot of stops for her stomach to settle. She can't read in the car at all either. We've tried over-the-counter medication for her, but it doesn't seem to help, at least not enough.
What is Reliefband
Recently I was sent a sample of a wearable product that helps with nausea from motion, morning sickness or VR gaming. The Reliefband is FDA-cleared and easy to use. According to the website, it takes effect in just minutes, without the side effects or delays from medications.
The Reliefband is worn on the inner portion of the wrist and works by, "Neuromodulation: Reliefband Neurowave proprietary technology uses the body's natural neural pathways to regulate the mechanisms causing nausea & vomiting". When you turn on the Reliefband, it emits gentle pulses to the body's P6 pressure point. "These intermittent signals modulate the body's natural neural pathways and block the sensation of nausea". There are five settings so you can adjust the Reliefband to work for what your body needs at any particular time.
Here's my take on Reliefband
It's strange – I'm so used to avoiding motion, that it was difficult to figure out a way to test the Reliefband. I should have taken it with me to the Detroit Auto Show – I watched another blogger try hers out on a virtual reality ride put on by the Ford Motor Company in their booth. I skipped the ride as usual, but sympathized with friends who had tried it out (with no motion sickness remedy) and felt ill for hours afterward. The Reliefband did seem to help the other blogger, but I absolutely still wanted to try it out for myself.
The first time I put on the Reliefband was at home, so that I could make sure I was using it correctly. It is very easy to use, but one important step to remember is to apply the included conductivity gel to the wrist before putting on the Reliefband. This is to both hydrate the skin with electrolytes and to make sure the Reliefband is in the correct position and stimulates the median nerve correctly. The gel feels similar to what's used during an ultrasound – it's very easy to apply and to wipe off afterward.
The Reliefband comes with instructions to make sure that the device is positioned correctly on your wrist and those were easy to follow. The strap has plenty of room and fit on my wrist easily. I made sure it was tight enough to not slip, especially while moving around. And then I turned on the Reliefband to both test the location and see how it felt.
There are five settings, that increase the level of relief as you go up. On the first two settings I couldn't really feel much in my wrist or hand, but as I moved up into the higher settings I definitely felt a stronger pulsating tingle that went through my wrist where the Reliefband was positioned and through the center of my palm into my middle finger. The tingle was stronger when my hand was relaxed or in a fist and less when I stretched my hand out straight. It wasn't painful – just a strange feeling.
The next step was to test out whether the Reliefband helped with motion sickness. Although we were headed out on a road trip, my daughter was not willing to try reading in the car, even with the Reliefband, because she didn't want to take the chance that it wouldn't help and that she would feel ill for the rest of our journey. She wanted me to be the first one to try it. So, I did – not having any amusement park or virtual motion rides handy, I tried a few things at home that usually would have me feeling dizzy and ill. I twirled in a circle, sat in our recliner and spun, and then also wore the Reliefband while riding as a passenger and looking at my phone as my husband drove our van. For each of these, I began with the Reliefband on a low setting and turned it up if/as necessary.
Does the Reliefband help?
I felt a definite difference on the first two tests, while twirling and spinning. Admittedly, I did each of these actions for only a minute or two, so I wasn't really feeling very ill before turning on the Reliefband, but where I would normally feel sick for a while afterward, I felt fine almost immediately and had no ill effects after stopping.
The bigger test was using the Reliefband in the car, especially while looking at my phone. This is generally a big no-no for me, which can be frustrating for my husband, especially if he needs me to look something up or help navigate while we're out and about. The Reliefband definitely helped a lot – my stomach was fine.
I've also used the Reliefband at the carousel in our local mall, and was able to ride along with my youngest daughter with no ill effects at all. She may be old enough now that I'm not required to ride with her anymore, but I'm definitely thrilled to have the option! I can't wait to try out the Reliefband on more rides this summer.
Tips for Using Reliefband
Here are a few quick tips that I've figured out while using my Reliefband:
I've used the Reliefband with a small amount of gel and also after using a much more generous amount. There was a definite difference in the amount of tingling I felt in my hand – when I used more gel, I couldn't even feel anything at the two lowest levels, whereas when I used less gel, I could feel the tingling even at the lowest level and it got very uncomfortable above level three.
After you've stopped moving (or watching VR or whatever else you're doing that caused the motion sickess), you turn off the Reliefband.
Keep the Reliefband strap as tight as you can manage so that it doesn't shift around while you're in motion. You want to make sure that it stays at the correct location on your wrist to ensure that it's working for you.
A few things to know about Reliefband
I have a contact skin allergy to most metals – basically if I wear anything other than real gold or sterling silver against my skin, it breaks out in a green, itchy rash. Even the tiny metal clasp pin on a leather watchband will be uncomfortable if worn too tightly. Given that the back side of the Reliefband is metal and it has a metal clasp, I'm not sure how long I could wear it before having to worry about my allergy. Although the conductivity gel does sit between the metal back and my skin, the clasp may be an issue if I need to wear the Reliefband for an extended period of time, especially since I need to wear it fairly tightly. For most (quick) uses I don't see this being a problem.
The Reliefband comes with a small tube (.25 fl. oz.) of the conductivity gel, but you need to buy extra if you're going to use the Reliefband a lot. You can purchase a larger tube of the gel for $14.99 (as of January 2017) on their website at http://www.reliefband.com/buy-now/.
I received a Reliefband for the purposes of review. As always, all opinions stated here are either solely my own or those of my family.
The post Review: Reliefband #LifeChangingTech #sponsored appeared first on Mom Of 3 Girls.
Polar bears are so beloved they have their own day … even presidents have to share one. In fact, they are so popular International Polar Bear Day encapsulates two days, Sunday, February 26 and Monday, February 27.
The day will focus on how to raise interest and concerns about the endangered creatures, with a healthy dose of fun. There will be zookeeper talks, educational activities and photo opportunities with the zoo's polar bear mascot from 11 a.m. to 3 p.m. each day. All of it will take place at the Detroit Zoo's Arctic Ring of Life.
"Our hope is that the 1.7 million people who visit the Detroit Zoo each year leave here with a greater understanding of the issues facing polar bears in the wild and the realization that everyone can do something to help save the these animals and their arctic habitat," says Gerry VanAcker, Detroit Zoological Society DZS chief operating officer.
While you are on site you will be able to watch the 12-year-old polar bear residents and breeding pair, Nuka and Talini. They will get special treats at 11:30 a.m., 1 p.m. and 2:30 p.m. If you have any questions about the beloved beasts, there will be staff present to answer them at the
An interesting fact about polar bears is their fur is not white, but rather clear. You can see it for yourself in  microscopes with samples of fur at the education centers. There will also be "blubber gloves" to better demonstrate how blubber keeps arctic animals warm in such brutal weather.
Despite the love they are getting, the polar bear population is not in great shape. Aerial photography shows how much ice has been lost in the bears' native land. Visitors can also weigh puppets to comprehend the drop in average weight of these animals over the years.
There will also be facts about polar bears on "foot prints" spread throughout the 70-foot-long Frederick and Barbara Erb Polar Passage. The clear tunnel allows you to view the arctic animals swim and live life as they do, all around you.
Kids can also put together a polar puzzle at the Exploration Station.
The first 125 attendees at each of the International Polar Bear Day events will receive a free magnet with green tips to help lighten their carbon footprint.
International Polar Bear Day offers visitors two days of celebration and education that will help this endangered species.
The decades of hocking Coke products is finally paying off for the polar bears.