From time to time we get pics of projects that i3 members have made, but don't feel is right for an article. When we get one of those pictures, we [...]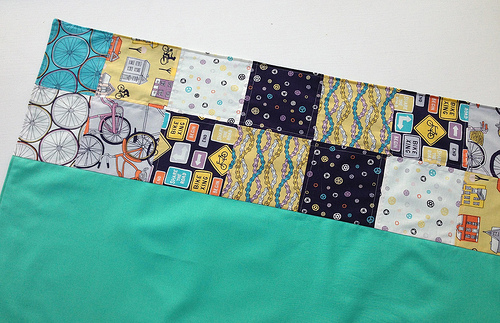 Calling all bikers! Make sure to check out Julia Rothman's latest offering for Windham Fabrics - Ride. This bike-themed collection features everything from gears to traffic signs. I made my own table runner for summer entertaining with a sample I received, but check out this post from Windham's blog for a roundup of other project ideas featuring the fabric.
No one else wants to mention the elephant in the room about people opposed to Common Core standards? Okay, I will. Tom McMillin, the guy who says that Common Core represents a federal intrusion into local decision making, also sponsors legislation that prohibits local governments from adopting or expanding human rights ordinances to protect LGBT folks from localized discrimination.
Led by state Rep. Tom McMillin, a Rochester Hills Republican, and supported by Senate Majority Leader Randy Richardville of Monroe and House Speaker Jase Bolger of Marshall, the most extreme elements of the state GOP are leading an eleventh-hour effort to block implementation of Common Core.

Legislators are supposed to act on the core standards before their summer break begins June 13 so, you know, teachers can actually plan what they're going to do next fall.

But opponents of the core standards say that simply "pressing pause" on implementation will be harmless. They want to hold hearings and discussions, Bolger says, to make sure these standards are right for Michigan.
He was also the guy who Jase Bolger put in charge of the House education committee to punish the MEA for backing the recall of Paul Scott. The fact is that there's not a lot of reasons to think that he's being genuine when he complains about Common Core, but good reason to suspect that he's got a different agenda.
Please visit Detroit Mommies to read more!
June 4, 2013 by DGDestroys
Filed under Uncategorized
Indiana is a basketball school. That's a fact that's been made clear for years and years to fans, alumni, and especially the football team. Nowhere is that more evident than the Indiana blogosphere, where a google search for "Indiana 2013 Recruiting Class" will yield 12 results about the basketball team (and an OL) before even broaching the subject of Kevin Wilson's historic efforts culminating in their record-breaking football recruiting class. It's the same reason our sister SBNation Indiana blog, Crimson Quarry, had but a couple of short blurbs on the recruiting class come signing day. More importantly, it may be the reason that perennial basketball powerhouses like Duke, Kansas, Indiana, Kentucky, and Duke have consistently struggled over the years to play second dog to their basketball powerhouse programs.
But it's also a notion that Indiana Coach Kevin Wilson (and Kentucky, for now) has ignored en route to securing the best football class Indiana has seen in the past decade. Couple that roadblock with a combined 5-19 record during his tenure and what Wilson has done seems nothing short of miraculous, but it's really nothing more than understanding what makes prospects tick; momentum.
There's a reason that Ole Miss ended up with Laremy Tunsil, LaQuon Treadwell, and Lavon Hooks in the class, and his name is Robert Nkemdiche (by the way, I understand he didn't officially commit until NSD, but everyone knew where he was going from about mid-November on).. In recent years, with an increasingly strong network developing between recruits due to the thriving camp scene and social media, coaching strategies have similarly shifted. It's something you could see develop last year as Michigan's 2013 class camp into shape: Get a few of the guys leaning towards you to commit (Chris Fox, Shane Morris, Jourdan Lewis, Wyatt Shallman), rally that into commitments from more torn prospects (Kyle Bosch, Dymonte Thomas, Taco Charlton, LTT), and all of the sudden, anyone else looking at Michigan sees the strong contingency they'll be paired with. The examples of this happening throughout college football are virtually endless.
Sometimes, that can mean getting a core of talented prospects (Michigan), and sometimes it means landing just one (Ole Miss). In Indiana's case, the domino effect from getting just one commitment was staggering. When IN WR Isaac Griffith made his decision for the Hoosiers, he then began talking up Ole Miss commit Antonio Allen in a camp setting. With time and continued effort from the staff, Allen decommitted from Ole Miss and decided for Indiana as well. Joining him was in-state S Chase Dutra, a lightly recruited kid from Brownsburg. At that point, there were two other big in-state prospects committed to B1G schools; Darius Latham to Wisconsin and David Kenney to Iowa. We'll let the Indiana Daily Student take it from here.
The trio of Dutra, Allen and Griffith then shifted its collective effort to switch Kenney and Latham to the Hoosiers. Griffith and Dutra took to social media, aiming to create needed buzz for IU football. Both started mentioning Latham and Kenney in their tweets. Fans caught on and did the same, although fans are not allowed to influence recruits per NCAA regulations. Soon after, a movement was started to get the Indiana prospects to play their college football at home. All the while, Dutra and Griffith befriended Kenney, attending games with him and persuading him to change his commitment to the Hoosiers. Kenney, Latham and Allen were all friends prior to their senior year of high school.

On Oct. 14, Kenney announced he would no longer attend Iowa. Less than 24 hours later, Latham decommitted from Wisconsin.

One week after he left Iowa's recruiting class, Kenney committed to IU. He became the second four-star recruit in the Hoosiers' class, ranked as the No. 244 prospect in the nation.

As in-state recruits made the move to IU, out-of-state prospects took notice. On Oct. 24, four-star athlete Rashard Fant from Fairburn, Ga., committed to IU instead of Florida State. His reasoning in choosing IU over a program like FSU, a school that is closer to home and far more successful in football, was simple. "I wanted to go somewhere where I could build a program, get a great education and make a difference," Fant said. "I wanted to help a school not known for football and put the name on the map."

One month after Fant committed, Latham made the decision to join the Hoosiers' recruiting class.
The main difference between this Indiana class and the one that Northwestern is putting together for 2014 is that this class really hit on their needs. Northwestern's three blue chippers are all at positions that Northwestern has produced a lot of success the past few years; RB, WR, and QB. For Indiana, the defense has bled heavily in recent years. This batch of recruits is a huge step towards fixing the leaky defense that ultimately prevented them from closing out victories against Ball State, Michigan State, Ohio State, and Navy; games where the average offensive output was 36.25 points. Allen, Kenney, Fant, and Latham are all upgrades at positions that desperately need a boost in athleticism.
QUICK CONTRIBUTORS
DT Darius Latham. The highest rated prospect in this class, Latham also comes in at a position where two senior starters leave the Hoosiers. As of right now, they plan on leaning on Sophomore Alex Todd (a 2* snatched from MAC schools) and RS Freshman Ralphael Green, who I was actually a pretty big fan of last year. However, Green is not the same type of player as Latham, and Darius would be a huge upgrade athletically on Todd. If he puts his nose to the grindstone and commits himself during camp, I think he could be a starter by the time B1G play rolls around.
S Antonio Allen. I know, I know, easy pick. While Indiana actually has two returning starters at the safety position and a good deal of experience between the two, Allen would be a big upgrade athletically on both, and they'll probably give him playing time in the hope of grooming him to replace outgoing SR Greg Heban.
CB Rashard Fant. Again, it's all about injecting athleticism into a squad that ranked 98th in pass efficiency defense last year. Fant is very much still a raw athlete, but CB is one of the easier positions to ease into.
DT Christopher Cormier. A JUCO transfer, Cormier will look to make an impact in the young interior line early in his career. Thankfully, this is not what he looks like. That's another Chris Cormier, one who will emasculate you as soon as his likeness pops up in your google search. This Cormier is a surprisingly explosive athlete for his size (315 lbs), although his production at his JUCO is a bit suspect (just 3 TFLs, all of which are probably on this short snippet from IU).
LB Steven Funderburk. He still looks like more of an athlete than a true linebacker, but I think he's good enough to justify cracking Indiana's rotation. Although Indiana's actually fairly experienced at this position, returning 3 guys with starting experience at the top of the depth chart, Funderburk could probably be utilized in nickel sub-packages because of his athleticism. Oh, and he has one of the most terrifying hits I've ever seen in his tape. (Seriously, watch it).
DOWN THE ROAD CONTRIBUTORS
DE David Kenney III. I actually wanted to put him in the quick contributors part, but I'm trying to limit myself to five each. Either way, whether it's now or next year, Kenney will make an impact. He's the long, athletic type while already weighing in at 250 pounds. There's the normal "he's a young lineman" nit-picky stuff and his ceiling isn't as high as some other pass rushers, but he'll be an upgrade for Indiana.
RB Laray Smith. A one-cut-and-go type of running back with speed to burn, Smith has a bright future ahead of him in Indiana's system. With a lot of returning experience at the position, he probably won't be threatening anyone this offseason, but he'll be in the mix down the road.
OL Maurice Swain. A talented athlete stolen from the heart of SEC country, Swain brings a lot of upside to Coach Frey, a man who Michigan fans know can get the best out of him. Standard statement about being a freshman offensive linemen are relevant here.
LB Clyde Newton. Another quality athlete that could also play running back, Newton has a long way to go before he really gets a feel for the linebacker position. When it comes, he'll provide a quality option for the hoosiers.
WR Anthony Young. Young's highlight tape shows good straight line speed, but very little knowledge of the subtle nuances that can really improve a wide receiver's game. It'll be interesting to watch him develop in Bloomington.
COMPARING THEM TO MICHIGAN
You guys know the drill by now.
Indiana's top recruit, Darius Latham, would come in as Michigan's 16th best player, right behind Ben Gedeon. However, the second recruit, Taj Williams, would also come in as the 16th best player. The third, Antonio Allen, would qualify as Michigan's 17th best, edging out Delano Hill. This class is a bit top heavier than the others we've studied so far.
Also of interest, at 73.63 inches (6'1) and 228.25 pounds, the average Indiana recruit is also the biggest of the three teams we've studied so far. While adding athleticism, Wilson has also injected his squad with a bit more size.
The average Indiana commit has a .8307 247 composite score, but this class also features 5 top 500 players (21%), and 3 top 300 players (13%). Again, the top crust of this class, if they pan out, should enable them to compete with the Michigan States and Nebraskas of the world.
NOTES AND CHARTS
--> Darius Latham was heavily recruited by Michigan early on in the process. At one point, it was hoped he would be a member of Michigan's class, but then the relationship fizzled and he ended up at Wisconsin.
--> Michigan actually didn't recruit many other members of this class, although I'm sure they would have looked at Antonio Allen and David Kenney if the space was there.
--> I haven't talked about him much, but perhaps the most shocking member of this class is 4* WR Taj Williams. Williams waited until after NSD to make his decision, then chose the Hoosiers over (at one point) Alabama, Florida, Florida State, Ole Miss, Notre Dame, and Lousville. Make no mistake about it, I think he'll contribute, I'm just not sure what position I see him fitting in right now. But the point is..
-->...With Williams, Fant, Swain, and RB Daryl Chestnut, Wilson is quickly becoming one of the B1G coaches most adept at swiping SEC talent out of their own backyard. Throw in Antonio Allen, who was committed to Ole Miss, and you get the picture of a dude not afraid to go head to head with SEC schools with a 5-19 record. That's probably the most remarkable thing to me about this class. It remains to be seen whether Wilson can make that a consistent trend or not...
--> ...Although so far the 2014 class hasn't supported that idea so far. They just recently picked up their first commitment from DT Mike Barwick, an undersized tackle who chose IU over the MAC. Based on what we're seeing now, the 2014 class looks like it'll be without a 4*. Can Wilson change that? It only takes one kid...
--> PIE CHART
CONCLUSION
After a couple of years of mediocrity both on the field and recruiting trail, Kevin Wilson somehow battled SEC schools to pull in a historic class by Hoosier standards. This third year, however, might be the make or break season for his tenure. With that in mind, we might get to see some of this young talent injected early. The question is, if he leaves, will they also take the next train out of town and leave IU fans wondering, what if? And will Wilson make this type of class a consistent result, or are more likely to see regression to the mean over the next few years?
A few years ago, some of my friends who work in local government were delighted that the state adopted Complete Streets legislation on the grounds that it reflected modern needs for modern communities trying to adapt themselves for the modern tastes of citizens. Those tastes mean catering to people who increasingly want to move around their communities on foot and bicycle and not necessarily in cars, which is how communities had been planned and created for five decades. This was five decades, mind you, of purposeful government planning and decision making that chose a winner in the personal transportation market (the automobile) and losers (public transportation and bicycles and walking). My friends, who live and work in places like Mount Pleasant, Lansing and Detroit, felt that Complete Streets was the sort of program that would help them achieve their goals.
For some reason that is not clear, rumpled newspaperman Jack Spencer: For Hire today writes about to repeal this legislation that has proven popular with employees of local government who work in planning, zoning and downtown development.
Apparently, to make sure the "Complete Streets" mandate was carried out, the law established the Complete Streets Advisory Council within the Michigan Department of Transportation to, "provide education and advice to the State Transportation Commission and others, and advise the Commission on the adoption of model policies."

"This is the kind of stuff I wish the governor would use his influence to have us repeal," said Rep. Mike Shirkey, R-Clarklake, who was not a lawmaker when the bills passed. "There are already plenty of resources available to planners. Why do we need this?

"We seem to have an insatiable appetite for meddling," Rep. Shirkey continued. "And meddling inevitably tends to lead to more spending."
This basically sums up the painful truth about term limits. The law was passed three years ago, and a current state representative who wasn't in office at the time doesn't understand the purpose of the law, and who was apparently not paying attention to the debate that took place at the time of the law (keeping in mind that the law was passed during the Granholm-Bishop years when they regularly couldn't agree to not shut down government for a few years every so often), and before admitting that says it ought to be repealed for some reason. It appears to be vague hatred of "more spending."
While it's true that converting roads that once could accommodate only cars to avenues of transporation that are friendly to the alternatives that today's citizenry actually wants will cost extra money (i.e. building out sidewalks and painting bike lanes rather than just covering everything up in asphalt), it is the kind of quality of life thing that people today want out of a city.
It's also the kind of thing that, when added to other qualify of life programs (like not trying to harass homosexuals back into the closet with stupidly punitive legislation) helps attract and retain talented young workers and immigrants who come from cultures that don't share the American love affair with the "one road raging asshole, one care" lifestyle. But, I think we all realize by now that we're past the point of asking whether these guys have any idea or coherent plan for what they're doing or saying, or whether they just get behind things to get behind them?
Brian Dickerson writes a column this morning that riffs off an Op-Ed written by an expert in Finnish education.
Sahlberg — author of the best-selling "Finnish Lessons: What Can the World Learn about Educational Change in Finland?" — specifically takes on former D.C. schools chancellor Michelle Rhee's assertion that improving teacher performance is "the most important single factor" in improving educational outcomes for students.
Well, the people who like Michelle Rhee tend to either be centrist believers that government can solve social problems like failing schools by consolidating decision making in government bureaucracies and measured by subjective and questionable means, or small government conservatives who hate teachers' unions so much they're happy to allow the consolidation of decision making to government bureaucracies that measure success by subjective and questionable means. Everyone else is like, "So, what about the home environment, where kids receive their most important source of encouragement/discouragement?"
Oh, yeah, choice is in there somewhere, too, for some reason, although when applied lots of parents just go where they get the biggest gift card bribe.
Yeah, I know, this all smacks of socialism. Or Facism. Or something.
Hanging out with Josh and I is probably like smoking a lot of weed. There is a lot of giggling, eating, and probably a distinct lack of brain cells. I blame this on the fact that the first night we hung out we watched late-night infomercials on BET, which set the bar at a really strange level that we have not escaped.
Anyway, at the risk of sounding like one of the "cute things I do with my boyfraaand" bloggers I thought I would share some of the phrases we have come up with that have stuck around and become a regular part of our vocabulary.
1. God damn in the ham. This can be used when you want to scream "GOD DAMNIT" but don't want to upset God and go to hell, so you say it in a way that will make him snicker.
2. God damn in the Jon Hamm. Same as #1, but this is said after reading an article (with photos) about Jon Hamm going commando.
3. Why the Fort Knox/What the Fort Knox. If you're like me and really paranoid about swearing around kids in public and the tongue lashing that might follow from their parents, say these phrases in place of "why the fuck not?" and "what the fuck?" Unless you're at a bar or a sporting event and in that case, say whatever you want. Hell, say whatever you want regardless because it's not your job to be delicate. Use these phrases because they're fun to say.
4. I ain't gonna get mad over taters. Does anyone know what a potato ricer is? If not, it's a thing you can use to either mash potatoes or drain the water out of shredded potatoes and other foods. It does not, much to my deceit, turn potatoes into little grains of rice. How fun would that be?
This means a potato ricer is essentially useless to me because I rarely eat mashed potatoes and am too lazy to drain the water out of things and thought the ricer could be used to shred potatoes into rice-shaped hash browns. This leads to a lot of whining while making hash browns because Josh uses the ricer to squeeze the water out and it takes 3 times as long to get food in my mouth and I'd rather just do it the lazy way and eat watery hashies. At some point I just let him do what he wants and yell "I ain't gonna get mad over taters", a phrase that can be used in many areas of life. If you want to end an argument, just yell "I AIN'T GONNA GET MAD OVER TATERS" and I guarantee you will have the last word.
Between Mad Men and being the brand ambassador for Johnnie Walker, let alone the fact that she's a beautiful and charming woman, it's about impossible to not love Christina Hendricks. We caught up with her between takes of her upcoming movie (Ryan Gosling's How to Catch a Monster) to get her take on pizza, Scotch, Detroit, and the rest of Mad Men. ESQUIRE.COM: You're in Detroit right now?
Oil on linen/panel,
2013, 5x7
"
This Urban landscape painting is a
view of a wonderful Naples yellow

building with tags on Oakland St in

Detroit.
Click on image for larger view.
13.045