I'm currently sitting in a local coffee shop (surprise, surprise) while the sun streams in, illuminating the knotty, wooden bar my journal and laptop are resting upon. Gregory Alan Isakov is serenading me (again, surprise) and my iced coffee is long gone. I've spent the last hour writing down my favorite lyrics from The Weatherman and procrastinating on this blog post.
I've been thinking a lot about passion lately. Nothing about it in particular, I've just recently felt like I'm overflowing. I have so many things on my mind at one time, and I sometimes feel like I'm bursting at my seams. I think it partially has to do with this new album, but it's arrival has also been so conveniently timed. All I have to do is discover some beautiful music that resonates with my soul and I'm suddenly full to the brim with unorganized inspiration. Sometimes it seems like I could explode, but I've found that journaling has helped a lot. It's an exterior representation of interior emotion – an outlet, if you will. There is something oddly relieving about producing pages of chicken scratch.
In other news, a couple nights ago I wore these clothes:
… and this is what happens when "Call Your Girlfriend" by Robyn starts playing during an outfit photo session. Enjoy.
Outfit Breakdown:
Shirt: LOFT (Save. Spend. Splurge.)
Skirt: c/o Tailor and Stylist (Same. Similar. Similar.)
Necklace: c/o RedEnvelope (Same. Save. Spend. Splurge.)
Shoes: c/o ShoeDazzle (Save. Spend. Splurge.)
Watch: c/o Daniel Wellington (Same. Save. Spend. Splurge.)
Hair:
Curled away from my face with a 1″ curling iron. Bangs twisted and pinned out of my face.
Photos by Mae.
.
.
Some call it being in the echo-chamber. Others call it navel-gazing. Still others say it's living inside the bubble. Whatever you call it, there is a tendency for some of us who work in social media to live too much inside of that world and not think about what's going on in the rest of the world. Bank of America just found that out the hard way.
In a Digiday article yesterday, Bank of America was blasted for their customer service twitter gaffs, saying the world's third largest bank had an "utter lack of understanding for how the social media platform works." You can read the whole thing on Digiday, complete with screenshots of the tweets, but the upshot is this: a man upset about his foreclosure was writing a message about it in chalk outside the bank. Police chased him off and he took to twitter. As sympathizers posted tweets mentioning the bank, the bank's social team responded.
Unfortunately for Bank of America, the person in their social team answering didn't understand the context of the tweets and sent back messages offering to help them with problems they might be having with their account, feeding the feeling that the bank was a huge, out-of-touch uncaring corporate entity.They swear they have a 100-person team and all tweets are live. But, people make mistakes. Especially when they can't see outside the echo chamber.
I'm sure the person doing the tweeting was earnest in wanting to help, but they hadn't followed the larger story or done enough digging through the twitter conversations to understand the context of the tweets. They were just looking at unhappy sentiment towards the bank and offering to help in the same manner as if someone walked in the bank complaining about a bad transaction fee.
We've all seen examples of this. The solution is that we need to make sure our social team, watches and listens to something beyond the social channels in front of them. Yes, you can get great, quick news feed via twitter. However they are often wrong, rushed out in haste on overheard info. Like journalists of old (you know, the 90's), we need to look into multiple sources and dig a little deeper to see a clearer, more rounded picture of the world.
So, yes, the Bank of America team should have known better. And yes, these things happen. But, they shouldn't if we're doing our jobs correctly and are willing to go beyond getting out a fast response to any customer with a twitter account. What do you think? Has this happened to you or someone you know? What did you do about it? What should we all do about it?
Mike McClure, Searching for deeper understanding
Kate Silvio
40 weeks unprepared… little nightmares.
July 13 – Aug. 17, 2013
Opening Reception:
Saturday, July 13, 7 pm – 10 pm
Re:View Contemporary Gallery
"Potential energy is the energy possessed by a body by virtue of its position relative to others, stresses within itself, electric charge, and other factors."
(Definition: Google)
In our lives, we are in a constant state of potential energy.
Kate Silvio's newest body of work explores the compulsion, anxiety, and ultimate comfort achieved in preparation for the unknown. Silvio draws from motherhood as the ultimate in the obscure, where one can find no point of reference. In the artist's view, the weight of this potential and sense of historical continuity only increases as gestation progresses.
Silvio, previously known for her large-scale sculptural work in steel, now incorporates other materials in her search to fill physical spaces with her reflections on the most fundamental human feelings, inviting viewers to join her, once more, in her evolving exploration of the self.
Kate Silvio is an alumna of the College for Creative Studies and holds an MFA in Metalsmithing from Cranbrook Academy of Art. She has exhibited extensively in the metro Detroit area. Recent corporate commissions include a wall installation at Henry Ford Hospital in West Bloomfield, Michigan.
Link to Kate Silvio's last solo exhibit:
http://www.reviewcontemporary.com/katesilvio-expect-expecting-expected/
Kate Silvio's page on Re:View:
http://www.reviewcontemporary.com/artists/katesilvio/
Re:View Contemporary Gallery
444 W. Willis, #112, Detroit, MI 48201
info@reviewcontemporary.com
313.833.9000 | Thu-Sat, noon – 6p.m
An informal monthly lecture series
to be held the 3rd Tuesday of every month
at Traffic Jam & Snug in Detroit
An evening of libations, edible delights and science inquiry
July's Topic:
Edible Chemistry
OK, so I admit I'm checking the news headlines every day to see if Duchess Kate's given birth to the next queen or king of England yet. I've been hooked on the royals since I was six and watched Princess Diana walk down the aisle in her Cinderella dress. Maybe it isn't really a fairytale, but it still involves castles, carriages and crowns. I just can't resist a sparkly tiara.
Kate Middleton may sleep in a castle next to a future king, but pregnancy and birth are the great equalizer. Even if her hospital bed is covered in rose petals from the gardens at Buckingham palace, when she gives birth the Duchess will still have a lot in common with us commoners.
1. Dad will be there. For the first time in history the royal dad will in the room while mom gives birth. Do you think all that military training prepared William for the carnage of birth or will a member of the royal guard have to scrape William up off the floor?
2. The baby will have a crazy uncle. Have you seen all the things Harry's been up to? Dressing like Hitler and dancing naked in Vegas. Do you think Wills and Kate will let Harry babysit?
3. Royals have birth pains too. According to reports, Kate's having a natural birth. And a pea under the mattress is bad? It doesn't matter how soft her hospital bed is, it's gonna hurt, princess.
4. Mom's coming to help. Kate's forgoing the traditional baby nanny route and enlisting her mom to help out the first few weeks after the baby is born. Even princesses need their moms.
5. Relatives are sure to have advice. It's one thing to have your mom and mom-in-law giving you off-the-wall advice, like to wrap your baby up in a fleece blanket even when it's 100 degrees outside. But imagine The Queen herself giving you breastfeeding tips. Awkward.
6. Stretch marks have no prejudice. Even slim and trim Kate will find that her body will never be the same after baby. Maybe that will put a stop to all that nude sunbathing the paparazzi keeps photographing.
7. Sleepless nights. With no baby nurse on call Wills and Kate will have to roll out of their jewel-encrusted bed themselves for those 3 a.m. feedings. Maybe they can enlist the help of fellow Brit Chris Martin of Coldplay to come over and sing lullabies to the baby.
8. They have to pick a baby name. It will probably be a family name like George or Alexandria. What they shouldn't do is ask Chris Martin for baby name advice. (His daughter with Gwyneth Paltrow is named Apple.)
Well, I just checked again and no royal baby yet. We'll have to be patient. In the mean time, do you think they're having, a prince or a princess? I'm going with princess because think of all the fashion fun to be had with a Queen-In-Waiting!
I know it's a little silly to get carried away with football recruiting, but it's hard not to love statements like this, via MLive:
"Leonard will be a little tougher, but they call me the commissioner so I'm gonna put it out there right here on my blog: I'm bringing both of them."
This is from my new favorite recruit, Jabrill Peppers, who's pulling a Shane Morris and trying to recruit one hell of a class to Ann Arbor, including top RB Leonard Fournette and top DE Da'Shaun Hand. This probably won't happen, but it's pretty awesome that Peppers is trying. Recruiting is a snowball effect - the more talent you have, the more talent wants to come. (See: the SEC).
This week, we've been looking at Northwestern, a recently explosive offense with some major injury issues. This year, they look to reload and score buckets of points to make up for a defense that will be mediocre at best. Remember that shootout loss when the 'Cats went to the Rose Bowl a decade ago? Yeah, that happened.
Northwestern, by virtue of being in Chicago, is close to some amazing breweries. Half Acre is my favorite (their Daisy Cutter is really good) but today I had a six-pack of Goose Island Summer and some 312 lying around, so I thought that'd be a good place to start. I've also been getting some feedback about more nationally available beers (man, the M fanbase is huge...) so Goose Island was the natural Chicago pick.
Goose is a rare brewery that offers many of their top beers in both cans and bottles. I haven't really noticed a difference in taste between cans and bottles, but I do like the 312 in cans. Their website also has a very cool feature where you can find out where you can buy it if you aren't sitting around in Chicago... On to the beers:
Goose Island 312
The 312 is one of their year-round wheat collection. It tastes to me like a slightly hoppier version of Blue Moon. My roommate in college used to always have a six-pack of Goose in our fridge - and while it's okay and very drinkable - particularly on hot summer days - it's nothing to write home about. You can jazz it up with an orange (or go big and put a small orange slice and a small jalapeno slice in it) to add to the flavor. There's nothing impressive about this beer, but it's a popular pale wheat because it's not too sweet and very drinkable. There are worse options to have on a lake.
If this beer were a Michigan football player, it'd be:
Kevin Grady. Serviceable, yet ultimately unfulfilling.
Goose Island Summertime
http://www.gooseisland.com/filebin/images/products/full/summertime.jpg I'm not the biggest fan of Sam Adams' Summer Ale this year, so I was a little hesitant to try the Goose Summertime. A very helpful BeerAdvocate review said it was "basically the same beer but very different" so I had no idea what to expect. I gave it a whirl anyway (also because it was 6.99 at my local grocery store for a 6-pack) and wasn't disappointed.
It's a kolsch, which is quickly becoming my favorite type of summer beer to drink. It's not too fruity or bitter, but pleasantly drinkable. More of a full flavor than a lager, with some spice and fruit mixed in. Unlike the 312, you don't need to put anything in this one to enjoy it, and it goes really well on a beach. Again, not too memorable, but definitely would challenge for one of my favorite beach beers.
If this beer were a Michigan player, it'd be:
Jason Avant. Consistent, Not too flashy, overall pretty good.
For what it's worth, I also tried all of the Leinie's shandies this year and came away unimpressed - particularly with the Berry Weiss, which tasted more like seltzer water. Yuck. Avoid.
Next time, I'm going to write an ode to Oberon and all things summer, which is definitely the beer of the summer kind of like I've decided this Aloe Blacc/Avicii collab is the song of the summer - move over, Need Your Love/that song named after states. If you're in Chicago, I highly suggest going over to Half Acre and sampling some Daisy Cutter. Give Goose a miss unless you're stuck outside Chicago.
Until next time, cheers, Michigan Faithful!
Yesterday was just another day, nothing flashy or exciting. It was pretty clear my kid was too wound up to take a nap. She read her picture books in her bed and was soon up and moving around the house. With a busy weekend ahead of me I decided running a few errands with her instead of a rest would have to do. The temp was down and the bright blue sky held giant white billowy clouds. A bike ride was in order!
My willing travel companion was snapped into her bike seat in no time, and off we rode. We went to a consignment/resale shop in town and on the way out, I was daydreaming through my turn and was peddling along in the opposite direction of home. Only a few moments later we rode up toward a rental property being cleaned out. Standing at the curb were a few garbage cans, a wonky lawn chair, some kind of fan that was broken and a few giant pieces of foam core. Looking closer at the one, the construction paper pieces that poked out were already all too familiar. We skidded to a stop at the pile and I pulled the pieces apart and there staring at me was giant sign that I made for Detroit Urban Craft Fair 2007. The man on the porch yelled down, asking if I wanted any stuffed animals. Bewildered, I said, "no thanks", and snapped a picture of my discovery.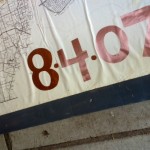 An hour later we were back in the car, rescuing the signage. Sure, it's just some paper and shapes glued together but can I get an amen on how WEIRD that is? Living in a dusty garage for 6 years and within the 10 minutes they were put out to trash I happened along? It was a very defined needle in the haystack moment.
In a few weeks applications will be open for the 8th annual Detroit Urban Craft Fair. And there will be at least two signs welcoming us this year that have a little extra history (and spider webs) about them!