featuring
Future Criminals
The Failures
Saturday 28 November 2015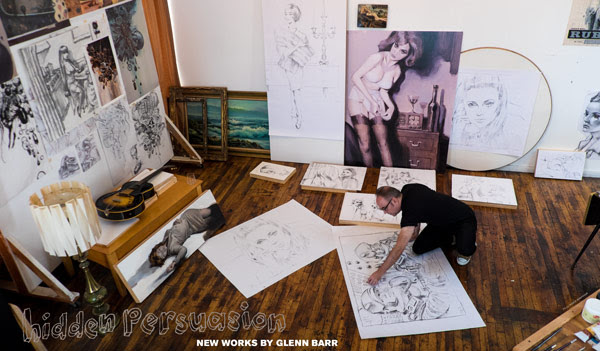 Inner State Gallery Presents Glenn Barr's Hidden Persuasion November 20th
Prolific Detroit Artist Returns Home For His Latest Exhibition
Join Us
Tonight
From
7-10pm
Inner State Gallery
1410 Gratiot Avenue, Detroit, Mi 48207
Directions
/
RSVP
Opening Friday November 20th, Inner State Gallery is proud to present Glenn Barr's
Hidden Persuasion
. With an entirely new body of work, Detroiters are invited into the mind of a true master of the new contemporary art movement. In this collection Barr explores a vast array of characters and situations, immersing viewers into his complex visual storylines spanning decades of cinematic folklore.



"My new work in
Hidden Persuasion
is a tiny bit of a departure for me. In my past work, surreal manifestations inspired by the unconscious mind came to life. The source for this current body of work is inspired by subject matter taken from films and television. I transform these characters turning them into archetypes and visually complex icons," Glenn Barr said discussing his upcoming solo exhibition.
After wildly successful shows at Los Angeles' trendsetting Merry Karnowsky Gallery and New York City's playful Cotton Candy Machine, Barr returns to Detroit's Inner State Gallery with his most refined and complete body of work to date, showcasing his unparalleled painting techniques to elicit emotion and draw viewers into his vast visual dialog.
"Previous exhibitions always had a few of these images, but this time I really went for it. Not to worry, you'll still find an alluring dark undercurrent in my new work that will take you into this parallel world. Also, in following with the theme I've created some installations. One in particular is an interactive 'set' which I hope everyone will take part in," Barr added from his studio space in Detroit's historic Corktown neighborhood.
Inner State Gallery
1410 Gratiot Ave
Wednesday, November 11, 8pm
Admission: $8 ($5 for members)
Museum of Contemporary Art Detroit
4454 Woodward Ave.

'Industrial Soundtrack for the Urban Decay' traces the origins of Industrial music, taking a journey through the crumbling industrial cities of Europe to America's thriving avant-garde scene. Industrial music emerged in the mid 1970s, providing a vibrant, provocative, and artistic soundtrack to the picket lines, economic decline, and cultural oppression of the era. Whether factory workers, students, or unemployed, industrial music pioneers were all educated, artistically minded and politically aware artists who started with little to no musical background and went on to change musical history. Featuring Throbbing Gristle, Cabaret Voltaire, and many other pioneers.
On Wednesday, November 18 Small's Bar in Hamtramck is hosting an exclusive screening of the documentary "I Am Thor," an official selection of the 2015 Sundance Film Festival.
The film will be followed by a performance by the bodybuilding champion and heavy metal singer himself- Jon Mikl Thor and his band THOR.
FILM SYNOPSIS
Jon Mikl Thor was a bodybuilding, steel bending, brick smashing rock star in the 70's & 80's whose theatrical band THOR hit the scene alongside Metallica and Kiss, but never achieved the gold record status of its contemporaries. After a brief but memorable film career saw him starring in the cult classics Rock 'n' Roll Nightmare and Zombie Nightmare, Thor all but disappeared from the entertainment map. But ten years into retirement, and incapable of living like a normal mortal human being, Thor attempts a comeback to achieve the level of success that had eluded him his entire career - a comeback that nearly kills him. Tracing the rise, fall, and rebirth of a determined performer over the course of a career that has seen more than its fair share of highs and lows, I AM THOR paints a fascinating and sometimes unbelievable portrait of this larger-than-life icon.
Show Details:
Date:
Wednesday, Nov. 18
Location:

SMALL' S BAR located at 10339 Conant, Hamtramck
8 p.m. doors, 9 p.m. film followed by performance
$12 in advance, $15 at the door

Limited seating during the film is available on a first come, first serve basis
Purchase advance tickets
HERE.
For more info on the film visit: http://www.iamthormovie.com/
"Love is what I have for my city, Detroit. 'Detroit Love' is my way of spreading this love, a love for music from the city, my heritage and who I am as a producer and performer. My love for Detroit is my inspiration, my inspiration is 'Detroit Love'." – Carl Craig
'Detroit Love' was launched at ADE 2014, in the underground recesses of Amsterdam's North Sea Jazz club. Carl Craig invited Detroit natives Recloose, Moodymann – who played a set encompassing disco, soul, house and hip-hop, and Mad Mike Banks to play keys over Carl Craig's Moog infused 4-cd-deck closing set, which included live editing, sampling, scratching and looping of soundscapes ranging from ambient textures to masterful techno. A Detroit focused line-up, showcasing only a few of the sublime talent that Detroit has to offer, the launch was a special and unforgettable night for those who attended.
For 'Detroit Love' events, Carl Craig will perform a new technical set up with 4-cd deck mixing, looping, live editing and sampling.
Special video mapping is being designed, depicting the surreal, urban Detroit landscape.
I'm happy with my album and releasing it on my label, Lobster Boy Recordings. I want to build on that and put more people's music out and not do it through the majors. Doing it on my own instead, like XL, the way they started and now they are releasing people like Adele and the XX. You make a bit of money here, you lose a bit there, but, it's all about the creativity and creating good music instead of creating money from music. We have a long journey ahead of us.
It all goes down TONIGHT (October 31, 2015) at the
Diesel Concert Lounge Detroit.
Two stages featuring headlining acts Crud and Halloween!

Crud
Think Fight Club meets Clockwork Orange...Think you've seen anything like it? Think again!
More on Crud at

http://facebook.com/

cruddetroit

Halloween
The Heavy Metal Horror show returns! The band will be celebrating 33 years of history on this night.
For more information go to www.halloweentheband.com

Very special guests:
BloodStone (Judas Priest Tribute Band)
SoulStealer
KrankNine
The American Bushwackers!

Plus Sideshow freakery by Adam Arcana (aka The Wizard of Odd).

Costumes encouraged! Tricks and Treats all night long!

Set Times:
Theater:
10:30-11:45 pm Halloween
9:00-9:40 pm Kranknine
7:30-8:10 pm American Bushwackers

Lounge:
12:30 am Crud
12:15 am Adam Arcana the Wizard of Odd
9:45-10:20 pm Soulstealer
8:15-8:45 pm Bloodstone
Tickets $10
Doors open at 6 pm
All Ages
The Diesel Concert Lounge is located at
33151 23 Mile Rd, New Baltimore, MI 48047.